Celebrate Nine Inch Nails' Rock Hall Induction by Revisiting Their 1994 Woodstock Performance
Photo by Pete Still/Redferns/Getty
Music
Features
Nine Inch Nails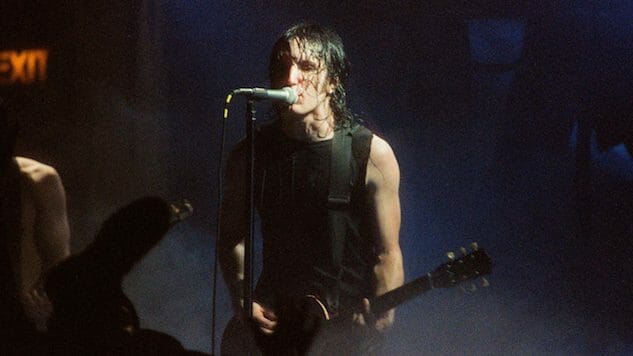 Trent Reznor is one of the most enigmatic musicians in rock music, and his artistic vision with Nine Inch Nails and other projects over the past few decades has always been in the spirit of progress. After popularizing industrial music with NIN, he continues to explore new territory, scoring a number of notable films with fellow NIN member Atticus Ross like 2010's The Social Network, 2011's The Girl with the Dragon Tattoo, 2014's Gone Girl and 2018's Bird Box. Today (Jan. 15), it was announced that Nine Inch Nails will be inducted into the Rock and Roll Hall of Fame, so we're sharing classic footage from their performance at Woodstock '94.
Nine Inch Nails played the festival in Saugerties, N.Y. alongside The Cranberries, Metallica, Aerosmith, Red Hot Chili Peppers and more. With sweat dripping down their faces and crowd surfers aplenty, they closed their set with one of their greatest tracks "Head Like A Hole." The track recently resurfaced in the pop culture discourse when it was covered by Miley Cyrus (with different lyrics) in the recent season of Black Mirror. It received approval from Reznor and actually spawned an official NIN merchandise collaboration.
Paste recently featured Nine Inch Nails' Pretty Hate Machine, which included "Head Like A Hole" and other singles "Sin" and "Down In It," in our list of Best Albums of 1989. Check out the full list here.
Watch Nine Inch Nails perform "Head Like a Hole" live at Woodstock '94, from the Paste vault below.