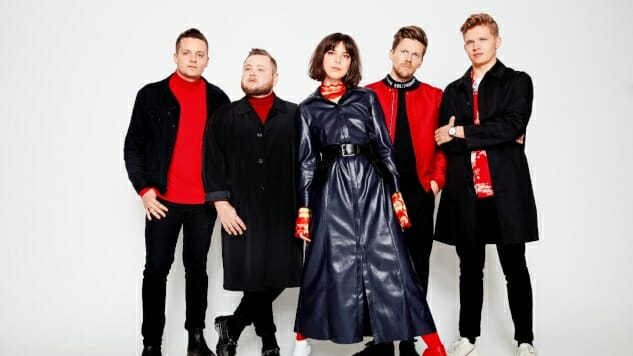 Of Monsters and Men have announced the release of their long-anticipated third album, Fever Dream, due out July 26 via Republic Records.
It's been a whole four years since the Icelandic quintet's 2015 Beneath The Skin, and twice that since the release of their smash debut, "Little Talks." Feeling old yet?
Preceded by plenty of cryptic social media teasing, the band ushered in their Fever Dream era this past Friday (May 3) with a poppy new single titled "Alligator." Seeming to leave behind their trademark ska-skirting folk, "Alligator" swaps out the mountain sound for something more electric, a sound akin to that of acts like The Naked and Famous and Grouplove.
— Of Monsters and Men (@monstersandmen) April 27, 2019
"We are so excited about 'Alligator,' the first release from our upcoming album," the band said in a statement. "The song very much speaks to the excitement and energy that we feel about being back. We can't wait to share more music and see everyone again."
Listen to "Alligator" below, as well as a video of Of Monsters and Men performing "Little Talks" from the Paste archives. Find the details of Fever Dream further down.
Fever Dream Tracklist:
01. Alligator
02. Ahay
03. Róróró
04. Waiting for the Snow
05. Vulture, Vulture
06. Wild Roses
07. Stuck in Gravity
08. Sleepwalker
09. Wars
10. Under a Dome
11. Soothsayer
Fever Dream Album Art: