Garage-rock mainstays Oh Sees have announced a double LP titled Face Stabber, set for release on Aug. 16, and released its first single, a 21-minute-long killer titled "Henchlock."
The band's follow-up to 2018's Smote Reverser, the double LP is cryptically described in a press release as "Soundcloud hip-hop reversed, a far-flung nemesis of contemporary country and flaccid algorithmic pop-barf," and evoking the same feeling as "human cattle like a beef avalanche, right on your burned-out face hole."
We, too, love beef avalanches.
"Henchlock," which serves as the second part of the double LP, is a plump, psych-punk monster of keyboard blips, jazz percussion, wayward trumpets and scuzzy everything. The song is slow to build to its climax, but cacophonies of screeching and knots of clamor crash together around the 15-minute mark before fading into static and television glitches.
The band have also announced a lengthy North American tour during the month of October. You can check out the band's existing festival dates and new North American stops below.
Oh, and one more thing: The band has set up an eBay auction for the cockpit set frontman John Dwyer built for the band's "Anthemic Aggressor" music video. Proceeds from the auction will go towards the Elizabeth House, a non-profit providing shelter for pregnant and parenting women. You can find the auction here.
Face Stabber is out Aug. 16 via Castle Records, and you can preorder the album here.
Check out the new single, the band's 2009 Daytrotter Session, the Face Stabber album artwork and tracklisting, and Oh Sees' upcoming tour dates below.
Face Stabber Artwork: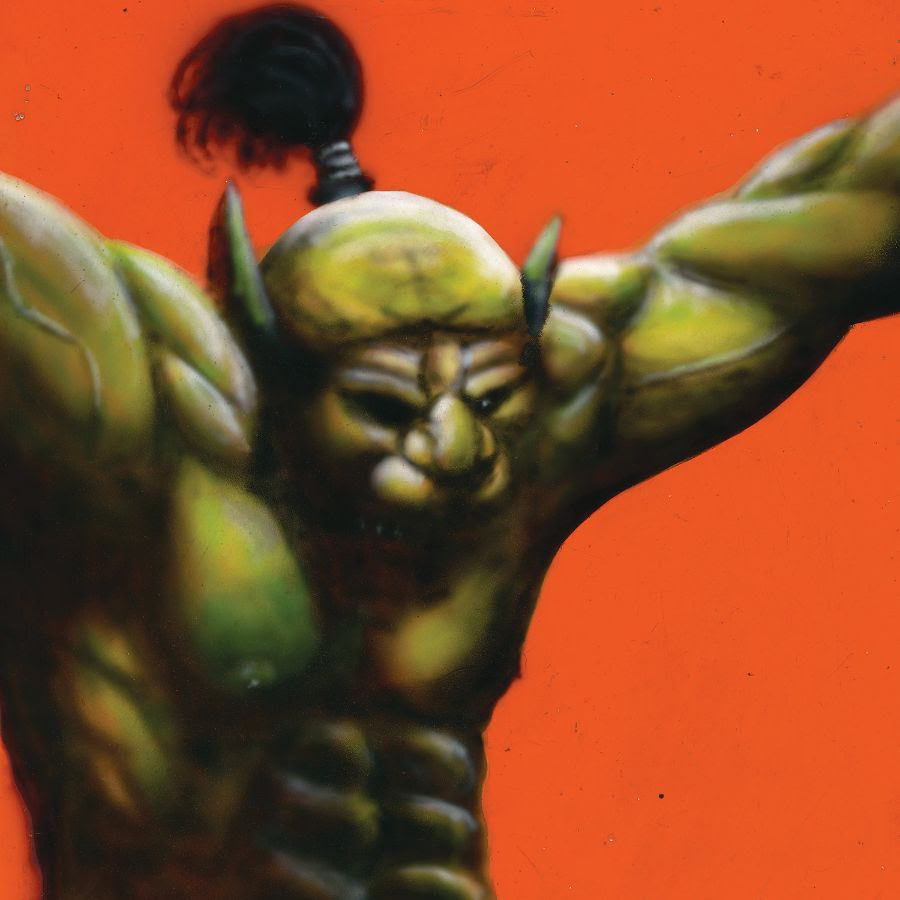 Face Stabber Tracklist:
01. The Daily Heavy
02. The Experimenter
03. Face Stabber
04. Snickersnee
05. Fu Xi
06. Scutum & Scorpius
07. Gholü
08. Poisoned Stones
09. Psy-Ops Dispatch
10. S.S. Luker's Mom
11. Heartworm
12. Together Tomorrow
13. Captain Loosely
14. Henchlock
Oh Sees Tour Dates:
July
11-13 – Carnation, Wash. @ Timber! Festival
August
09 – Pioneertown, Calif. @ Pappy and Harriet's
23 – Charleville, Australia @ Cabaret Vert festival
24 – Guéret, France @ Check-in Festival
27 – Ravenna, Italy @ Hana-Bi (Free)
29 – Vienna, Austria @ Arena
30 – Munich, Germany @ Strom
31 – Berlin, Germany @ Kreuzberg Festsaal
September
01 – Brussels, Belgium @ Les Botaniquesen
03 – Bordeaux, France @ BT 59
04 – Toulouse, France @ Le Bikini
05 – Paris, France @ Le Bataclan
06 – London, U.K. @ Troxy
07 – Amsterdam, Netherlands @ Paradiso
30 – San Francisco, Calif. @ The Chapel
October
01 – San Francisco, Calif. @ The Chapel
02 – San Francisco, Calif. @ The Chapel
04 – Portland, Ore. Crystal Ballroom
07 – Vancouver, British Columbia @ Rickshaw Theatre
10 – Minneapolis, Minn. @ First Avenue Ballroom
11 – Chicago, Ill. @ Thalia Hall
12 – Chicago, Ill. @ Thalia Hall
14 – Toronto, Ontario @ Danforth Music Hall
15 – Montreal, Quebec @ Le National
16 – Cambridge, Mass. @ The Sinclair
18 – Brooklyn, N.Y. @ Warsaw
19 – Brooklyn, N.Y. @ Warsaw
20 – Brooklyn, N.Y. @ Warsaw
22 – Philadelphia, Pa. @ Union Transfer
23 – Carrboro, N.C. @ Cat's Cradle
24 – Nashville, Tenn. @ Mercy Lounge
25 – New Orleans, La. @ One Eyed Jacks
26 – Austin, Texas @ Hotel Vegas
27 – Austin, Texas @ Hotel Vegas
29 – Albuquerque, N.M. @ Sister Bar
31 – Los Angeles, Calif. @ Teragram Ballroom