Daily Dose: Okey Dokey and Liz Cooper, "Modern Chemistry"
Photos by Cody Duncum, Jacqueline Justice
Music
Features
Okey Dokey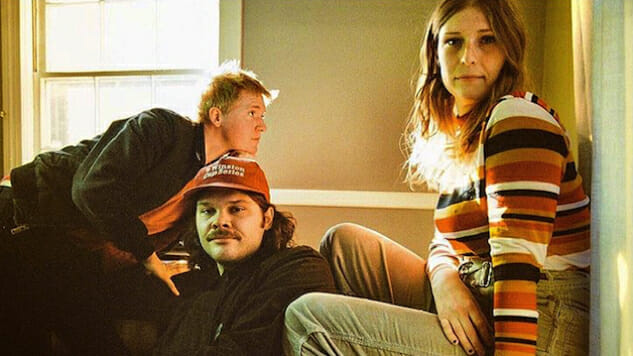 Daily Dose is your daily source for the song you absolutely, positively need to hear every day. Curated by the Paste Music Team.
Valentine's Day cynics, rejoice: Nashville artists Liz Cooper and Okey Dokey have crafted both a love song and an anti-love song in one. "Love me, woo me," Cooper sings, "But only 'till tomorrow." Its title, "Modern Chemistry," might be a little too long for a candy heart message, but this tune is a delightfully realist take on romance. You can check it out below.
This marks the second collaboration between soulful guitarist Cooper and Aaron Martin and Johny Fisher of experimental psych-rock group Okey Dokey. Last month, they released the comical video for the single "Winnebago." That track is more nostalgic, where "Modern Chemistry" is very much of this moment, even with its old-time doo-wop sheen. Cooper's character in the song is hesitant, "like a bull in a china shop, stumbling through the motions." Martin's, however, is in it for the long haul: "I'd hate to lose you now / I'd have to write the formula down." In the end, though, is this potential relationship just an experiment? "Mixing up emotions, watching it blow up in front of me," Cooper sings. It remains a mystery.
Okey Dokey will self-release their second full-length LP, Tell All Your Friend, on March 29, a follow-up to 2017's Love You, Mean It. Cooper, on the other hand, wide-released a debut album, Window Flowers, with her band The Stampede last year, our review of which you can read here.
Again, you can listen to "Modern Chemistry" below, watch Okey Dokey's 2018 Daytrotter Session further down, and keep scrolling for Liz Cooper & The Stampede's recent Paste Studio session, plus both bands' tour dates at the bottom of the page.
Okey Dokey Tour Dates:
March
23 – Birmingham, Ala. @ Saturn
April
05 – Chattanooga, Tenn. @ J J's Bohemia
06 – Athens, Ga. @ Georgia Theatre Rooftop
12 – Savannah, Ga. @ El-Rocko Lounge
13 – Oxford, Miss. @ Proud Larry's
19 – Richmond, Va. @ Capital Ale House
20 – Norfolk, Va. @ Toast
May
10 – Davenport, Iowa @ Triple Crown Whiskey Bar & Raccoon Motel
11 – Indianapolis, Ind. @ Virginia Avenue Music Festival
12 – Indianapolis, Ind. @ Virginia Avenue Music Festival
Liz Cooper & The Stampede Tour Dates:
February
16 — Tampa, Fla. @ Whigfest Music and Arts Festival
17 — Jacksonville, Fla. @ 1904 Music Hall
19 — Charleston, S.C. @ Charleston Pour House
20 — Charlottesville, Va. @ The Southern
21 — Washington, D.C. @ Songbyrd Record Cafe and Music House
22 — Baltimore, Md. @ The 8×10
23 — Philadelphia, Pa. @ Boot & Saddle
25 — Boston, Mass. @ Great Scott
26 — Northampton, Mass. @ The Parlor Room
27 — Brooklyn, N.Y. @ Rough Trade
March
01 — Burlington, Vt. @ ArtsRiot
02 — Montreal, Québec @ Bar Le Ritz PDB
04 — Toronto, Ontario @ The Drake Hotel
05 — Pontiac, Mich. @ The Pike Room
06 — Columbus, Ohio @ The Basement
08 — Chicago, Ill. @ Schubas Tavern
09 — Neenah, Wis. @ Short Branch Saloon
10 — Milwaukee, Wis. @ The Back Room at Colectivo Coffee
12 — St Paul, Minn. @ Turf Club
13 — Madison, Wis. @ High Noon Saloon
24 — Omaha, Neb. @ Reverb Lounge
26 — Des Moines, Iowa @ Vaudeville Mews
27 — Columbia, Mo. @ Rose Music Hall
29 — Oxford, Miss. @ Proud Larry's
30 — New Orleans, La. @ Hogs For The Cause
April
04 — Nashville, Tenn. @ The Basement East
27 — Chattanooga, Tenn. @ JJ's Bohemia
28 — Charlotte, N.C. @ Tuck Fest
30 — Tupelo, Miss. @ Blue Canoe
May
02 — Austin, Texas @ Antone's Nightclub
03 — Houston, Texas @ White Oak Music Hall (Upstairs)
04 — Dallas, Texas @ Ruins
07 — Phoenix, Ariz. @ The Rebel Lounge
08 — San Diego, Calif. @ Casbah
09 — Los Angeles, Calif. @ The Echo
12 — San Francisco, Calif. @ The Chapel
14 — Portland, Ore. @ Doug Fir Lounge
15 — Seattle, Wash. @ Tractor Tavern
16 — Vancouver, B.C. @ The Biltmore Cabaret
18 — Spokane, Wash. @ The Bartlett
21 — Missoula, Mont. @ Top Hat
24 — Napa, Calif. @ BottleRock Napa Valley
28 — Salt Lake City, Utah @ Kilby Court
30 — Fort Collins, Colo. @ Downtown Artery
31 — Denver, Colo.@ Larimer Lounge
June
02 — Kansas City, Mo. @ The Record Bar