Ought Announce New Album Room Inside the World, Share New Single/Video "These 3 Things"
Images via Jenna Ledger, Merge Records
Music
News
Ought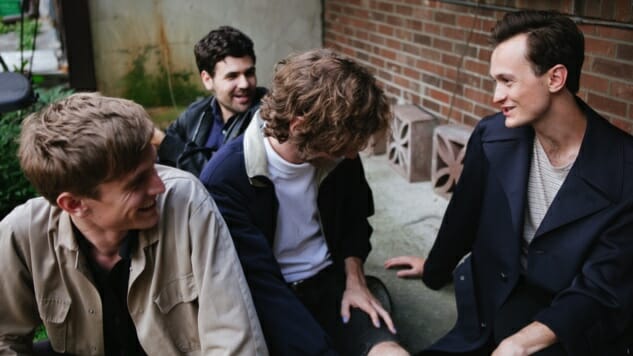 Like the word "ought" itself, the band puts a pause between what came before and an emphasis on what comes next. Their forthcoming record Room Inside the World, out Feb. 18 via Merge Records, is said to end on a comma, circling back again and again to a great modern challenge: how to be alone, survive, connect.
In the video for their new single "These 3 Things," (available in the player below), we follow a mannequin as he goes about his day inside a room/box, as well as the hilarious contraptions, fraught with human error, devised by his human caretakers—until said mannequin turns into a human and begins to react. "See your soul, feel it sway," frontman Tim Darcy sings. "Proceed calmly to the edge of your row / a narrow way that is leading you home."
The video is directed by Jonny Look (Grizzly Bear, Cloud Nothings, Cass McCombs) and Scottie Cameron, who said of the film:
Life can be problematic. Everything takes time and energy. We challenged ourselves to create devices of great convenience using three items. When initially testing the convenience machines without the human variable, we discovered luxury and success. However, it was sterile. The beauty only came with the unpredictable moments brought by the human element. Being human is better than looking for an easy way out.
Room Inside the World was recorded in Brooklyn in an industrial rock block that was once a sock factory, but with "newfound patience." While Ought's last record More Than Any Other Day was biting and realist, Room Inside the World promises textured post-punk breakdowns—once guitars and synths, now vibraphones and the chilling voices of a 70-piece choir. The band somewhat ironically constructed a digital moodboard to set their intentions.
Read our words on why Ought was and is the Best of What's Next here, and check out dates for Ought's newly announced world tour below. Room Inside the World, the band's first release on Merge, is available for preorder here.
Ought Tour Dates:
November
03 – Baltimore, Md. @ Ottobar *
04 – Brooklyn, N.Y. @ Silent Barn $ (SOLD OUT)
05 – Jersey City, N.J. @ White Eagle Hall *
07 – Buffalo, N.Y. @ Tralf Music Hall *
08 – Pittsburgh, Pa. @ Spirit *
09 – Bloomington, Ind. @ The Bishop *
10 – Louisville, Ky. @ Zanzabar *
11 – Chattanooga, Tenn. @ Sluggo's *
12 – Tallahassee, Fla. @ The Wilbury *
13- Gainesville, Fla. @ The Wooly *
14 – Miami, Fla. @ Gramps *
16 – Orlando, Fla. @ The Social *
17 – St. Petersburg, Fla. @ Et Cultura Festival *
18 – Charleston, S.C. @ The Royal American *
19 – Richmond, Va. @ Capital Ale House *
20 – Arden, Del. @ Arden Gild Hall #
March
06 – Montreal, Quebec @ Théâtre Fairmount ^
07 – Toronto, Ontario @ Lee's Palace
09 – Chicago, Ill. @ Lincoln Hall
10 – St Louis, Mo. @ Off Broadway ^
11 – Kansas City, Mo. @ The Riot Room ^
17 – Mesa, Ariz. @ Underground %
18 – Santa Ana, Calif. @ Constellation Room %
19 – Los Angeles, Calif. @ Teragram Ballroom %
20 – San Francisco, Calif. @ The Independent %
22 – Portland, Ore. @ Mississippi Studios %
23 – Seattle, Wash. @ Chop Suey %
24 – Vancouver, British Columbia @ The Cobalt %
26 – Calgary, Alberta @ The Palomino %
27 -Saskatoon, Saskatchewan @ Amigo's Cantina %
29 – Winnipeg, Manitoba @ The Good Will Social Club %
30 – Minneapolis, Minn. @ 7th Street Entry %
31 – Madison, Wis. @ High Noon %
April
02 – Columbus, Ohio @ Ace of Cups %
04 – Washington, D.C. @ The Black Cat
05 – Philadelphia, Pa. @ First Unitarian Church
06 – Brooklyn, N.Y. @ Music Hall of Williamsburg
07 – Boston, Mass. @ The Sinclair
20 – Bristol, U.K. @ The Exchange
21 – Leeds, U.K. @ Brudenell Social Club
22 – Glasgow, U.K. @ Stereo
23 – Birmingham, U.K. @ Hare & Hounds
24 – London, U.K. @ Garage
26 – Paris, France @ Maroquinerie
27 – Nantes, France @ Stereolux
28 – Bordeaux, France @ Iboat
30 – Lausanne, Switzerland @ Le Romandie
May 2018
01 – Winterthur, Switzerland @ Albani
02 – Brussels, Belgium @ Botanique
03 – Cologne, Germany @ Bumann & Sohn
04 – Berlin, Germany @ Kantine am Berghain
05 – Copenhagen, Denmark @ Loppen
07 – Amsterdam, Netherlands @ Paradiso Noord
(* – w/ Waxahatchee)
(^ – w/ Snail Mail)
(% – w/ Flasher)
($ – w/ Trace Mountains and Boys Online)
(# – w/ Shame and Grace Vonderkuhn)