Daily Dose: Palberta, "Cherry Baby"
The experimental post-punks' new LP, Roach Goin' Down, arrives June 15.
Photo by Jonah Peterschild
Music
Features
Palberta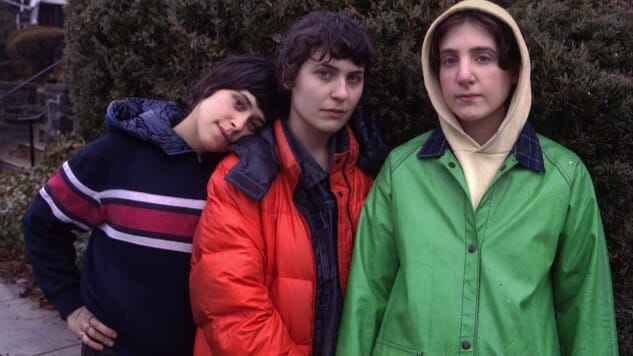 Daily Dose is your daily source for the song you absolutely, positively need to hear every day. Curated by the Paste Music Team.
Palberta's oddball, minuscule punk songs are both chaotic and captivating. The experimental post-punks were featured in our recent list of New York buzz bands for their "slashing guitars, anxious rhythms and playful harmonies," and their "haphazard and composed" style. On June 15, they'll release Roach Goin' Down, a new full-length that follows 2017's Bye Bye Berta.
Palberta's latest Roach Goin' Down single, "Cherry Baby," takes a timeless track, rips it up, and starts all over again. As the band explains, "'Cherry Baby' is a three part harm-charm. It's taking the classic lyric from the Eric Donaldson track 'Cherry Oh Baby' but really it has nothing else to do with that song."
Hear the wonky and charming "Cherry Baby" below, and preorder Palberta's Roach Goin' Down, out June 15 via Wharf Cat Records, right here.
Palberta Tour Dates
5/4 – Montreal, QC – La Vitriola
5/5 – Toronto, ON – Owl's Club
5/6 – Guelph, ON – Silence
5/7 – Hamilton, ON – This Ain't Hollywood
5/8 – Detroit, MI – Trumbullplex
5/9 – Chicago, IL – Flood House
5/10 – Milwaukee, WI – Cactus Club
5/11 – Minneapolis, MN – Moon Palace
5/12 – Fargo, ND – The Red Tavern
5/14 – Missoula, MT – Union Ballroom
5/15 – Spokane, WA – Baby Bar
5/16 – Seattle, WA – Werewolf Vacation
5/17 – Vancouver, BC – Pretty Good Not Bad Fest – Black Lab
5/18 – Victoria, BC – Pretty Good Not Bad Fest – Sub Culture Club
5/19 – Tacoma, WA – Space Planet
5/20 – Portland, OR – Turn Turn Turn
5/21 – Reno, NV – The Holland Project
5/22 – San Francisco, CA – Balboa Theater
5/23 – Oakland, CA – Sgrafitto
5/24 – Santa Cruz, CA – Subrosa
5/25 – Los Angeles, CA – The Y
5/26 – San Diego, CA – Space
5/27 – Tucson, AZ – TBA
5/28 – Albuquerque, NM – Sister Bar
5/29 – Marfa, TX – The Lost Horse
5/30 – Austin, TX – Cheer Up Charlies
5/31 – Denton, TX – Silverleaf
6/1 – Dallas, TX – Texas Theatre
6/2 – New Orleans, LA – Poor Boys
6/3 – Tallahassee, FL – Wolfs Den
6/4 – Macon, GA – Fresh Produce Records
6/5 – Atlanta, CA – 529 Bar
6/6 – Savannah, GA – Quolab
6/7 – Philadelphia, PA – Philamoca