Watch Stranger Things Star Gaten Matarazzo Headbang with Paramore
Images via Albert G. Rodriguez/Getty, Instragram
Music
News
Paramore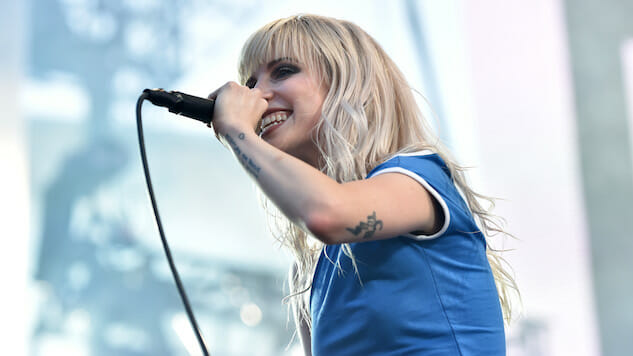 It's something special to see entertainers from all walks of the industry come together to do something cool. In today's news of that nature, Gaten Matarazzo from the hit Netflix show Stranger Things joined emo-pop icons Paramore onstage during their performance at Barclays Center on Tuesday night.
Paramore have been on tour supporting After Laughter, their fifth album, which saw them evolve from emo-pop angst artists to deeply-in-touch-with-their-emotions rockers. For Tour 5, the band has been in the business of joy, bringing fans up to perform arguably their biggest hit, "Misery Business," with them.
Matarazzo and his sister Sabrina got to live out every fan's ultimate fantasy, complete with lots of headbanging, jumping around and thrashing with lead singer Hayley Williams. The Stranger Things golden child has come full circle with the song—his band Work in Progress covered it last year, earning them a nod from Williams herself during the Barclays performance.
Watch them jam out in fan-captured footage below. Paramore are set to host their own music festival, Paramore Arts + Friends, once their tour comes to a conclusion. They also released the music video "Caught in the Middle" this week. As for what Stranger Things has in store, season three filming is in progress, and a book, videogame and comic book have all been announced.