Paste Continues "Bands Without Borders" Today with Bassel & The Supernaturals
Photos by Dove Shore, Allister Ann, Michael Litchfield
Music
Features
Paste Studio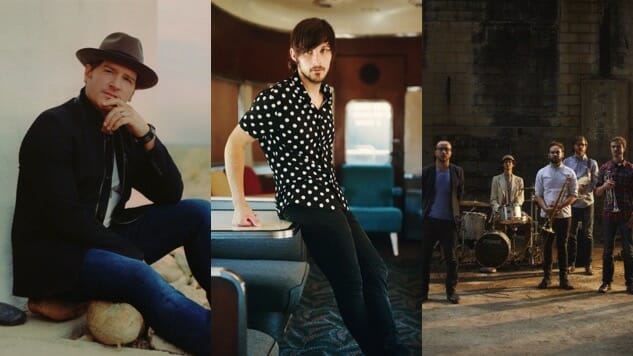 This afternoon brings another entry in Paste's Bands Without Borders series, in which we're showcasing various at-risk musicians, both in celebration of the diversity that makes our country truly great, and in defiance of our president's repeated attempts to prevent immigrants from entering the United States. Since the travel ban was introduced in late January, Bands Without Borders has seen the likes of Alsarah & The Nubatones, Emel Mathlouthi and Yasmine Hamdan bring the Paste Studio to life with vital, politically charged performances, and today we are proud to welcome indie-funk outfit Bassel & The Supernaturals.
Soulful Syrian-American vocalist Bassel Almadani and his ensemble, The Supernaturals, recently raised more than $11,000 through the preorder campaign for their debut album Elements, with more than $3,000 in donations going towards humanitarian aid in Syria. The band also took part in a SXSW showcase called ContraBanned: #MusicUnites, performing alongside other artists from the diaspora of countries targeted by Trump's travel ban. Bassel & The Supernaturals are as dedicated to putting on captivating shows as they are to inspiring political awareness and compassion, and we expect they'll do both this afternoon.
In addition to that powerful performance, today we'll also be treated to live-streaming sessions from a pair of critically acclaimed country singer-songwriters in Jerrod Niemann and Charlie Worsham. All told, it will certainly be an afternoon to remember in the Paste Studio.
Here's today's schedule, including approximate set times:
– 12 p.m. EST: Jerrod Niemann @ Paste Studio, Live
– 1:30 p.m. EST: Charlie Worsham @ Paste Studio, Live
– 5 p.m. EST: Bassel & The Supernaturals @ Paste Studio, Live
Tune in on Paste's Facebook page here, keep an eye on our feed here for any scheduling updates, and find Paste Cloud audio from Worsham and Bassel & The Supernaturals below.