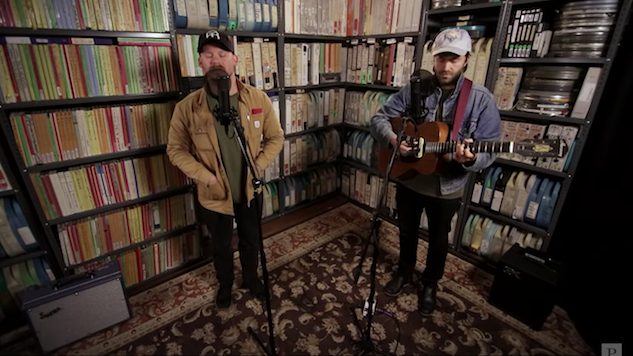 Indie-folk pair Penny & Sparrow, aka singer/songwriters Andy Baxter and Kyle Jahnke, have a new album on the way later this summer. It's called Finch, and it's out Aug. 2 via Thirty Tigers. The duo stopped by the Paste Studio on Monday to play the first single from that album, "Eloise," as well as "A Kind of Hunger" from 2017's Wendigo and a beautiful cover of John Denver's "Annie's Song." Please excuse us while we gently weep into a cup of coffee.
It sounds like Baxter and Jahnke were born to play "Annie's Song." With just two voices and a single acoustic guitar, their version is warm, mellow, and stripped-down, but it's just as emotionally affective as the original. "Let me drown in your laughter / let me die in your arms" is still as lovely and heartbreaking a request you'll ever hear in a song. Is anyone else suddenly feeling up for a nice "walk in the rain?"
Finch is the pair's sixth studio album, following the aforementioned Wendigo. The record is their response to some big changes.
"Almost everything changed for us in these last two years," Baxter said in a statment. "It was a painful experience in a lot of ways, but it was also a joyful one."
Following a big period of touring 150-200 dates per year, Baxter and Jahnke took a break from the road to process all those changes, and Finch emerged from the respite.
"What kind of came naturally was writing about all these things that have either changed or previously had changed and we hadn't had a chance to talk about it," Jahnke said during the session.
Baxter chimed in too, adding, "One good thing about the road, at least us—I'm sure there's other people who don't talk to the people they're band mates with—but I happen to be friends with this one," gesturing to Jahnke. "So we're consistently hashing it out. It's like an ongoing bio-dome experiment."
Watch Penny and Sparrow play "Annie's Song" below, followed by their full session. You'll find the band's 2014 Daytrotter session further down. Keep scrolling for their tour dates.
Penny and Sparrow Tour Dates:
May
14 – Philadelphia, Pa. @ Keswick Theatre #
16 – Munhall, Pa. @ Carnegie of Homestead Music Hall #
17 – Washington, D.C. @ Lincoln Theatre #
18 – Charlottesville, Va. @ The Jefferson Theater #
19 – Atlanta, Ga. @ Variety Playhouse #
21 – Cincinnati, Ohio @ Taft Theatre #
22 – Chicago, Ill. @ The Vic Theatre #
23 – Detroit, Mich. @ The Majestic Theatre #
June
20 – Boise, Idaho @ The Egyptian Theatre #
21 – Spokane, Wash. @ Knitting Factory #
22 – Vancouver, B.C. @ Vogue Theatre #
23 – Seattle, Wash. @ The Moore Theatre #
25 – Portland, Ore. @ Revolution Hall #
26 – Portland, Ore. @ Revolution Hall #
28 – Oakland, Calif. @ Fox Theater #
29 – Los Angeles, Calif. @ The Theatre at Ace Hotel #
July
12-14 – Louisville, Ky. @ Forecastle Festival
September
06 – Opelika, Ala. @ John Emerald Distilling
07 – Asheville, N.C. @ Orange Peel
08 – Chattanooga, Tenn. @ Moon River Festival
14 – Charlotte, N.C. @ Neighborhood Theatre
15 – Raleigh, N.C. @ Cat's Cradle
17 – Rocky Mount, Va. @ Harvester Performance Arts Center
18 – Richmond, Va. @ The Broadberry
24 – New York, N.Y. @ Bowery Ballroom
28 – Minneapolis, Minn. @ Fine Line Music
29 – Kansas City, Mo. @ Record Bar
October
01 – St. Louis, Mo. @ Old Rock House
04 – Knoxville, Tenn. @ Bijou Theatre
06 – Birmingham, Ala. – Saturn
17 – Houston, Texas @ The Heights Theater
18 – Dallas, Texas @ Majestic Theater
19 – Austin, Texas @ Paramount Theatre
November
06 – San Diego, Calif. @ Belly Up
15 – Salt Lake City, Utah @ State Room
16 – Denver, Colo. @ Gothic Theatre
17 – Fort Collins, Colo. @ Armory
20 – Oklahoma City, Okla. @ Tower Theatre
– with Josh Ritter