Perfume Genius Shares New Song, "Eye in the Wall"
Mike Hadreas calls the song "a cosmic peep show"
Photo by Kieran Frost/Redferns
Music
News
Perfume Genius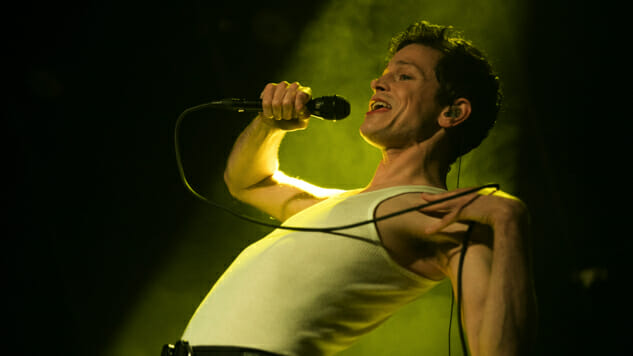 Perfume Genius has a new song out today (Sept. 13), the project's first new, original music since 2017's No Shape, and it's nowhere near what you'd expect.
"Eye in the Wall" is a sprawling, ambient, near-nine-minute selection from The Sun Still Burns Here, Perfume Genius' new "dance and music performance collaboration" with Seattle-based choreographer Kate Wallich, set for an October debut. Mike Hadreas and his longtime collaborator Alan Wyffels co-direct the "evening-long piece" alongside Wallich, with Hadreas also starring alongside Wallich's dance company, The YC. Perfume Genius is integrated into the show's choreography, with Hadreas performing songs he wrote for the project live.
Hadreas recalls the creative process behind both his new song and The Sun Still Burns Here itself in a statement:
I think of "Eye in the Wall" as a cosmic peep show. Watching, being watched, dancers unlatched from the Matrix and truly LIVING. Creating new rituals on the other side. Whole bodies braiding, spit glowing in the dark and a camera floating just above. We spent a lot of time in the studio alternating between the math of the song and the magic of it—which was very much like the process of creating the dance itself. Working with Kate Wallich and YC, really being with my body, really being with other bodies—there is control and a real formula, but a portal opened up in parallel that is completely free and overwhelmingly full of feeling.
"'Eye in the Wall' is the part of the piece where we lure you in and spit you out," says Wallich. "A tornado of body, time, space, transformation and deterioration. It's like pulling the Death card when you already knew what needed to end."
The Sun Still Burns Here makes its world premiere at Seattle's Moore Theatre on Oct. 4-5, later coming to New York City (Nov. 13-17), Minneapolis (Dec. 5-7) and Boston (Jan. 17-18).
Listen to "Eye in the Wall" and watch the The Sun Still Burns Here performance trailer (dir. Zia Anger) below. You'll find the show's itinerary further down.
The Sun Still Burns Here Performance Tour Dates:
Seattle, Wash. – World Premiere
Oct. 4 and 5, 2019 at The Moore Theatre
Tickets
New York City – N.Y. Premiere
Nov. 13 – 17 2019 at The Joyce Theater
Tickets
Minneapolis, Minn. – Midwest Premiere
December 5th – 7th 2019 at The Walker Art Center
Copresented by the SPCO's Liquid Music Series
Tickets
Boston, MA – Boston Premiere
January 17th and 18th, 2020 at ICA Boston
Tickets