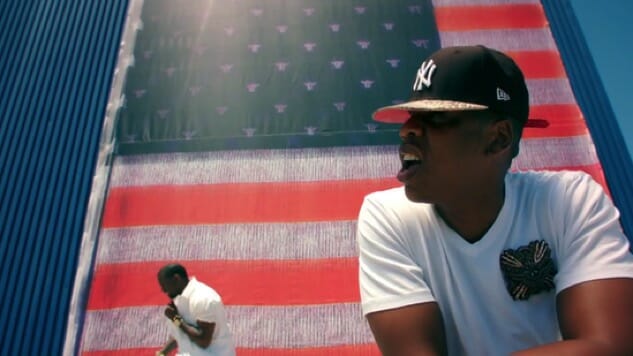 Today Twitter and Watch the Throne fans the world over celebrate the five-year anniversary of Jay Z and Kanye West's "Otis." Now's as good a time as any to relive the magic, starting with Funkmaster Flex's 22-minute-long, hilariously devastating debut of the song on July 20, 2011 .
There's a game that I love to play called Exquisite Corpse, and I was introduced to it at this poetry salon a friend would throw every few Saturdays. You write a couplet based on a subject or prompt, fold over the piece of paper so that the couplet is invisible and pass it to the writer next to you. She writes a couplet, unaware of what you just wrote, and does the same until a poem is created by a room full of writers who have no idea what any of their collaborators wrote. The poem is always shocking and lovely. Maybe that's always the outcome, when you're dealing with a secret collaboration of sorts.
Producers like Kanye West have been sampling iconic old school songs and sounds since the beginning of rap, but the aritist somehow managed to out-Kanye himself on Watch the Throne's "Otis." It's not just the interwoven composition of the sample of Otis Redding's "Try a Little Tenderness," but it's the boldness of declaring the beloved, deceased singer and producer a featured artist on the track. "Otis," featuring Otis insists that, although Otis didn't know it back in 1966, he was destined to be a future collaborator of two musical titans. "Otis" implies, in fact, that the collaboration was already beginning to unfold when Redding recorded his own vocals. For some, sampling is just sampling, or it's even stealing, but someone like Kanye makes it an art form that resurrects the dead—one that plays out so profoundly on a song like "Otis," that I can't resist the urge to describe what happened as a secret collaboration that started in the past. "Otis," then, has the power of a soulful time machine. Like every poet who's played Exquisite Corpse, Otis Redding had no idea what was coming after him—had no control and yet, had everything to do with the final, collaborative project. To quote some other geniuses of the rap sample, "this is powerful music."
Aside from the poetic brilliance of the sample, the title and the declared "feature," the lyrics stand as supreme examples of a certain "sophisticated ignorance" that only a handful of rappers have mastered. Earlier this year I wrote about my 7-year-old son "using the word "nigga for the first time and after finishing the piece, I immediately searched for what I knew had to be the image to go along with it: a screenshot from the Spike Jonze-directed "Otis" video. It was perfect, though I didn't know why until today. Listening to Funkmaster Flex going insane as he debuted the song to the world from Hot 97, it occurred to me that Kanye's line in the fourth verse—"sophisticated ignorance/write my curses in cursive"—spoke to the exact difficulty I had in explaining why the use of "nigga" remains complicated. There is such a thing as sophisticated ignorance; in rap it's practically a philosophical device. It's nuanced, and my 7 year-old certainly doesn't possess it yet—and may not ever. Yeezy and Hov not only possess it (likely, invented it on some level), but they understand it enough to be self-referential, to write the braggadocious, capitalistic lyrics heard on "Otis," only to complicate them at various points throughout the song and on other Watch the Throne tracks like "Murder to Excellence," "Niggas in Paris," and "Made in America."
That "sophisticated ignorance" is precisely what makes "Otis" a classic hip-hop track. Those songs that embrace hip-hop clichés like money, hoes and clothes, when the artists know better, or at least they know that it's more complicated than big-faced rollies and other other Benzes. Sophisticated ignorance is spinning around in a Maybach, celebrating success in front of an American flag—the symbol of a country that still treats black Americans like intruding immigrants.
Not bad huh? For some immigrants
Build your fences, we diggin' tunnels
Can't you see? We gettin' money up under you
There's a new meme/message that keeps popping up on my Facebook page and I want to find the person who made it, lock them in a room and make them listen to Watch the Throne for the next 365 days straight. The meme attempts to draw a parallel between white supremacists and rappers, arguing that rap has done just as much physical and emotional harm to black Americans as, apparently, the KKK. The meme is being passed around by people who don't listen to this music, who don't understand the poetry and power behind songs like "Otis."
These people don't know that Jay Z responded to their little meme over a decade ago, on another brilliant song with an unforgettable classic R&B sample, "Ignorant Shit," featuring Beanie Sigel from Jay's greatest musical achievement ever (yeah, I said it), American Gangster. Just Blaze produced the iconic track, and it makes sense that he was, in many ways, responsible for the creation of "Otis." Before the track begins Jay says "I'ma really confuse y'all on this one," and this is exactly it—this confusion is what he's so good at creating. And perhaps the only other rapper who can rival him in this, who can share the throne of poetic, powerful sophisticated ignorance, is Kanye. If you don't get the nuances, it's not their fault, it's yours. Another rap genius comes to mind here—"if we too simple, then y'all don't get the basics."
"Otis" isn't even a three-minute song. In less than 180 seconds, Jay Z and Kanye West delivered a powerful hit that we won't stop talking about for a very long time, if ever. It may not have been their greatest contribution to rap, or even the best song on the album (my vote's for "Why I Love You"), but it managed a near-impossible task that only great songs can achieve. It captured a very specific moment in rap history—the flash, the soulfulness and the moment just before "swag" got appropriated, and the game found itself forced to change, to reinvent itself (for better or worse), all over again.
---
Shannon M. Houston is a Staff Writer and the TV Editor for
Paste. This New York-based writer probably has more babies than you, but that's okay; you can still be friends. She welcomes almost all follows on
Twitter
.