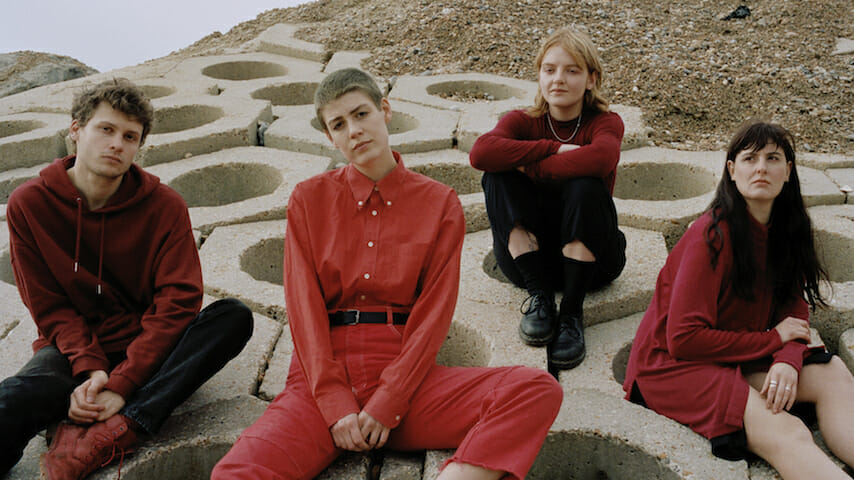 For years, Paste has introduced exciting, up-and-coming artists to our readers. This is the return of The Best of What's Next, a monthly profile column which highlights new acts with big potential—the artists you'll want to tell your friends about the minute you first hear their music. Explore them all here.
Porridge Radio have the ultimate band trajectory. Step one: Start a band even though you haven't figured out how to play your instruments yet. Step two: Book your own shows and build up your reputation as a must-see live band. Step three: Spend years perfecting every tiny detail of the songs that will comprise your eventual first studio album. Step four: Release that album to overwhelming critical acclaim and chuckle at how long it took people to realize what you knew from the beginning—that you're the best band in the world.
This Brighton, U.K. foursome recently released their debut studio full-length Every Bad, which follows their 2016 self-recorded first album Rice, Pasta And Other Fillers. After signing to Secretly Canadian last year, it was clear they were going to lose their title as the best-kept secret of their British seaside town. Porridge Radio, led by their entrancing singer Dana Margolin, are headed for the big time. They put out three of the most incredible singles ("Lilac," "Sweet" and "Circling") to kick off an album campaign in a very long time and planned a U.S. tour with noticeable anticipation building for their SXSW debut (the festival was later canceled). Margolin is glad people have finally caught up with the band, especially now that they've unleashed the grand, dynamic rock songs they've always wanted to make after years of uploading experimental, lo-fi recordings to Bandcamp.
As stable as it might look from the outside, being a hype band is a very precarious situation. Financial security is basically unheard of (especially for the first several years), and there's a lot of pressure to tour relentlessly, sell records, garner streams and most importantly, ride that wave of attention in a way that is timed to perfection. Adding a global pandemic to your first major album cycle and North American tour definitely throws a wrench in things, but Porridge Radio have made a record strong enough to see this through.
Although the band formed in Brighton, Margolin is currently living with her parents in London, and she's just hoping she'll remember her friends after this coronavirus outbreak passes and social distancing ceases.
"I'm lucky, and I'm enjoying the fact that I get to—I was going to say 'chill out,' but I have not chilled out at all," Margolin tells Paste over the phone. "I've gone into overdrive. I live with my parents and two dogs, which is amazing, but also hilarious. I see all my friends who live with their friends and I'm like, 'Fuck you guys!'"
Margolin's jumbled emotions during quarantine mirror the conflicting feelings that make their debut album Every Bad so interesting. It's not even one emotion that turns into another—it's more like emotional cords that have become so tangled that you can't find the beginning or end of any individual strand. One of several mantras throughout the album is the line "I don't know what I want / But I know what I want" from "Don't Ask Me Twice." Lyrics like this one make Porridge Radio special. Sure, it's easy and cathartic to yell about very specific misgivings, but what about those times when sadness, happiness, loneliness, love and boredom intersect? What about those times where you don't know how you feel, you just know that you feel? This isn't a case of naiveté either—Porridge Radio have a heightened emotional intelligence because they actually have the courage to try to grapple with these complexities, even at the risk of sounding like they have no clue how to be a person.
"The way that I think and feel changes so much and it's never consistent within itself," Margolin says. "I don't know if you ever get this, but you're having a total meltdown and you're like, 'What's my personality? Do I have a personality?' When it comes to knowing myself, I'm like, 'How can I know myself if there's nothing tangible?'"
It wouldn't be as powerful to hear Margolin singing about the simultaneous humor, horror and joy of life if her vocals weren't also bursting at the seams. For many, the initial fascination with this band likely stemmed from the way Margolin transmits every bit of intensity she can possibly muster through her vocals. Ranging from sweet speak-sing and sinister recitations to the most unbridled roars you've ever heard in your life, Margolin puts everything on the table—extracting so much of herself that you'll assume she needs to wait a while after performing until her emotional exhaustion subsides. Margolin didn't reach this point by attending theater school or using a singing coach—her vocal boot camp was much more primal. She used to be in a band called Pre Teen Menstrual Dream, and around that time, she and her then-bandmate Dan would yell songs out his window, with passersby from their bustling town angrily shouting back at them.
Another way Margolin cut her teeth as a vocalist was at open mic nights, usually in the upstairs of small pubs with old men sitting and staring at her, a practice that illustrates the dynamic that has always existed in this band: fake it till you make it.
"I'd be watching a beautiful twenty-something girl singing a beautiful folk song," Margolin says, "then I would get on stage and be like, 'I don't have a guitar. Can I use yours? I don't know how to tune it. Can you tune it for me?' Then I would scream these songs at a room of people who'd be like, 'Who the fuck is this?' And then I would feel good. It was the most exhilarating, terrifying, weird thing I never thought I could do."
Margolin is magnetic and commanding, so it's almost unthinkable that she didn't always enjoy the spotlight.
"I was a very quiet, shy kid," Margolin recalls. "I was embarrassed to be the center of attention. I was like, 'No, why would I ever get on a stage and perform? It's just not for me,' which is hilarious [now]."
Margolin has been scribbling in her notebooks in stream of consciousness for the past eight or so years, and she's been making up songs in her head ever since she was a kid.
"I never really thought I could do it until long after I was doing it," she says of her songwriting.
Once she met her bandmates—Maddie Ryall (bass), Georgie Stott (keyboards) and Sam Yardley (drums)—things began to fall into place. The emotional hurricanes that Margolin creates wouldn't have the same oomph if not for the band's ability to elevate their songs to their mightiest final form.
"When I write a song, I usually don't think about what I'm building it into," Margolin says. "I'm usually just thinking about what I need to get out of me. I'll write songs and then bring them to the band and we'll arrange stuff together. So with all these songs, it suddenly gets louder and bigger. We all love the idea of building things and seeing how far we can push things and seeing all the edges of the emotional intensity that you get out of a song."
Porridge Radio can loosely be categorized as an indie rock band, but they're worlds apart from many of the genre's run-of-the-mill groups. Their sound is just as multifaceted as the feelings they channel—they shift between chiming rock ("Give/Take"), dramatic punk ("Lilac," "Sweet"), subtle, melodic pop ("Circling," "Nephews") and PC Music-like synth-pop ("Something," "Homecoming Song"). No wonder Margolin is befuddled when trying to deliver the band's elevator pitch.
"I'm always just like, 'emo' or 'it's big and sad, but sometimes chill and fun,'" she says. "I always hate everything I say to describe it."
There's a tension in these songs, sometimes invigorating, sometimes overwhelming—especially in the ones with poignant or disorderly strings and Margolin's languorous vocals, simmering and prone to boiling over at any second. This facet of the band is particularly evident in their much-gabbed-about live shows. They're often described like an exorcism, or a moment of enlightenment. One famed music critic saw them back in 2015, and even though he only caught 30 seconds of their set, he described it like a Shakespearean tragedy, writing in all caps, "I CANNOT BELIEVE THIS BAND IS NOT BEING YELLED ABOUT FROM THE BARRICADES OF THE DOLDRUMS OF BRITAIN."
"Every show, people [told] me that they were crying," Margolin says. "It's just intense. I feel like I kind of leave my body."
From the trenches of the British DIY scene and the land of Bandcamp demos to their unbelievably nuanced debut studio album and seas of listeners finally catching up with their brilliance, Porridge Radio are proof that meaningful art is within reach if you're willing to wholeheartedly devote yourself to the cause and be vulnerable in the most extreme possible sense.
"It took a really long time to actually gain confidence in ourselves and figure out what we were doing, so having that time was really good, but then there was a period for a few years where I was like, 'Okay, come on. Why is no one taking us seriously? We're really good and we are the best and where is everyone? Like, come on,'" Margolin says with a laugh, but you can tell she really means it.
Every Bad is out now via Secretly Canadian. Read our review here
---
Lizzie Manno is an assistant music editor, Coldplay apologist, bread obsessive and lover of all things indie, punk and shoegaze at Paste. Follow her on Twitter @LizzieManno