Pottery Share Latest Single "Hot Heater" from Debut Record Welcome to Bobby's Motel
Photo by Luke Orlando
Music
News
Pottery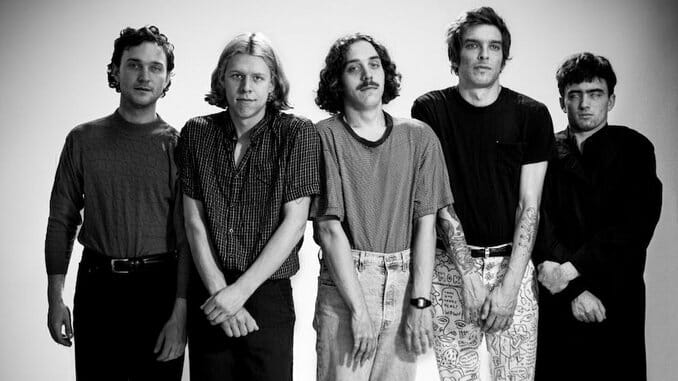 Montreal's Pottery share their most recent single, the incendiary "Hot Heater," from their forthcoming debut LP. The record, Welcome to Bobby's Motel, is set for release on June 26 via Partisan Records.
Pottery released their debut EP, No. 1, last year and have been steadily releasing singles this year ahead of their full-length venture. "Texas Drums Pt. I & II," "Take Your Time" and "Hot Like Jungle" are now joined by "Hot Heater."
The band explains that the concept of heat was an integral part of the imagination of Welcome to Bobby's Motel, with singles like "Hot Heater" and "Hot Like Jungle" stemming from that curiosity about heat as a sonic presence.
"While there are hints of environmental themes on this one, we mainly wanted to make a disco song with a robotic feeling, something that could be easily chanted," said the band of "Hot Heater" in a statement. "[Lead singer] Austin was originally really interested in heat as a musical concept/feeling—some of the early album titles we threw around were 'Hot Hot Hot' and 'Sun Fever'—and there are a bunch of other heat references on the album [see previous single 'Hot Like Jungle']. In the studio he'd be joking around and yelling stuff at us like 'let's make it hot!' right before a take. A lot of that didn't end up totally sinking in, but some did…like on this song."
Check out the visualizer for "Hot Heater" below, along with Pottery performing "Spell" at Paste's Atlanta studio last year.