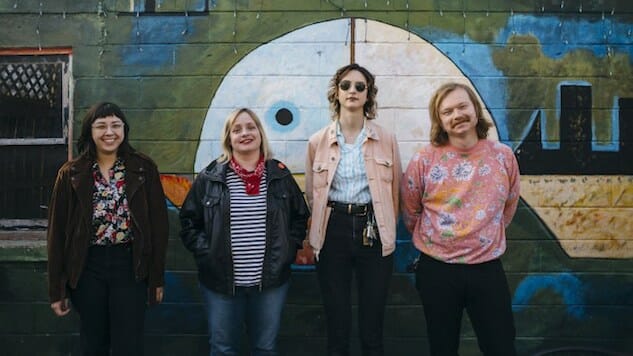 Daily Dose is your daily source for the song you absolutely, positively need to hear every day. Curated by the Paste Music Team.
How has it taken this long for a pop-punk group to choose the name Proud Parents? It's the perfect combination of warm/cuddly and ironic/snotty, which is just the kind of sound and feeling you want to get from a bunch of kids playing jangly, overexcited tunes. Let's give a hearty round of applause to Claire Nelson-Lifson and Tyler Fassnacht for picking up on that thread and finally giving that moniker its due.
The pair have been knocking out songs together over the last few years in their hometown of Madison, WI, picking up bandmates and energy along the way. Proud Parents are now a four-piece and are blessing the world with their first full-length, self-titled album (out on June 22nd via Dirtnap Records). Let me tell you friends, it's positively blissful to hear. A soundtrack for summer shenanigans if there ever was one, replete with cheeky nods to familiar pop hits of the past and attitude to spare. Check out this single from this fabulous new LP and be prepared to have a favorite new band. Then go see them play when the set off on a tour next month. Dates are below.
TOUR DATES
7/7 Minneapolis, MN – Eagles 34
7/8 Omaha, NB – O'leavers
7/9 Lawrence, KS – Haunted Kitchen
7/10 Fayetteville, AR – Backspace
7/11 Dallas, TX – 3 Links
7/12 Austin, TX – Beerland
7/14 New Orleans, LA – Circle Bar
7/15 Hattiesburg, MS – Looney Bin
7/16 Nashville, TN – the Cobra
7/17 St. Louis, MO – the Sinkhole
7/18 Champaign, IL – Memphis on Main
7/20 Madison, WI – Crystal Corner (release show)
7/21 Milwaukee, WI – Quarters Rock n Roll Palace