Pussy Riot Return with New Song and Planned Parenthood Benefit Show in Alabama
Images via Pussy Riot/YouTube
Music
News
Pussy Riot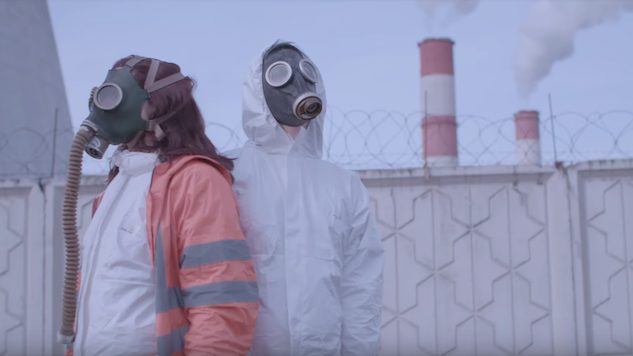 The time has come for the triumphant return of Russian activist provocateurs Pussy Riot.
Tuesday morning, the band released a pro-environmental salvo titled "Black Snow," issued a seething open letter to Putin demanding for action to be taken against pollution in Russia and announced a Planned Parenthood benefit show in Birmingham, Alabama.
Featuring Saint Petersburg-based trap artist Mara 37, "Black Snow" is built on pro-environmental lyrics concerning air pollution and ecological stress issues in Russia. The imagery is vivid and gutting: "I see the shape of God in acid smoke / He's choked on the smog but winked at me a little / The acid rain hasn't fucking stopped since last year / My eyes are being corroded," frontwoman Nadya Tolokonnikova screams over a frightening Russian lullaby and a dark, corrosive synth.
The accompanying visual finds the band trekking through red-stained snow and clouds of pink smoke in gas masks and getting high off tanks of toxic waste.
Earlier this morning, the band uploaded a Tolokonnikova-penned letter onto their website, addressed to Putin and "his cronies, including Potanin, Prokhorov, Deripaska, and Abramovich," which begins with a spiteful reminder of Tolokonnikova's 2012 arrest "when [I] performed a 40-second act of protest and beseeched the Virgin Mary to chase you away."
Tolokonnikova then clears the air and addresses the rampant environmental issues affecting the Russian industrial city of Norilsk, writing:
You fill the Russian North with unprocessed garbage (see Shiyes and 10 million tons of Moscow waste). You criminalize ecological activists (see 5 new cases against Alexandra Koroleva, the co-chair of Ecodefense!). Meanwhile, the inhabitants of Kuzbass are forced to seek environmental asylum in Canada to escape intolerable living conditions, high rates of oncological illness, black snow, poisoned water, and the indifference of local government officials. People in Kuzbass ask: "How can you be a patriot of something or someone who won't even notice how we live? How we breathe? What we drink?" Listen, this is just completely unacceptable.
The musician then explains corporations cannot exist with public control and "toxic emissions don't dissolve—they accumulate and cause mutations in humans and animals alike, and they will lead to irreversible environmental catastrophe."
Tolokonnikova ends the letter with a call to action:
I'm not suggesting that we immediately close all factories, but the way I see it—humanity has two options. Either we leave things as they are and we just die out, turning our planet into Chernobyl and Norilsk. Or we figure out how to build a technologically advanced civilization that uses renewable energy sources for its industries.
You can read the full letter in Russian and English here.
Lastly, the benefit show—which is being held in a state deadlocked by anti-abortion laws—was announced via two cryptic videos: one being a weird digitized compilation of several conservative lawmakers, and the other featuring a warped image of a fetus and blistering text flashing onscreen: "Get out of my uterus / Or I'll cut your balls off."
The benefit show will take place on July 11 at the Saturn music venue in downtown Birmingham. All proceeds from the show will go towards Planned Parenthood and the Yellowhammer Fund.
Check out the new song and the two video announcements below.