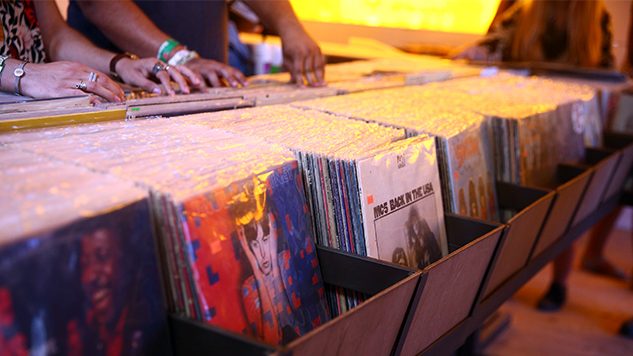 Record Store Day, the annual celebration of independent record shops, is letting this year's needle drop on April 13. Its organizers have announced their list of exciting exclusive vinyl releases available that Saturday, from both beloved classic artists and promising newcomers.
Prince has two titles on the Record Store Day list, including a vinyl release of His Majesty's Pop Life/The Purple Mix Club, as well as The VERSACE Experience: PRELUDE 2 GOLD, a Prince cassette release never made commercially available before, a major coup for collectors.
Both Bob Dylan's Blood On The Tracks—The Original New York Test Pressing and John Lennon's Imagine (Raw Studio Mixes) are being released to re-introduce these quintessential albums to new listeners. For all you Bowie fans, there's a single marking his collaboration with the inimitable Marlene Dietrich in Just a Gigolo.
Of course, we'd be remiss if we didn't highlight the release of sets from Janis Joplin, Sly & The Family Stone, Canned Heat and the 3-LP mono release of the original Woodstock soundtrack that capture the feel of the iconic 1969 music festival.
As for new artists, Anderson .Paak and Busta Rhymes collaborated on a single that's arriving on April 13. Courtney Barnett and Soccer Mommy are also gracing us with new releases.
Podcasts are certainly making their mark as well, with In The Garage: Live Music From WTF With Marc Maron containing a series of intimate performances from the comedian's podcast. Ben Harper and Charlie Musselwhite, Karen Kilgariff, Jason Isbell, Dave Alvin, Eels, J Masic, Aimee Mann, Melissa Etheridge, Margo Price and Nick Lowe all contributed to the compilation, which will benefit Musicians on Call (an organization bringing musical artists to patients' bedsides).
Check out the Record Store Day list in full here.