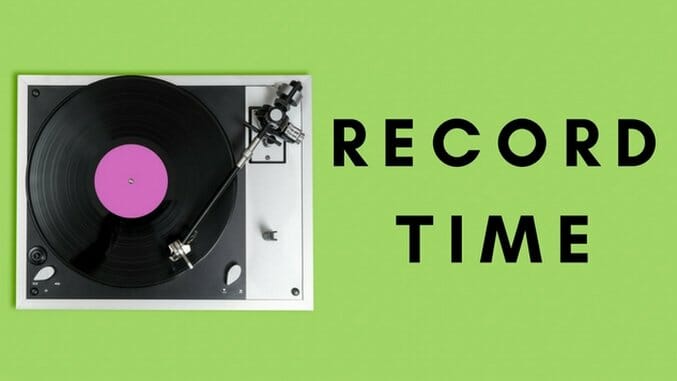 Record Time is Paste's monthly column that takes a glimpse into the wide array of new vinyl releases that are currently flooding record stores around the world. Rather than run down every fresh bit of wax in the marketplace, we'll home in on special editions, reissues and unusual titles that come across our desk with an interest in discussing both the music and how it is pressed and presented. This month that includes reissues of 50 year old classics from The Rolling Stones and Jimi Hendrix, a quartet of Brian Eno's ambient albums, new music from Pylon Reenactment Society and a newly discovered live recording featuring jazz bassist Charles Mingus.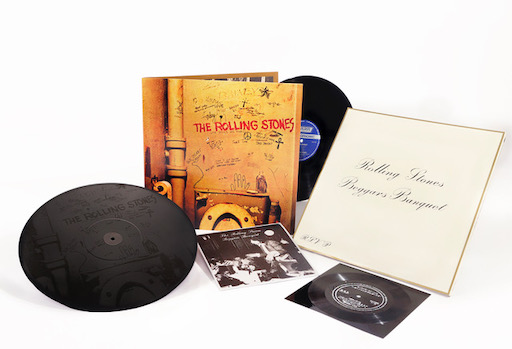 The Rolling Stones – Beggars Banquet (50th Anniversary Edition) (ABKCO)
The glut of deluxe reissues celebrating the 50th anniversary of some of the seminal albums and moments of the late '60s has been a blessing and a curse to the world. While fans get a chance to hear classics like The Beatles, Electric Ladyland and Elvis's '68 Comeback Special in new light, the sheer volume of these releases has been murder on a bank account. Then there are reissues like this, a high priced yet comparatively bare bones edition of the Rolling Stones' Beggars Banquet. What this has to offer, beyond the cheeky packaging that hides the famous vandalized toilet art with an overwrap replicating the wedding invitation version, is a one-sided 12" featuring a true mono mix of "Sympathy For The Devil" and a flexi-disc recording of an interview Mick Jagger gave to a PR rep for the band's Japanese label.
Even without the bells and whistles like a 5.1 surround sound mix or copious sessions outtakes, this album remains a blistering experience some five decades later. The remastering job by Bob Ludwig sharpens the edges of these songs, bringing the perfect elements into focus like Keith Richards' anchoring bass line on "Sympathy," the ugly wonder of the drums on "Street Fighting Man," the creak of the acoustic on "No Expectations" and Jagger's vocal scats that sneak into "Stray Cat Blues." The whole experience of this album could have been deepened, though, with the addition of the Rock 'n' Roll Circus film that they made in late '68 or any of the different mixes of the album's singles that were released at the time. The album, on its own, is plenty filling, but considering its reputation, there was an opportunity here to overstuff Stones fans.
---
The Jimi Hendrix Experience – Electric Ladyland: Deluxe Edition (Legacy/Dagger)
The last studio effort by psychedelic rock icon Jimi Hendrix was recorded in fits and starts through 1967 and 1968, a frustrating experience for most everyone involved due to its creator's perfectionist tendencies and the busy promotional schedule for Axis: Bold As Love that he and the Experience were already in the midst of. The double album that was released in October 1968 was worth all the trials though as it gave space for the guitar god to indulge in his wilder ideas, and to mix pure pop genius in with long blues jams and tape delay experiments.
This anniversary reissue, for the most part, does justice to this masterpiece. The nucleus is a gripping remaster of the original album that generates a wealth of skin-tingling moments with the watery opening notes of "Burning of the Midnight Lamp" and the jazzy freakout that is "1983… (A Merman I Should Turn To Be)." Much like the recent White Album reissue, this set also takes listeners through the process of Ladyland's creation with a two-LP set that puts a set of demos that Hendrix recorded in a hotel room alongside alternate takes and jams from the various studio sessions. Even in those early stages, the guitarist had a vivid vision in mind for this album. That he was able to see it through is a testament to his willingness to dig his Cuban heels in and do the work. The curiosity in this collection is the inclusion of an awfully-recorded live performance that the Experience did at the Hollywood Bowl a month before the album's release. The tapes have audibly seen better days as they often sound distorted and muddy, and the momentum of the show is halted by interminable stretches of guitar tuning and begging the revelers splashing around in the pool that's right in front of the stage to settle down. Leave that record in the box and keep the others in heavy rotation.
---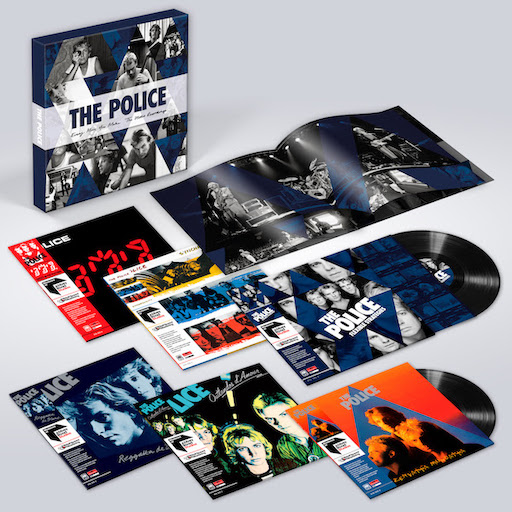 The Police – Every Move You Make: The Studio Recordings (Polydor/A&M)
Like a lot of reissues that have been popping into the marketplace in recent year, new pressings of the studio albums of The Police seems particularly egregious. The British trio sold millions of copies of their full-lengths during their late '70s/early '80s run, all of which can be had for a pittance in your local used record shop. The draw for these new editions is their hugely improved sound. Re-mastered at Abbey Road Studios using a half-speed process, the five LPs that The Police produced during their brief run together positively sparkle, with sharp high-end that emphasizes drummer Stewart Copeland's intricate playing and the tang of Andy Summers' guitar work. Things get even better when the band started introducing synthesizers and other technology into the mix on their final two albums Ghost In The Machine and the massively successful Synchronicity. The set is rounded out by a sixth LP, featuring b-sides and unused album cuts including the late period classics "Murder By Numbers" and "Someone To Talk To," the latter of which featured a rare vocal turn by Summers. These are fantastic upgrades for long standing fans of the group and a way for newbies to snap up the discography in one fell swoop. Everybody wins.
---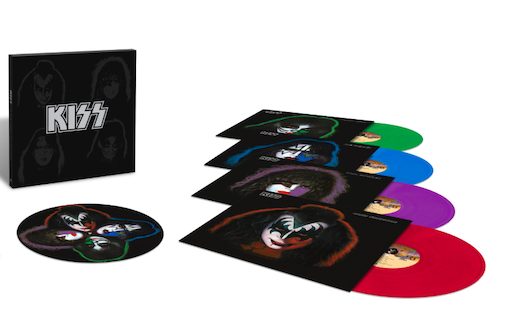 KISS – The Solo Albums – 40th Anniversary Collection (Mercury)
Back in 1978, when KISS were, without question, the biggest band on the planet, they made possibly the most hubristic decision of their careers: deciding to have each individual member of the group record a solo album, and release them all on the same day. Their logic was commercially sound as each one earned platinum sales, and three out of the four landed singles in the pop charts. Artistically, it was proof of just how much better Ace Frehley, Gene Simmons, Paul Stanley and Peter Criss are together than alone.
As KISS is also a band that never saw an anniversary it couldn't try and cash in on, they are re-releasing all four solo ventures in a nice boxed set. Each one has been pressed on colored wax chosen to complement the hue of the cover art, and they've even borne the expense of recreating the puzzle piece posters that fans were supposed to connect together into a full mural for their bedroom walls. (The set also comes with prints of the albums' cover art and a slipmat.)
The general consensus on these albums hasn't changed a bit in four decades. Frehley's album is the best of the bunch, a glammy gem that plays like a lost album by The Sweet and contains his indelible cover of "New York Groove." Simmons' is an interesting trifle with some good pop sensibilities but an even better guest list (Rick Nielsen! Bob Seger! Cher! Helen Reddy?!?). Stanley's has a handful of great songs and a whole lot of dross whereas Criss's starts off fine but completely falls apart with his icky lyrics and disinterested performance.
---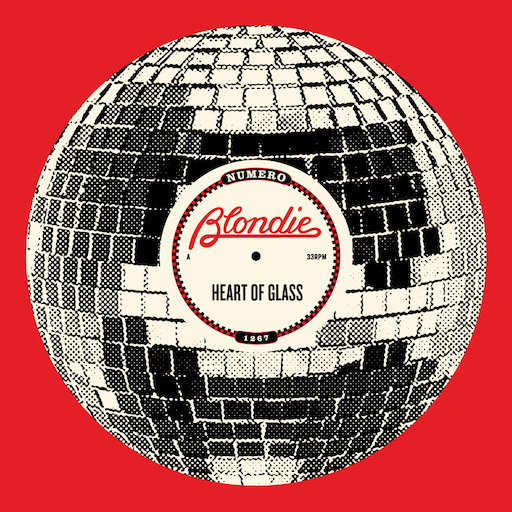 Blondie – Heart of Glass (Numero Group)
Next year, the peerless reissue label Numero Group will be re-releasing the first six studio albums recorded by Blondie, capped off by two albums filled with b-sides and assorted rarities. Exciting news for anyone who has fallen under the sway of this New York disco-punk ensemble. To whet our appetite for this boxed set, they slipped a little treat under the tree in the form of this release which tracks the evolution of "Heart of Glass," the band's first #1 single, which catapulted them from obscurity in the late '70s. The six track EP brings together early versions of the tune, given the working titles "The Disco Song" and "Once I Had A Love," an instrumental take, and the long single version from 1979. My favorite, though, is subtitled "Basic Track," a rough start of the tune that is primarily just the drum machine beat that kicks off the song and a bit of guitar. If you ever want to drive your friends crazy, making them wait for a drop that never comes, this is the way to do it.
---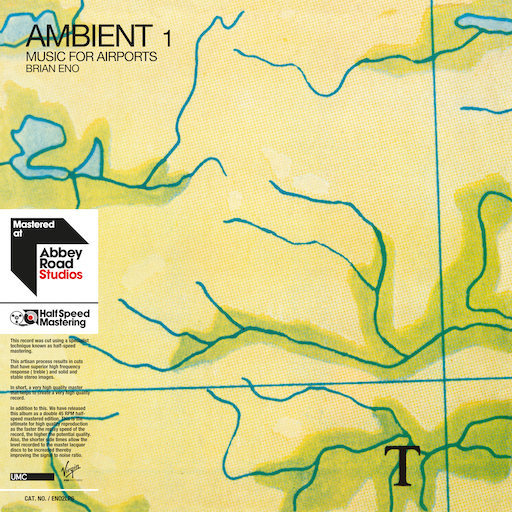 Brian Eno – Discreet Music/Ambient #1: Music For Airports/Music For Films/Ambient #4: On Land (Virgin)
After releasing a pair of well-received albums in 1974, Brian Eno was ready to move well beyond the realms of pop music. The former Roxy Music member became interested in music that was "ignorable as it was interesting" and that could "induce calm and a space to think," as he wrote in the liner notes for his 1978 LP Music For Airports. This new collection of reissues, half-speed mastered and pressed at 45 RPM for maximum sonic impact, centers on that stretch of his solo career with four records that eschewed lyrics and hooks. These albums find Eno clarifying and perfecting his vision for these sounds as he went. The first two, chronologically, Discreet Music and Airports were largely solo affairs, using tape loops and tape delay that allowed him to swirl together synth melodies and swirling synth patterns into lush tapestries. (The pressing of Discreet sadly forces the 30 minute title track to be cut in half to accommodate the 45 RPM speed, losing its more meditative qualities as a result.) The other two work other musicians into his vision, with On Land in particular making great use of Michael Brooks' washes of guitar and some perfectly squiggly work from trumpeter Jon Hassell.
---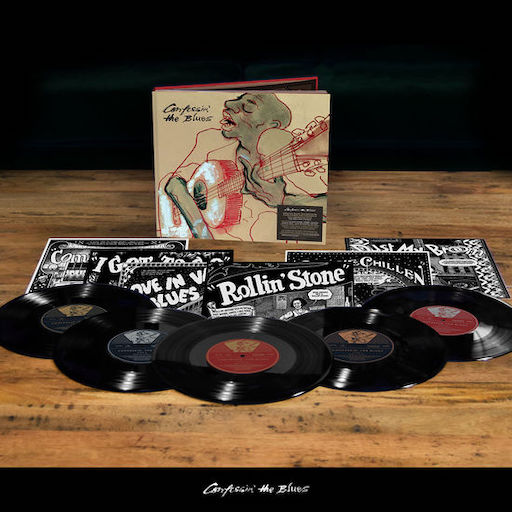 Various Artists – Confessin' The Blues (BMG)
The other Rolling Stones-related release to drop in these last few months of 2018 is a collection of well-known and previously-released blues, R&B and early rock tunes as selected by the members of the group, with a chunk of the sales going to support Willie Dixon's Blues Heaven Foundation. To add a little verisimilitude to the proceedings, the vinyl release of this compilation have been pressed on a series of 10" records, packaged in a binder akin to those folders for 78s that you often see in thrift shops. The good news is that the sound quality of these tracks is far better than a scratchy old Chess or Bluebird release. As a starter kit for any music fans looking to explore these genres for the first time, this is a great introduction with well-chosen cuts from Bo Diddley, Otis Rush, Amos Milburn and Chuck Berry (some of which have been covered by the Stones over the years), and quick hit biographies of all the artists within a well-designed booklet. For longtime aficionados, there's nothing new under the sun here. Just a greatest hits package of inarguable greats. No matter your knowledge, there's nothing more pleasant than spending a quiet weekend afternoon playing these records as you lounge around the house. They make for a great Sunday soundtrack.
---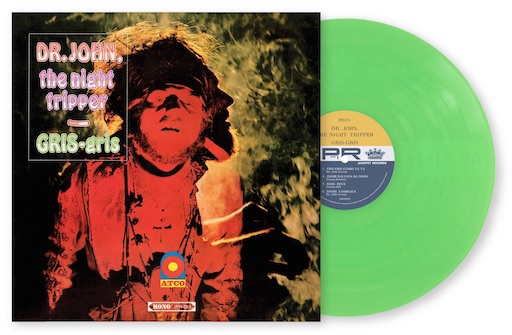 Dr. John, The Night Tripper – Gris-Gris (Jackpot)
When Dr. John emerged from the wilds of New Orleans in the late '60s with his first album Gris Gris, he was known as "The Night Tripper." From his freaked out picture on the cover and the hazy tone of the soul-jazz on the record, he wasn't simply talking about traveling in the evening. This classic has been in and out of print since its original released in 1968, with the most recent vinyl pressing coming via Rhino in 2005. This new edition from Jackpot, pressed onto soupy yellow-green vinyl, brings the music back to its monophonic glory with the original master tapes as their guide. The resulting sound is so much denser and scarier than the stereo version, like being caught in the middle of a voodoo ceremony that you can't bring yourself to leave no matter how terrified you might be feeling. The music's too good, a psyched out blend of zydeco, funk, blues and some undefinable version of soul. If you can't wrangle up a copy of the original pressing, this is the version you want.
---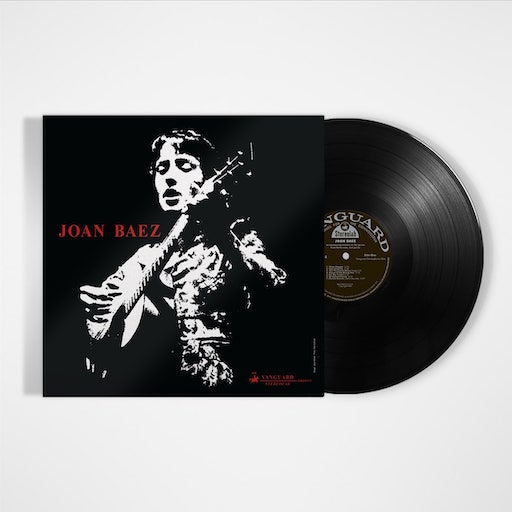 Joan Baez – Joan Baez (Craft)
If we're being honest with ourselves, there's likely a copy of Joan Baez's 1960 self-titled solo debut sitting at a thrift store or in the $1 bin of a record store near you. It sold enough copies at the time of its release for that to be the case. Which makes this reissue feel a little superfluous, even if the timing works considering Baez is going to be retiring from the music business after her world tour wraps up this year. At the same time, there's little chance that the used copy you might pick up will sound as good as this reissue does. The indefatigable Kevin Gray had the stereo master tapes at his disposal, and used an all-analog process to bring new life to Baez's moving renditions of traditional folk classics like "House of the Rising Sun" and "Henry Martin." The music and performances are breathtaking and occasionally devastating, with Baez finding some fresh nuance and power in these oft-told tales.
---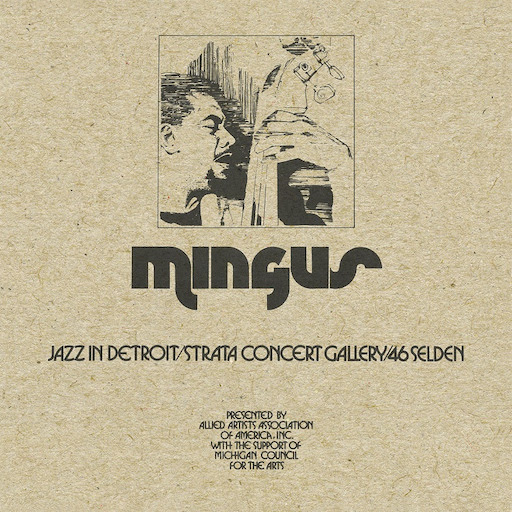 Charles Mingus – Jazz In Detroit/Strata Concert Gallery/46 Selden (BBE)
It's been a momentous year for jazz reissues, what with the discovery of unheard John Coltrane recordings and a never before released reel of alternate takes of Eric Dolphy's 1963 studio sessions. The cherry on this sundae is this set, which brings to the world a live set by Charles Mingus, recorded in 1973 at a small concert space, that was originally broadcast over the airwaves in the Detroit area. A recording of this was apparently discovered by the widow of Roy Brooks, the drummer for this particular session. Everything about this release is a stunner, from the quality of the performances (pianist Don Pullen is in particularly fine fettle here, adding a volatile element and little strains of discordance) to the packaging, which includes a reprint of a poster advertising the gig and a well-designed booklet going over the details of the evening. The downside is that, in the label's desire to present this music in the best sonic light, they had to split certain songs over two sides of an LP. Interrupting the trajectory of the 25-minute performance of "Pithecanthropus Erectus" is a tough pill to swallow, as is the similar break that has to happen on their incredible rendition of Duke Ellington's "C Jam Blues."
---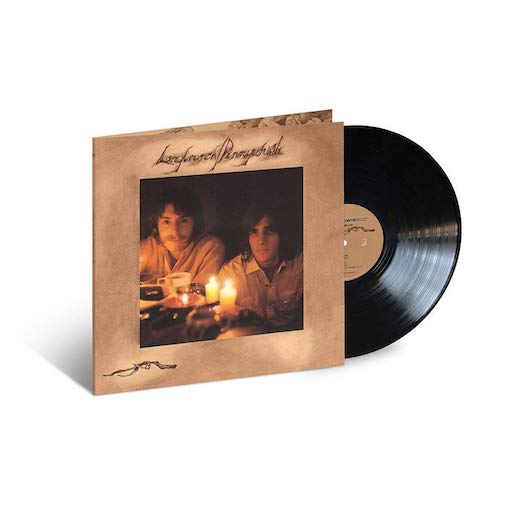 Longbranch/Pennywhistle – Longbranch/Pennywhistle (Geffen)
Right before Glenn Frey joined forces with Don Henley and co. to form Eagles, he and his buddy from Detroit J.D. Souther had this little project, a country-rock outfit that stirred up the kind of peaceful, easy feeling that the Flying Burrito Brothers and the Grateful Dead were already well-steeped in. Your inclination may be to try and find the points that connect this project to Frey's future work (and the songs Souther co-wrote for Eagles, like "Best of My Love" and "New Kid In Town"), but this never feels like a rough draft. The pleasant amble of this album should be taken on its own terms as a document of shifting tide in the L.A. rock scene that was drifting away from psychedelia on the winds of the Bakersfield sound and the outlaw country revolution taking seed in Texas. Hints of Motown R&B were still part of the equation, but mostly defanged as a result of all the pleasant sunshine and good weed Frey and Souther were enjoying at the time.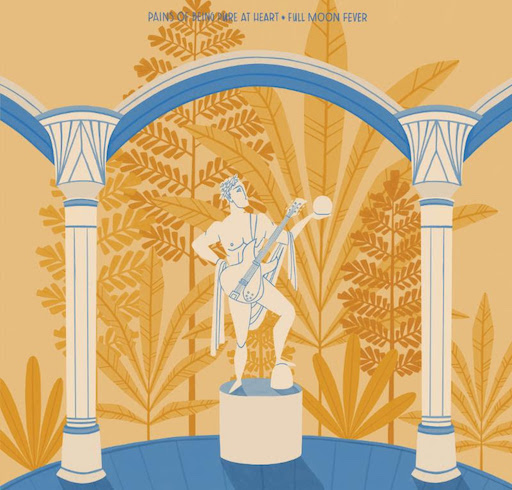 The Pains of Being Pure at Heart – Full Moon Fever (Turntable Kitchen)
The latest installment in Turntable Kitchen's series of releases featuring artists covering a full album of their choice is one of its most curious: The Pains of Being Pure At Heart tackling Full Moon Fever, the 1989 solo effort by Tom Petty. It's a novel, unexpected choice for the band considering their core sound, but it's also one that doesn't make for the most gentle transition to a shoegaze/dreampop format. The otherwise sturdy songs have been made wispy and empty at their core, with even The Byrds' "I'll Feel A Whole Lot Better" turned into something dippy and fey. The key downfall is Kip Berman's vocal performances throughout. He didn't need to try and replicate the twang-y tones of Petty but Berman makes the wrong choices throughout. He opts for his breathy croon when he should growl, and growls when he should get dreamy. It upends the more inventive moments like the band's rendering of "A Face In The Crowd" as a synthpop dance classic and "A Mind With A Heart Of Its Own" as Beatles-esque blues. A pleasant diversion that will only inspire revisits to the Petty original. Maybe that was the point all along.
---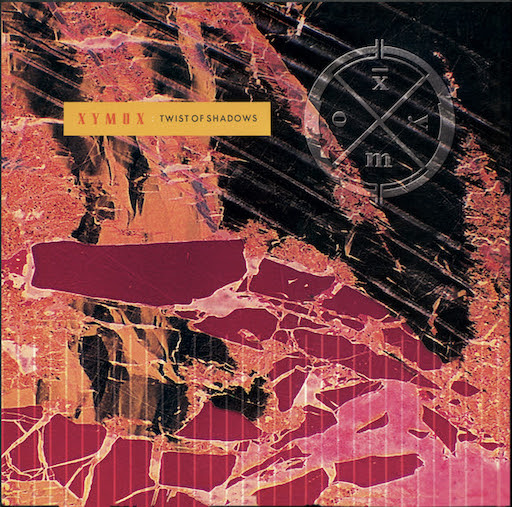 Xymox – Twist Of Shadows (Pylon/Republic)
The third album by the Dutch darkwave project Xymox was the group's commercial breakthrough. As much as a single charting in the lower rungs of the Billboard Hot 100 can be considered a breakthrough. For this band, though, those small movements in the market were huge, justification for the trio moving in a more radio-friendly direction akin to fellow synth-heavy groups like New Order and Depeche Mode. This new vinyl issue was spurred on by renewed interest in the group's work thanks to some well-received recent tours and a reignited interest among the record collectors of the world in post-punk and dreampop. This fine pressing and remaster of this gem of the post-punk era folds in b-sides and remixes from the era, including the lilting "Senses Coalesce" and the more industrial-leaning "Shame."
---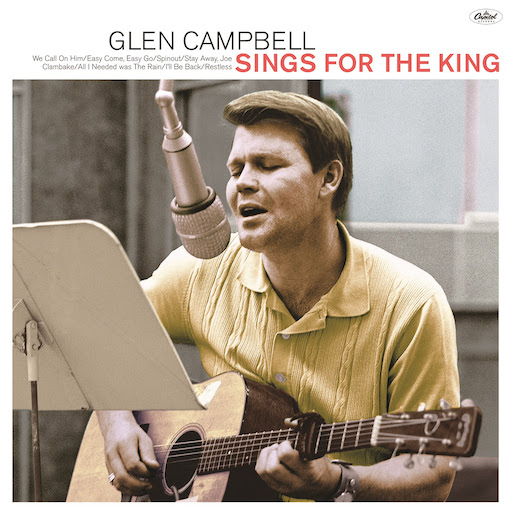 Glen Campbell – Sings For The King (Capitol)
Your first job when opening up your copy of this collection of scratch demos that songwriter Glen Campbell made for Elvis Presley is to skip right past the first track. "We Call On Him" is a lovely gospel tune, but the folks putting this together decided to digitally fuse together the Campbell recording with Presley's take on it to "hear…how the two superstars would have sounded together," according to the press notes. It's an unnecessary bauble in the mode of those egregious albums that layer a symphony under the work of the Beach Boys and Roy Orbison. Everything else about this collection is fantastic as Campbell and the Wrecking Crew knocked out fine, if occasionally rough renditions of songs that Elvis would eventually record (many of them landed on the soundtracks for movies like Clambake, Stay Away, Joe and Easy Come, Easy Go) and some that the King rejected. The unheard material is the draw here and does not disappoint, falling right into the swinging and soulful pop vibe of the '60s. It's a shame that Presley and his people shot down some of these songs as he would have made hay of a brilliant ballad like "Anyone Can Play" or the hip swivelin' tune "Love On The Rocks" (not the Neil Diamond classic, FYI). As fun to listen to as it is to imagine what the King could have done with some of the tunes that didn't make the cut.
---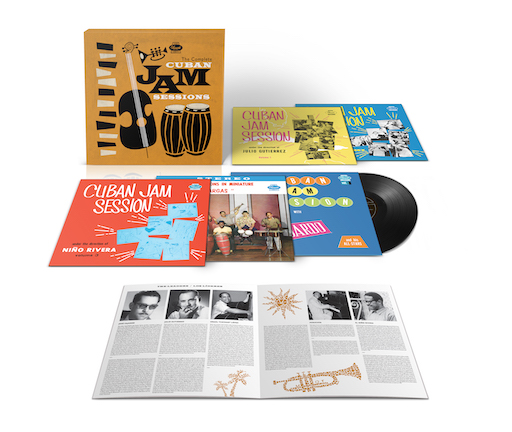 Various Artists – The Complete Cuban Jam Sessions (Craft Recordings)
In the '50s and '60s, Panart Studios and the record label of the same name was the epicenter for Cuban music in Havana. It was through that imprint and that recording studio that now-venerated artists like Jose Fajardo, Celia Cruz and Daniel Santos achieved their first blushes of acclaim outside the shores of their island home. At the same time, there was also some demand by American fans to capture the spirit of the late night jam sessions that went on at clubs around Havana. That's, in part, what spurred on the release of this five volume series of albums, now being reissued in a handsome boxed set by Craft Recordings. Recorded mostly at Panart in one-off sessions, these aren't as loose and heated as some of those after midnight gigs could get but the buoyant pulse and joy of the music is apparent throughout, infectious as ever some 60 years after the fact. It's near to impossible to play favorites on this set, but the spirited piano solos on Volume 5, a spotlight disc for Fajardo and his All Stars and the 17 minute track that kicks of Volume 2, with key contributions from percussionists Oscar Valdes and Jesus Ezquijarrosa (known better as Chuchu), are particular highlights.
---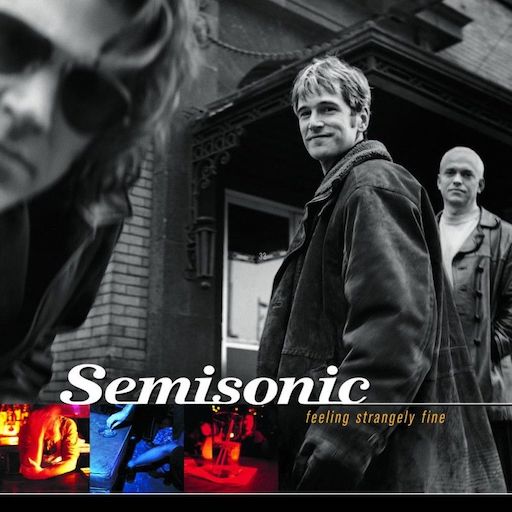 Semisonic – Feeling Strangely Fine (Geffen)
Dan Wilson has been responsible for an impressive number of pop tunes in recent years, earning a Grammy award for his work with Adele on 21 and landing writing credits for everyone from Taylor Swift to former One Direction member Niall Horan. But way back in 1998, he had his first commercial breakthrough as the singer and guitarist in the alt-rock group Semisonic and their Top 20 hit "Closing Time." Technically, that does land this project as a one-hit wonder, but, as this double LP reissue of their 1998 album Feeling Strangely Fine attests, these guys had tunes for days. Tucked away in the back half of this record is the fist-pumping power pop marvel "All Worked Out" and the chiming ballad "She Spreads Her Wings." Appended to this re-release are a handful of equally worthy b-sides that show off more rock-centric sensibilities from the band and the kind of pop chops that helped Wilson earn his current status as in-demand songwriter. In time, this will get recognized as a lost classic.
---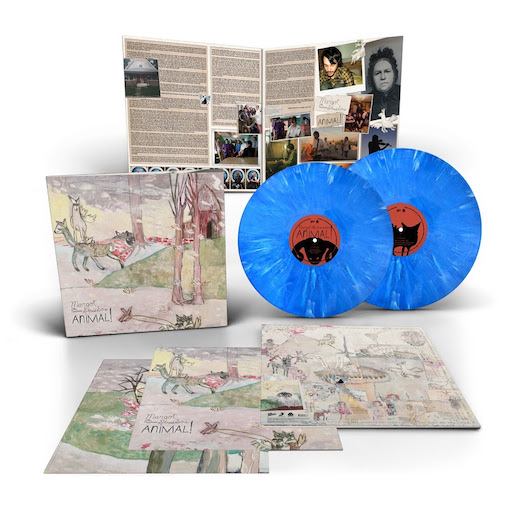 Margot and the Nuclear So and So's – Not Animal/Animal!/Vulgar In The Chapel – The Animal!/Not Animal Demo Recordings (SRC Vinyl)
The story behind the 2008 releases by Indiana indie rockers Margot and the Nuclear So and So's goes, in short, like this: the band had been signed unceremoniously to a major label and set about recording their first record for Epic with producer Brian Deck. The sessions proved so fruitful that they had more material than they knew what to do with. But band and label couldn't agree on what should be released. They compromised and released two albums at once, one with the songs Epic picked; the other with the band's choices. These three vinyl releases attempt to re-tell that story and flesh out the details a bit with the inclusion of an album of acoustic demos made by the band's leader Richard Edwards.
Truth be told, there isn't that big of a divide between the material on the studio albums, as they both are played with the kind of conviction and emotional openness that we demand of every young rock band these days. The choice of Deck as a producer was a canny one, though, as his fingerprints feel evident throughout, little psychedelicized touches that expand this band's palette in ways they might not have reached on their own. The demo LP is the more interesting document, giving fans a chance to hear stripped down renditions of favorites like "I Am A Lightning Rod" and "Carolyn & Heathcliff." Edwards had most everything well in place for the then-forthcoming sessions; he just needed the rest of band to bring the tunes from black and white to color.
---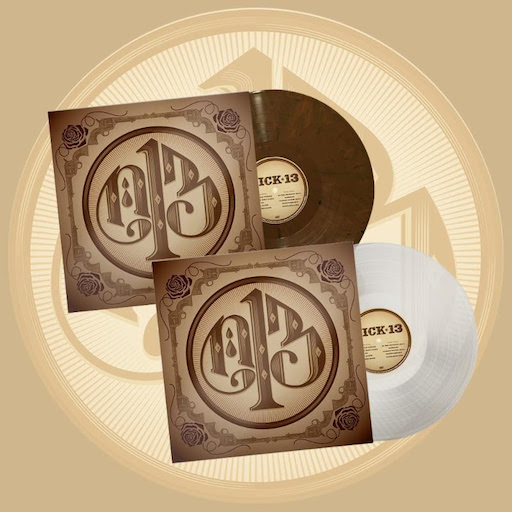 Nick 13 – Nick 13 (Sugar Hill/Craft Recordings)
Psychobilly outfit Tiger Army always felt like an anachronism; this nitro-burning band fronted by a dude with a strangely sweet voice, floating above the music like a blue cloud. It sounds great, but singer/guitarist Nick 13 felt even more at home on his lone solo album. Released in 2011, the self-titled venture is a perfect vehicle for his tender spirit and heartbroken, hard living lyricism, with a rambling country/folk backdrop that makes ample use of co-producer Greg Leisz's pedal steel and featuring some vital contributions from Nickel Creek fiddler Sara Watkins. This vinyl reissue is a bit of an anomaly as it is not tied in with any kind of anniversary or big celebration. All it does is bring the record back into print after a five-year hiatus. Not that there needs to be a reason, as this pleasant laidback affair is a welcome addition to the library of any fan of old school country and the Tiger Army fanatic. It's also a reminder of what an achievement this still feels as Nick doesn't lean on a bunch of cover tunes or just simply reconfigure songs from his day job. Everything on here is freshly written and a sheer delight to boot.
---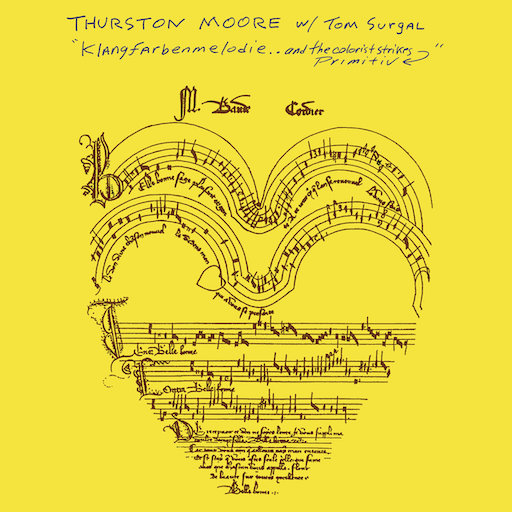 Thurston Moore – Klangfarbenmelodie…And The Colorist Strikes Primitiv (Glass Modern
The solo discography of Sonic Youth co-founder Thurston Moore is littered with limited run work released on small indie labels amid his more blue chip LPs like Psychic Hearts and Demolished Thoughts. This 1995 recording of the guitarist making a free form racket with drummer Tom Surgal, for example, was originally issued only on CD in New Zealand by Bruce Russell of The Dead C. Did this need to be brought to a larger audience by U.K. label Glass Modern on a white vinyl pressing? Maybe not but we should still celebrate it. Moore is as great an improviser as he is a songwriter and this explosive session is all the proof you'll need of that. He sticks to a series of ringing tones, peppered with small sprays of feedback that builds and recedes with intensity as the mood and Surgal's drums strike him. By the end, during the closing piece "Phase II," he's releasing little notes and squalls while the drums take control and drive them both toward infinity. Follow them into the light, brothers and sisters.
---
Michael Hurley – Living Ljubljana (Feeding Tube)
Though the loping, loopy folk artist Michael Hurley had been making tunes since the '60s, it took until 1995 for him to venture overseas and play some shows in Europe. What took him there was his album Wolfways, released on the German label Veracity, and it found him joined in his first international adventures by drummer Mickey Bones and bassist Robert Mitchener. This particular gig was, as the title tells us, recorded in Slovenia and it finds Hurley in particularly fine form, ambling with a loose joy through a batch of tunes that, while they were originally recorded in the late '80s and early '90s feel like they were beamed in from his late '60s heyday. He's one of those rare artists that continues to stick to his musical vision no matter what is going on in the world around him. The only difference here is the strength of his voice and the electric thrum of his guitar. He was feeling the spirit on this fine Slovenian eve.
---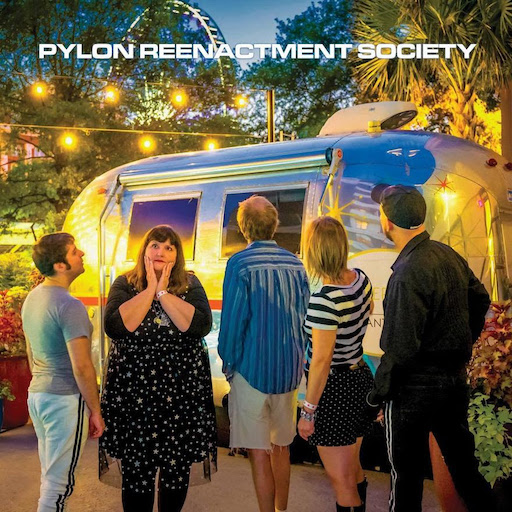 Pylon Reenactment Society – "Messenger"/"Cliff Notes" (Chunklet Industries)
Through their on-again/off-again existence, the post-punk band Pylon may not have found the commercial success of their Athens, GA compatriots R.E.M. and the B-52's, but their wiry dance funk sound has continued to carry forward, influencing the likes of Le Tigre and LCD Soundsystem. And while the original lineup will forever be shattered due to the untimely death of guitarist Randy Bewley, vocalist Vanessa Briscoe Hay has, since 2014, keeping the group's legacy alive with her project Pylon Reenactment Society. Until now, this outfit has been content to play the music of Pylon, but this week they are releasing their first bit of new music with a 7" single featuring two freshly written jams. Both are very much in keeping with the original Pylon spirit, with the agitated rhythms of "Cliff Notes" sitting nicely alongside the glowering "Messenger," and Hay's vocals sounding like she hasn't lost a step in the four decades since she first stepped onstage at the 40 Watt Club with Bewley, Curtis Crowe and Michael Lachowski.
---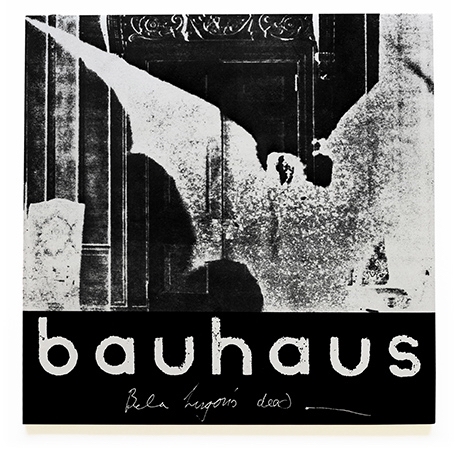 Bauhaus – The Bela Session (Leaving)
With the 40th anniversary of the first recording session by Goth-adjacent post-punk band Bauhaus coming along in January, it's little surprise to see an uptick in activity surrounding the band. Their former label Beggars Banquet has been re-issuing key bits of their discography recently, and there is a big tour coming finding vocalist Peter Murphy and bassist David J joining forces to celebrate their former band's music. Into the pot comes this new bit of wax offering up every tune that Bauhaus laid down during their first time in the studio. Likely if you've picked this up, you're familiar with the a-side, the classic "Bela Lugosi's Dead," so hurry to the b-side which features an early version of "Boys" (the song that would eventually land, in re-recorded form, on the flipside of their first 12" single), an early version of "Lagartija Nick" credited here as "Bite My Hip" and "Small Faces," a tune that ranks as one of the peppiest, poppiest things the quartet ever recorded. They clearly had an eye on a complete vision but were dealing with some blurriness on the road to the dark, dubby sound they achieved through their short time together.