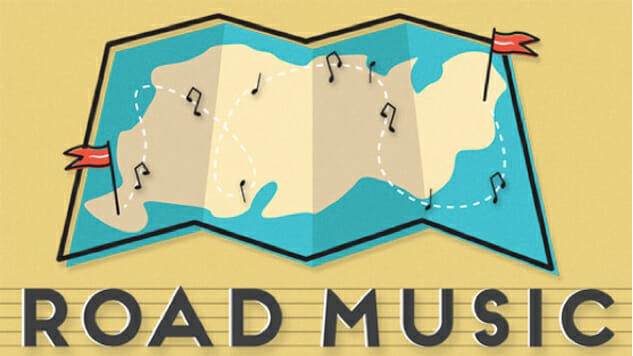 For this series, we'll be following Paste's own Curmudgeon, Geoffrey Himes, as he sets out on a massive road trip across the South, exploring musical landmarks, traditions and history along the way. Eleventh stop: Austin, TX.
On St. Patrick's Day afternoon, I found myself under a white party tent in the backyard of the Yard Dog, one of the best outsider art galleries in America. On the riser a few feet away was the Ozark rock 'n 'roll band Ha Ha Tonka. Next to me was a short woman in a green dress dancing furiously to the music. When she saw me scribbling in a notebook, she said, "I saw these guys a few years ago, and they were pretty good, but they're a whole lot better now." I told her that I couldn't agree more.
Everything was better. The songs from their new album Heart-Shaped Mountain were more sharply focused, both lyrically and musically, and they delivered those songs not as if they were hosting a party but as if they were trying to change someone's life. The guitars and mandolin filled the songs not just with sound but also with an emotional urgency, and Brian Roberts, wearing a "Love Trumps Hate" T-shirt, sang them as if seized with purpose.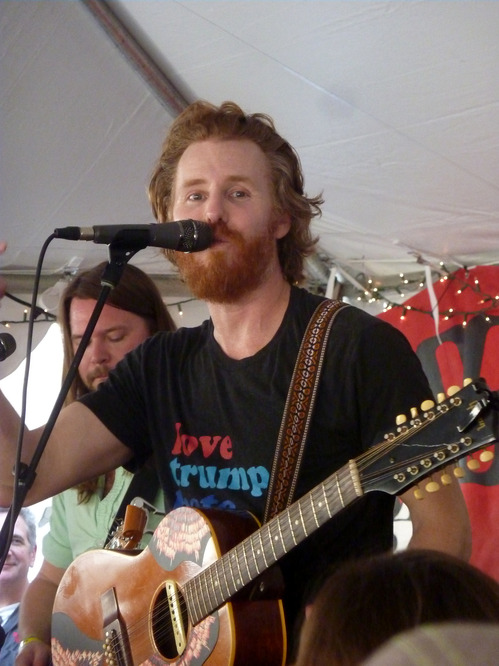 Brett Anderson and Brian Roberts of Ha Ha Tonka (photo by Geoffrey Himes)
A lot of people go to South by Southwest in search of new discoveries, hoping to find a terrific act they'd never heard of before. That's a worthy pursuit, especially because it requires listening to a dozen frogs that never turn into a prince for every one that does. But in recent years I've taken a different approach: I check in on acts I haven't seen in a few years to see how they have or haven't changed.
For Ha Ha Tonka, those changes have been dramatic, transforming the Missouri group from a twangy Old 97's-type retro outfit to something with the pop power of the early Tom Petty & the Heartbreakers. Roberts supplied the jangle with his 12-string acoustic guitar, and mandolinist Brett Anderson, keyboardist James Cleare and bassist Lucas Long added the vocal harmonies that turned "Height of My Fears" into a harrowing lament of loss and "Everything" into a buoyant anthem of optimism in the face of all the legitimate reasons to be pessimistic.
Even more surprising was the transformation of Monte Warden. This Texan singer-songwriter led his alternative-country band The Wagoneers at the very first South by Southwest in 1987 and had impressed a lot of people with the bright tunefulness of his original country pop-tinged rockabilly songs. Neither the band nor Warden's subsequent solo career established enough traction to thrive, however, and he reemerged at this year's SXSW with Monte Warden & the Dangerous Few, a band that suggested Frank Sinatra gone country.
He explained to me backstage at the Continental Club that he had been asked to write a song in the Sinatra style for a Toyota commercial. He'd never done anything like that, but he wasn't about to turn down the money. That song turned out really good, much to his own surprise. He started writing more songs in the same vein and eventually assembled a band that could play them.
With Wagoneers bassist Brent Wilson on board with drummer Massimo Palermo, Warden added two jazz soloists—pianist Floyd Domino and trumpeter Erik Telford. Domino learned his jazz licks playing Count Basie songs with Asleep at the Wheel and later went on to play with Waylon Jennings and Merle Haggard. He was thus able to provide a crucial bridge between Warden's country roots and his jazz ambitions.
It worked, not because Warden is the next Harry Connick Jr., but precisely because he isn't. Warden isn't trying to recreate the Sinatra sound of the '50s; he's trying to create a sound that never existed—one that's like Sinatra singing the Lefty Frizell songbook, or maybe Buddy Holly singing the Harold Arlen songbook. The new songs written by Warden with his wife Brandy were smart and catchy, and the solos by Domino and Telford transformed those pop hooks into something strange and wonderful.
Kasey Chambers, like an Australian Lucinda Williams, has also reinvented herself. For her SXSW showcase at Cooper's BBQ, Chambers proved that she has shed the innocent-girl soprano of her first three albums for a leathery new look and an older-but-wiser voice. The best songs came from 2014's comeback Bittersweet and her even better new album Dragonfly, a 20-song, two-disc spread produced by Australia's great Paul Kelly and the her brother Nash Chambers.

Kasey Chambers (photo by Geoffrey Himes)
Wearing a black-and-white jersey over a peach mini-skirt, Chambers belted out the new album's first single, "Ain't No Little Girl," with a new ferocity that owed less to the country singing of former role model Emmylou Harris than to the R&B wailing of Betty LaVette.
Here was a new side of Kasey Chambers—no longer a sweetheart of the rodeo wondering if she's "Pretty Enough" but rather a blues mama reading the riot act to a no-good man: "I won't plead, I won't pray, I won't ask you to stay." It's a side the complements her former persona and makes her a more complete artist in every way.

Charlene Kaye of San Fermin (photo by Geoffrey Himes)
The changes for San Fermin were less dramatic but important nonetheless. When the group performed at Bar 96 during SXSW, they introduced a new violinist, Claire Wellin, who bolstered the vocal harmonies considerably. But more important was the new crop of songs supplied by leader/keyboardist Ellis Ludwig-Leone for the forthcoming album Belong.
This allowed freer, more varied interpretations—not just by the singers but also by everyone in the band, especially baritone saxophonist Stephen Chen and trumpeter John Brandon, who let their jazz solos venture wherever impulse led them. With the classically trained Ludwig-Leone feeding them appetizing melodies and chord changes, the musicians were able to expand the musical possibilities of indie-rock as never before.