Run the Jewels Drop New Song, "Let's Go (The Royal We)"
The track is featured in Marvel's Venom
Photo by Emma McIntyre
Music
News
Run The Jewels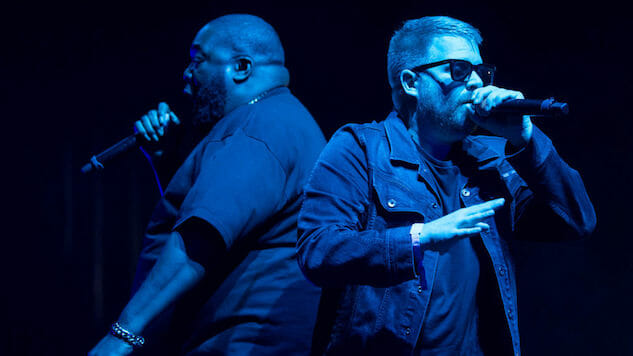 Run the Jewels have released "Let's Go (The Royal We)," their contribution to the soundtrack for Marvel's Venom, which opened in theaters last Friday, Oct. 5.
"Let's Go" is launched into orbit on a sludgy nu-metal guitar riff before breaking off its thrusters and becoming the sort of hulking beat-monster El-P is known for. The song is a pretty straightforward RTJ bomb-track, with El-P and Killer Mike trading increasingly spittle-flecked verses. It's still a creeper, though, one that's sure to amplify the artistry in an alien monster beatdown, no matter what the critics say.
The track is the duo's latest foray into film music, but far from their first. Their song "Legend Has It" was used prominently in Black Panther's marketing campaign, and the song "Chase Me" cropped up on the Baby Driver soundtrack, earning the duo a Grammy nod. El-P also scored Josh Trank's forthcoming Al Capone biopic Fonzo, another Tom Hardy-starrer. More RTJ film scores, please. We can all agree on that, right?
Appearing on Zane Lowe's Beats 1 radio show Thursday to debut "Let's Go," RTJ revealed they're currently at work on Run the Jewels 4, with El-P teasing, "we're just going to kind of try and make the grimiest, rawest record we possibly can." You can hear that interview in full here.
Listen to "Let's Go (The Royal We)" below.