Listen to RVG's Heartbreaking Cover of John Cale's "Dying on the Vine"
Photo by Naomi Lee Beveridge
Music
News
RVG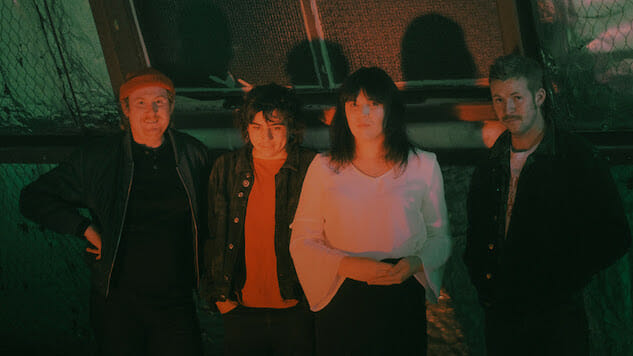 Australian rockers RVG have shared a cover of John Cale's "Dying on the Vine," which will serve as the b-side to their new single "Alexandra." It's out digitally today, June 10, and it's also available on seven-inch vinyl via Our Golden Friend here.
"Dying on the Vine" is taken from Cale's 1985 album Artificial Intelligence. RVG take Cale's strange, synth-laden original and give it a healthy dose of surfy guitars. Frontwoman Romy Vager bares her whole heart with this vocal performance as sorrow drips out of every nook and cranny of her voice. RVG's guitars are just as poignant as Vager's rough rock warble—they twinkle with a bittersweet glow.
"I'm a huge fan of this period of Cale's music," said Vager in a statement. "It's a strange balance of honest and grandiose pain, it's like watching a car full of cocaine drive over a cliff. I guess that's something I've always tried to do with the band—The kind of performance where you're trying to make people feel anything but good about themselves. We played this song at our first gig and people have been bugging us to record it ever since so I'm glad that it's finally around."
"Alexandra" and "Dying on the Vine" were recorded with Victor Van Vugt (PJ Harvey, Nick Cave & The Bad Seeds), and the ensuing seven-inch is the first release from RVG in two years. Their 2017 debut album, A Quality of Mercy, was reissued last year via Fat Possum.
RVG are currently finishing up their first North American tour, where they supported Rolling Blackouts Coastal Fever on several dates, and they've just unveiled a headlining date in Los Angeles on June 14 at Gold Diggers.
Listen to RVG's cover of "Dying on the Vine" below, plus a 1994 Cale rendition from the Paste archives, and see the band's upcoming live dates further down.
RVG Tour Dates:
10 – San Francisco, Calif. @ Great American Music Hall ^
11 – Los Angeles, Calif. @ Lodge Room ^
13 – San Diego, Calif. @ Soda Bar
14 – Los Angeles, Calif. @ Gold Diggers
(^ – Rolling Coastal Blackout Fever)