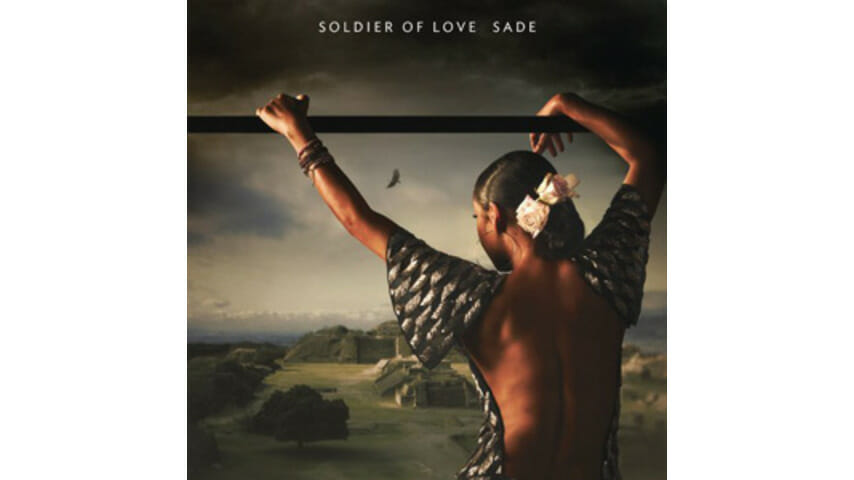 Sade Adu battles her heart on band's sixth album
It's been a decade since R&B mainstay Sade—the band fronted by namesake Sade Adu—dropped its last album, Lovers Rock, and before that the band took eight years off between releases. In pop time, that's several generations. The lengthy interval hasn't dampened the group's appeal; it's made it seem even more mysterious and alluring. If the band was more prolific, the music might be more mundane, and the spell would be broken.
The first single from the new album sounded completely fresh when it was released last year. Instead of the smooth, soul-jazz that informed the band's music since Adu first purred "Your Love Is King" in 1984, "Soldier of Love" sounded simultaneously new and old: It marched to a futuristic martial beat and alluded with playful subtlety to first-gen rapper Kool Moe Dee. As Adu sang about the "wild wild west" and the "hinterland of my devotion," the band almost sounded more like Portishead than Portishead, like they were daring you to call them sonic wallpaper.
"Soldier of Love" promised a new sound from Sade, and the album doesn't disappoint. It's the band's most musically adventurous collection to date, and also its most expansive and rewarding. The familiar elements remain, including Adu's timeless voice. They've plied a unique blend of jazz, world, pop and soul for more than a quarter-century, and now they add heavier beats, craftier production and a wider arsenal of sounds and styles.
These are crafty, seductive, thoughtfully constructed songs. "The Safest Place" is bookended by dramatic feedback, while "Morning Bird" opens with a simple, lovely piano theme that uses sustain pedals to create a natural reverb. "Bring Me Home" also opens softly, but is pushed along by a double-time beat that won't let the band admire its own reflection. The upbeat "Babyfather" deploys a hooky bossa-nova beat, pointillist guitar, soft horns and what sounds like a chorus of children, the contrasting elements preventing this tale of parental devotion from weighing down in sentimentality. It's obvious that a lot of work and forethought went into the album's 10 tracks, but it doesn't sound like the group spent the last decade fussing over them.
Soldier of Love is Sade's most musically ambitious album, and it's also its most forlorn, its most heartbroken—something tragic seems to have happened in the Sadeverse since Lovers Rock, and this album depicts a fallout and tentative recovery. An intense melancholy pervades these songs, even more so than on other Sade albums. Sade albums have never been boisterous affairs, but an unusually intense melancholy pervades these songs. This is Adu at her most luxuriantly depressive, and through it all, she battles her own emotions: "There is something that you need to know," she sings on "Long Hard Road," "it's gonna be alright."
Then again, maybe not. "In another time your tears won't leave a trace, in another time, girl, in another place," she sings on "In Another Time," and it's unclear whether that realization is a great comfort or a great tragedy: "You'll be surprised … someday I'll mean nothing to you." This is an album that doesn't even believe its own consolations, but that constant skirmish between hope and despair gives these songs battle-worn power.