A Final, Posthumous Sharon Jones Album Has Been Announced, With a New Song
Photo via Daptone, YouTube
Music
News
Sharon Jones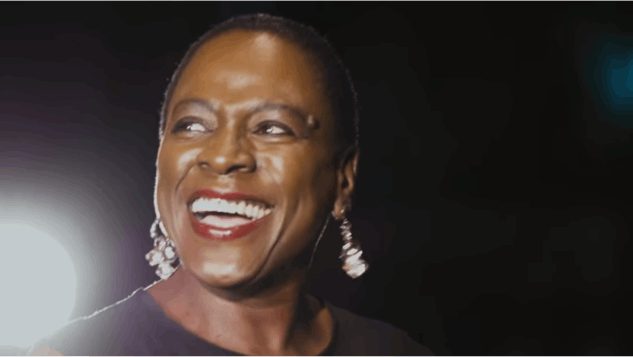 The loss of Sharon Jones in 2016 was an almost impossible blow to take for dedicated fans of soul music. In fact, I can recall exactly where I was when I heard the news: in a knickknack shop, buying "wish you were here" greeting cards for my out-of-state significant other. For me, it was the kind of news you desperately want to believe is mistaken—"someone made an error texting me this rumor." But it was true. I paid for my greeting cards as quickly as I could, so the cashiers wouldn't see the first tears welling up in my eyes.
But today, we're blessed with an unexpected final gift from Jones, who must be considered one of the greatest live performers of all time. Daptone Records has announced the existence and release of a final, posthumous Sharon Jones album titled Soul of a Woman, out Nov. 17. Today they've also released the video for a new Sharon Jones song, titled "Matter of Time." You can watch that video below, which pulls plenty of backstage and performance footage from Jones' boisterous shows.
It's an extra-poignant moment to see Jones performing again, especially considering the recent passing of fellow Daptone stalwart Charles Bradley, who can be seen on stage with Sharon several times in the above video.
Soul of a Woman is described by the studio as "a lush, orchestral masterpiece," and "a true testament to the life and career of Daptone's fearless leader and one of the world's greatest performers." It reportedly captures two significantly different aesthetics: The up-tempo, dynamic soul standards Jones was known for, along with some music done in a significantly different, newer style, involving "string-driven ballads," which would possibly have led to "a tour incorporating symphonies or string sections." However, as Jones' health declined due to pancreatic cancer, her band The Dap-Kings decided to record more of the types of tracks she was known for, of which "Matter of Time" above is a fine example.
"Side one is the more raw live side," said Dap-Kings bass player Bosco Mann in a press statement announcing the album. "While side two is more moody and orchestrated—more of a departure from her carnivorous live persona."
The album was cut to eight-track tape at Daptone's famed House of Soul studio in Bushwick, Brooklyn, just as her previous studio recordings were. It will be the follow-up to 2014's Give The People What They Want, a breakthrough effort for Jones that nabbed her the recognition of her first Grammy Award nomination. She was also the subject of Miss Sharon Jones!, a well-reviewed documentary from Oscar-winning director Barbara Kopple.
"The last couple of years, Sharon was battling," said Mann, who produced the album. "When she was strongest, that's when we'd go into the studio— Sharon couldn't phone it in, so we would only work when she was really feeling it."
Check out the full tracklist for Soul of a Woman below. It arrives in only a few weeks, on Nov. 17. You can also check out our final feature remembering Sharon Jones here.
Soul of a Woman Tracklist:
"Matter of Time"
"Sail On"
"Just Give Me Your Time"
"Come and Be a Winner"
"Rumors"
"Pass Me By"
"Searching for a New Day"
"These Tears (No Longer for You)"
"When I Saw Your Face"
"Girl (You Got to Forgive Him)"
"Call on God"