Paste Interview: Sleigh Bells Venture Into the Wilderness for Kid Kruschev
Frontwoman Alexis Krauss talks about music in the age of Trump and fleeing the city to find her greatest inspiration.
Photo: Getty Images
Music
Features
Sleigh Bells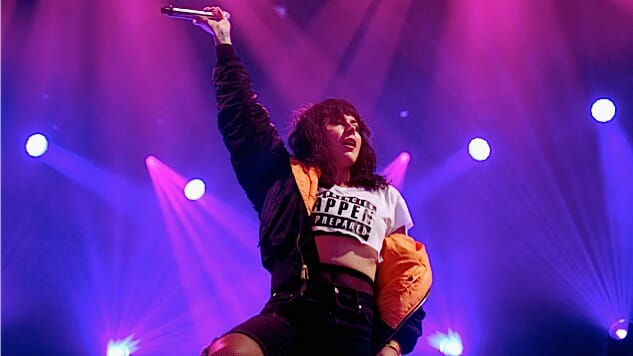 Alexis Krauss positively loves talking tech. With Derek Miller, her studio-savvy partner in the industrial-strength pop duo Sleigh Bells, the singer carefully constructs whirring, clanking, guitar-squealing backdrops that frame her conversely angelic, Ronettes-retro voice, as on the pair's painfully beautiful new seven-song mini-LP, Kid Kruschev. What's unexpected, however, is the type of technology she wants to discuss on a fall afternoon. Krauss has become an avid rock climber, as well as a registered camping and hiking guide, which helps explain a recent move from her native Brooklyn to a wilderness retreat in upstate New York, where Kid Kruschev was conceived and partially recorded. Her pastime is now her passion.
"Some of this is going to sound so silly, because it is so technical," Krauss apologizes, before explaining the sport of climbing for the ground-hugging layman. When you're tackling a mountain, pitons (the metal spikes that climbers drive into the rock wall) are no longer popular, she says. In her ascents, she relies on both passive and aggressive forms of protection, like camalots, no hammering required. In the local area she prefers to scale, the Gunks (short for the Shawangunk Ridge), she regularly passes piton relics, still jutting from the rocks, some over 70 years old.
"And I've gotten myself in a couple of pickles here and there, but fortunately nothing that had serious consequences," she says. "There's thing called rope drag, because essentially, when you're climbing, you're bringing your rope up with you, and you're hooking it into different pieces of protection as you climb. But if the rope isn't running in a straight line, and starts bending back and forth, you can imagine that if you're 100 feet off the ground and you're being pulled down by rope drag, it can actually feel so intense that it can pull you off the wall. So I've had a couple of instances where I was sure that I was doing to get yanked off the wall by my own rope, which is meant to protect me, not harm me. And that was a bit scary."
"Live, our music is bombastic and intense, and there's a ton of energy, and for our shows to work, there needs to be reciprocity between us and the audience, and what fans bring to our shows a lot of times is just, like…complete mania."
It's difficult to picture Krauss in nature-girl mode. In Sleigh Bells, she's cultivated a bomber-jacketed, cutoffs-and-Keds, kohl-eyed stage persona that's somewhere between Elvira and Tura Satana's immortal take-no-guff biker chick Varla from Russ Meyer's Faster, Pussycat! Kill! Kill! That aesthetic has perfectly complemented the band's brutal sonic attack, starting with their 2010 debut, Treats.
"I've always had dark hair and bangs, and I've had tattoos for a long time," says Krauss, a former Teach For America instructor who used to wear long sleeves to hide her ink from the faculty. "So my look is more about what I think the music calls for and less about something I'm trying to contrive. Live, our music is bombastic and intense, and there's a ton of energy, and for our shows to work, there needs to be reciprocity between us and the audience, and what fans bring to our shows a lot of times is just, like…complete mania."
So the transformation isn't that far-fetched insists Krauss, who, as an offshoot of the boxing she and Miller began doing in a New York gym to relieve the pent-up aggression heard on Sleigh Bells' sinister sophomore set, 2012's Reign of Terror, switched to rock-climbing at a newly opened city facility. When she realized she could afford to purchase her own place in the upstate woods, where she already spent much of her spare time bouldering, she pounced, moving in to her rustic digs with her mother, her significant other Tyler, and her dog Rizla (whose throaty barks Miller actually converted to percussion on 2013's Bitter Rivals). Then she began bringing Miller up from New York City to write and record. And he, too, was transformed—although it took some convincing at first.
"Derek is a creature of habit, for sure," cedes Krauss. "He loves his New York apartment, and he'd done a tremendous amount of good work in that apartment. But he would come up and spend anywhere from three to four days at a time, being in this beautiful retreat. And having a home studio there allowed us to make as much noise as we wanted, because I don't have any neighbors within earshot. So it really brought out a new flexibility in the recording process." Believe it or not, she adds, "You put that boy in front of a campfire in the woods, and I've never seen him happier. As much as he says he doesn't want to leave his apartment or Brooklyn, he loves coming up to the house."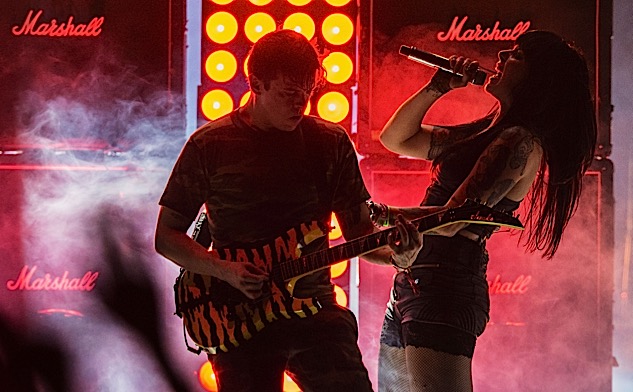 Krauss, right, performs with Derek Miller in 2014. (Getty)
Part of Sleigh Bells' allure is the dark, often tortured lyrical imagery that Miller conceives for his partner to sweetly trill in that apartment, locked away and left to his own self-flagellating devices. What kind of sepulchral sonnets could he summon, surrounded by foxes, chipmunks, bobcats, raccoons and a noisy flock of wild turkeys? Influenced by the grim Trump era, he managed to descend to still murkier levels on Kid Kruschev, which was a fun alliteration he liked and also a name under which he'd once considered making music. The most obvious reference: The thumping "Show Me the Door," which opens with Krauss chirruping in tandem with a Transformer-vocodered murmur ("Check it out, check it out, the faith's going away") and slithers toward an ominous yet optimistic, "You made it this far/ Just a little bit more / Before we show the door." It's fairly obvious who's getting ushered toward the exit.
"It's hard to not be impacted by the events of the past year," Krauss allows. "So this album was very much written in that time, and Derek and I are both very disgusted by Trump and his administration, and by a lot of actions that have been taken by people in his party and his supporters. So that was definitely coloring the lyric writing, and the writing in general." Don't get her wrong: Sleigh Bells have never been a political group proffering protest anthems. But desperate times call for desperate measures. "So we're addressing some social and cultural issues in a way that we haven't in the past."
Issued on the band's own imprint, Torn Clean, with a release date on Friday, Kid Kruschev opens on the pulsating "Blue Trash Mattress Fire," which builds into a walloping crescendo of Miller's traditional Def Leppard-grinding guitar riffs, then segues into even louder power chords on "Favorite Transgressions," which concludes with Krauss crooning odd lines like, "When I wanna get cut in the middle of the night / Well, I know how to clip the wings."
The track dates back to their last effort, 2015's Jessica Rabbit, Krauss says. She imagined a Janet Jackson/Rhythm Nation, girl-gang vibe when she and Miller were building up the monolithic mix. The closing throb of "And Saints" is sung from a decidedly male viewpoint ("I swear I'm the shell of a man / You said you're a hell of a man," she solemnly intones), and came together in a half-hour of down time in a British hotel room. "So it's me very much singing through Derek's voice about him," she says. "But also singing out of his body to him. That song has been around for a year, and that's a long time for us. And we easily tire of things, so the fact that we didn't tire of that one was a good sign."
Does Krauss comprehend everything her partner is verbalizing with his cathartic poetry? Does she immediately understand what he means by the cheerleader-ish chant "Panic Drills," for instance? And does she ever fear for his safety, even sanity? She laughs. "You know, Derek communicates a lot through his lyrics, and most of the time I know what's going on," says Krauss, who first met Miller when he waited on her and her mother at a New York restaurant. (He needed a vocalist for his latest musical project, and Krauss's mom suggested her theatrically trained daughter.) "And while I gain insight from his lyrics, it's rare that I read something and say, 'Oh, my gosh, I had no idea! Holy shit, we need to talk about this!' And he does go there, lyrically, for sure, and they're oftentimes very personal and very dark. So it's a good way for me to stay in touch with exactly what he's going through. But then, she adds, "we've been working together for a decade now, and there are times when they're just lyrics, and he's in a really great place. Derek is just great at creating strange, at times violent, imagery, and that's not necessarily the result of a first-person experience."
ICYMI: Jessie Ware's Glasshouse Is Stronger Than Ever
Krauss is also free to edit Miller's words at will, which only rarely results in an aesthetics argument. But she's all about the hands-on approach. Or, as she puts it, "I'm a woman of many interests." As she began to field more and more Sleigh Bells interviews, she found herself repeatedly confronted with fashion-mag questions about which beauty and skincare products she preferred. At first, she'd name off the lotions and foundations that created her unique quasi-Gothic look. But once she began researching those products' ingredients, she was horrified. So in 2014, along with her friend Jessica Assaf, she started detailing the negative aspects (and chemicals) of the industry via the blog Beauty Lies Truth. And again, from the dangers of endocrine disruptors on down, she can talk tech on this topic until the cows come home. "And a lot of the chemicals that are used in personal-care products are the direct result of a very powerful chemical lobby, which comes from the fossil-fuel lobby," she sighs. "So these formulations aren't exactly what's best for the skin."
But nearest and dearest to this Renaissance woman's heart are the New York City school kids whom she guides on eye-opening field trips to the Gunks. "I think the outdoors is a great equalizer," she says. "And I have yet to meet a child who gets out in nature and isn't awed by it. Because being outside is meditative, it's therapeutic, it's invigorating. I think the outdoors really helps us learn our limits."