Slow Hollows Release New Single "Come Back In," Share Music Video
Photos by Scott Dudelson/Getty
Music
News
Slow Hollows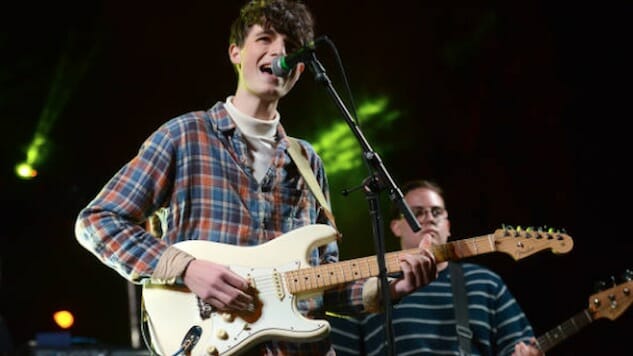 Slow Hollows shared an ethereal new track on Wednesday, "Come Back In," along with its vivid, scenic music video.
They released a previous single, "Get Along," last month. In a tweet and Instagram post, the band wrote that a new Slow Hollows album, presumably featuring the two tracks, is on its way.
Our new single "Come Back In" is out todayhttps://t.co/XRcO7qYekF
directed by American Millenial
cinematography by Jacob "Kuba" Bojsza

album soon pic.twitter.com/0BnrYys9O6

— SLOW HOLLOWS (@slowhollowsLA) July 10, 2019
With its delicate blend of acoustic guitars, echoing reverb, hushed vocals and dazzling synths, "Come Back In" showcases the L.A.-based band's ability to combine elements of dream-pop, post-punk, indie-rock and indie-pop, among other genres.
The video follows dancer Jaira Miller twirling through picturesque landscapes, eventually meeting with Slow Hollows lead singer Austin Feinstein as the sun sets.
Slow Hollows, composed of Feinstein (vocals/guitar), Dylan Thinnes (guitar), Jackson Katz (drums), Aaron Jassenoff (bass) and Reed Kanter (keyboard), released their most recent LP Romantic in 2016 via Danger Collective. It spawned singles such as "Again" and its title track, which garnered over one million Spotify streams.
Listen to the lush new track and watch its equally dreamlike accompanying video (dir. American Millennial) below.