Podcast Preview: Ben Arthur's SongWriter Season 5 Continues with Dolan Morgan + Self Help
Photos courtesy of Peter M. Krask & Jonathan Walsh
Music
News
Songwriter Podcast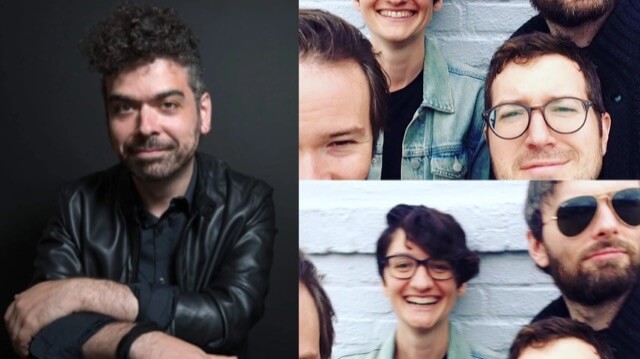 SongWriter is a podcast that turns stories into songs, featuring Questlove, David Gilmour, Joyce Carol Oates, Steve Earle, Amanda Shires, Susan Orlean, and Neil Gaiman. You can hear an exclusive preview of next week's episode featuring Dolan Morgan and Self Help only at Paste.
Author and illustrator Dolan Morgan was stuck. He had two short stories that he didn't know what to do with—one about a world in which the government starts housing convicts in people's homes to deal with overcrowded prisons, and another about people who create a shadow self that they abuse and torture.
"I had this little epiphany of, 'What if I try to connect these two?'" Dolan says. "So that gave me the basic, surface-level architecture of how the story would play out."
The resulting piece, "The Quartering Act," is upsetting, dark, and sweet, like a lot of Dolan's work. And like a lot of his work, the story defies easy interpretation. The intent, Dolan explains, is to reflect within the narrative some of the queasy uncertainty that can result from certain traumatic experiences.
Dolan says he wrote the story, "for folks who have experience with trauma, especially when they were young, and have experienced the conflicted feelings that can go with that."
For Melissa Faliveno and John Walsh of the band Self Help, the uncertainty within the story is an integral part of its emotional impact. John says in some ways Dolan's work reminds him of the album "In the Aeroplane Over the Sea," by the band Neutral Milk Hotel.
"There's no direct sense of meaning; it exists in this space of not-knowing," John says.
Since the band's founding in Brooklyn, the members of Self Help have dispersed across the country, so for the song written in response to Dolan's story they worked on their individual parts remotely. Far from creating or amplifying a sense of artistic disconnection, this method of collaborating turned out to be a great fit for the band.
"This was a renewed sense of creation for us," Melissa says. "It was super fun to do this, like, Postal Service-style."
---
Ben Arthur (@MyHeart on Twitter) is the creator and host of SongWriter. His latest song is "Fly, Magpie, Fly."