Watch St. Vincent Perform Cuts From Marry Me & Actor On This Day in 2009
Images via YouTube/BBC
Music
Features
St. Vincent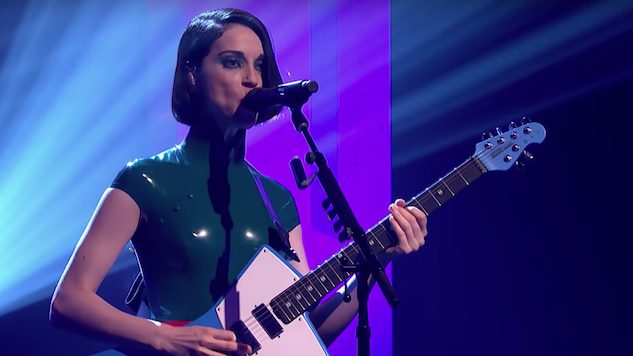 Rock musician St. Vincent (aka Annie Clark) is constantly shape-shifting. Her debut album Marry Me, which arrived in 2007, is a daring collection of sharp art-pop. After that point, she'd continue to make music, touching on everything from piano balladry to searing rock 'n' roll. She's made an album with David Byrne, produced one for Sleater-Kinney and even has her own custom line of guitars.
On this day (Feb. 27) in 2009, St. Vincent played a full set at the Great American Music Hall in San Francisco, Calif. The setlist included cuts from Marry Me, like the title track, "Paris Is Burning" and "Your Lips Are Red," plus a few tunes from her sophomore effort Actor, which would arrive in May of that year, including "The Strangers" and "Marrow."
St. Vincent's most recent full-length releases were her 2017 album MASSEDUCTION and its acoustic counterpart MassEducation. Elsewhere in the world of St. Vincent, on Thursday, Clark announced a collaboration with athletic brand Outdoor Voices. The line, which is not as flashy as you might expect, features leggings and weather-resistant capes, among other items. What you do with this information is up to you.
Watch St. Vincent's full set from this day in 2009 below.
Read: The Best Female Friendships in Music