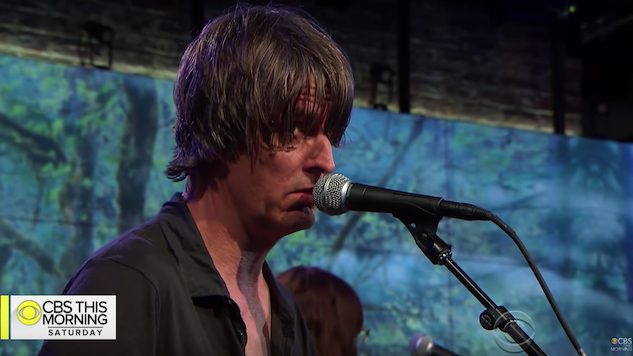 Stephen Malkmus released his seventh album with his band The Jicks this year, the effortless indie-rock experiment Sparkle Hard, and while the music itself emits legion shiny qualities, Malkmus himself doesn't sparkle so much as he endures. Ever since Pavement's illustrious first album, 1992's Slanted and Enchanted, the rocker has remained a skilled indie patriarch. On Saturday, he stopped by CBS This Morning to perform Sparkle Hard track "Solid Silk," and he appeared as masterfully laidback as ever. You can watch the band's performance below.
Malkmus, a known wit-master, also sat down with CBS anchor Anthony Mason to talk about his musical acclaim, slinging jokes with a comedian's timing. You can watch the interview further down. Mason mentioned a recent GQ headlining declaration that Malkmus is the "Dad of Indie Rock," to which Malkmus drolly replied, "I'd rather be the dad than the granddad, or the great-granddad." The father of two is not one to shy away from a wisecrack, be it lyrical or conversational.
The band's performance of "Solid Silk," a wordy, soft-rock head-scratcher, went down with few theatrics, Malkmus' dry delivery resembling that of every indie dad rocker ever. Explore more of Malkmus' lyrical finesse and influence in Paste's feature from May.
Again, you can watch Stephen Malkmus and The Jicks' CBS This Morning performance, as well as Malkmus' interview, below. While you're at it, revisit our review of Sparkle Hard right here and further down, kick back with a 2009 Malkmus show from the Paste archives.