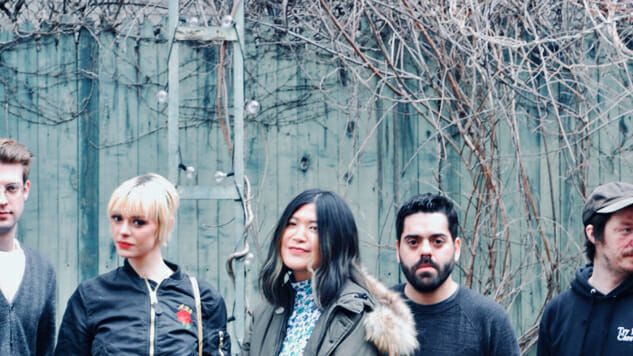 Daily Dose is your daily source for the song you absolutely, positively need to hear every day. Curated by the Paste Music Team.
New York quintet Store Front—Amy Rose Spiegel (vocals/lyrics), Peggy Wang (bass, formerly of The Pains of Being Pure at Heart), Bob Marshall (guitar), Brandon Louro (guitar) and Chalky Edwards (drums)—have announced their debut EP, Task, set to stream everywhere next Friday, Feb. 14. They've also released the lyric video for "Rip the Price Off," their forthcoming five-track EP's lovely opening cut.
Previously released as a demo, a newly polished "Rip the Price Off" sets the tone for an EP that tries to find the joy in struggle, as Spiegel explains in a statement: "Task is about making private jokes in your head about all the big concerns you're trying to keep track of, especially in the cases when those things are supposed to feel gravely serious," she says. "'Rip the Price Off' is about feeling like you have to be successful on other people's terms, which is both a sick joke and sometimes an actual fact."
Anchored by Wang's bass, and Marshall and Louro's dreamy dual-guitar work, "Rip the Price Off" finds Spiegel exploring the dehumanizing effects of capitalism, which ties our self-worth to the work we do and what we're paid for it. "When it comes to my job, look, I slack off / I don't try too hard / Even writing this song, I wanted to do / the bare minimum," she sings, finding the sardonic humor in being behind the eight ball, "broke and lazy." It's a funny and relatable sentiment, couched in the kind of gorgeous instrumentation you can't put a price tag on.
Store Front have an EP release show at Elsewhere in Brooklyn, N.Y., set for Feb. 19, featuring support from Cafuné and Riverwild. You can get tickets right here.
Watch the laugh-out-loud funny lyric video for "Rip the Price Off" below and see the details of Store Front's forthcoming EP further down.
Task EP Tracklist:
1. Rip the Price Off
2. Fugirlzi
3. You Gave Me
4. I Would
5. I Love You Like I Say I Do
Task EP Album Art: