Watch Strand of Oaks Play "Ruby" with Jason Isbell, Amanda Shires, My Morning Jacket Members on The Late Show
Photos by Scott Kowalchyk/CBS
Music
News
Strand of Oaks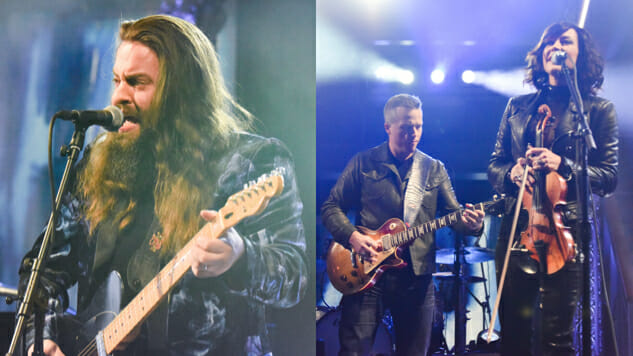 Ahead of the March 22 release of his sixth album Eraserland, Timothy Showalter, better known as Strand of Oaks, performed his latest single "Ruby" on The Late Show with Stephen Colbert Wednesday night, supported by a backing band from our Americana-folk-rock dreams.
The Indiana-raised artist was joined onstage by Grammy Award-winner Jason Isbell (who features on the album), Amanda Shires, and Bo Koster and Tom Blankenship of My Morning Jacket (Showalter interviewed MMJ's Carl Broemel for Paste in 2018). Koster and Blankenship, along with fellow MMJ members Broemel and Patrick Hallahan, played a decisive role in the creation of the forthcoming record. Hearing of Showalter's depression following 2017's Hard Love, the My Morning Jacket members rallied around the musician and met him in Louisville to convince him to continue making music. Now, the talented group of musicians playing together onstage make this hopeful single feel as full and majestic as Showalter's glorious mane of hair.
Watch Strand of Oaks perform on The Late Show with Stephen Colbert and his 2017 set at the Paste Studio below. Explore the details of Eraserland, out March 22 on Dead Oceans, and Strand of Oaks' forthcoming tour dates here.