Sun Kil Moon Announce This Is My Dinner, Cover The Partridge Family
Images courtesy of the artist, Caldo Verde Records
Music
News
Sun Kil Moon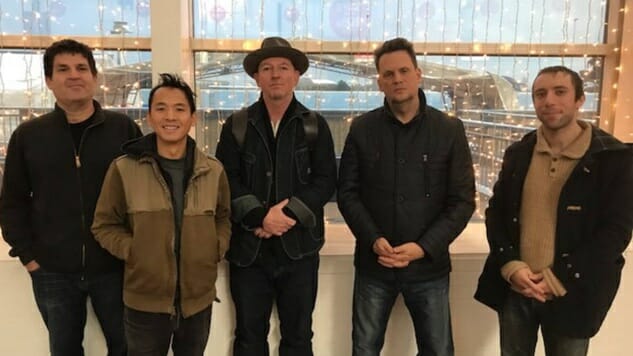 Mark Kozelek is the driving force behind the folk-rock group Sun Kil Moon and earlier this year, he released a solo album simply titled Mark Kozelek. He will be following it later this year with a new Sun Kil Moon record, This Is My Dinner, out Nov. 1 on Caldo Verde Records.
The first taste of the album comes in the form of a cover of The Partridge Family's bouncy, joyful "Come On Get Happy," which isn't the only cover on the album. AC/DC's "Rock 'N' Roll Singer" will get a makeover and John Connolly's "Chapter 87 of He" will be set to music.
Sun Kil Moon's latest albums, 30 Seconds to the Decline of Planet Earth and Common As Light and Love Are Red Valleys Of Blood, were both released just last year, the former in collaboration with Jesu. It's easy to see the band hasn't let up from creating since its beloved debut Ghosts Of The Great Highway in 2003—Paste named that record one of the 100 best indie-folk albums of all time.
A free download of the forthcoming album This Is My Dinner will be available on Nov. 1 via the band's website. It will also be available on streaming services at that time.
You can listen to "Come On Get Happy" here. Find the record's tracklist and the band's tour dates below.
This is My Dinner Tracklist:
01. This Is Not Possible
02. This Is My Dinner
03. Linda Blair
04. Copenhagen
05. Candles
06. David Cassidy
07. Come On Get Happy
08. Rock 'N' Roll Singer
09. Soap for Joyful Hands
10. Chapter 87 of He
Sun Kil Moon/Mark Kozelek Tour Dates:
July
21 – Kotor, Montenegro @ SeaRock Festival (Sun Kil Moon)
August
04 – Genk, Belgium @ Absolutely Free Festival (Sun Kil Moon)
September
04 – Toronto, Canada @ Great Hall (Mark Kozelek)
05 – Detroit, Mich. @ Magic Bag (Mark Kozelek)
07 – Brooklyn, N.Y. @ Music Hall of Williamsburg (Mark Kozelek)
08 – Cambridge, Mass. @ First Church Congregational (Mark Kozelek)
09 – Philadelphia, Pa. @ TLA (Mark Kozelek)
11 – Chicago, Ill. @ Thalia Hall (Mark Kozelek)
12 – Minneapolis, Minn. @ Cedar Cultural Center (Mark Kozelek)
14 – Portland, Ore. @ Aladdin Theater (Mark Kozelek)
29 – San Francisco, Calif. @ The Fillmore (Sun Kil Moon + special guest Jessica Pratt)
30 – Long Beach, Calif. @ Music Tastes Good Festival (Sun Kil Moon)
October
11 – London, U.K. @ Union Chapel (Mark Kozelek)
12 – Manchester, U.K. @ RNCM (Mark Kozelek)
14 – Edinburgh, Scotland @ Summer Hall (Mark Kozelek)
15 – Amsterdam, Netherlands @ Zonnehuis (Mark Kozelek)
18 – Fidenza (Parma), Italy @ Teatro Magnani (Mark Kozelek)
20 – Istanbul, Turkey @ Zorlo PSM, Besiktas (Mark Kozelek)
22 – Budapest, Hungary @ Müpa Budapest Festival Theatre Hall (Mark Kozelek)
24 – Stockholm, Sweden @ Sodra Teatern (Mark Kozelek)
25 – Copenhagen, Denmark @ Bremen Theatre (Mark Kozelek)
28 – Helsinki, Finland @ Savoy Teatteri (Mark Kozelek)