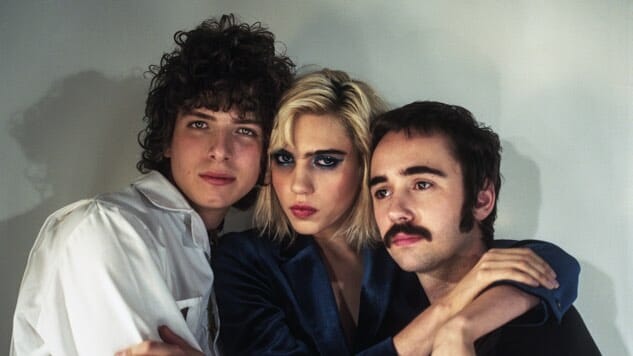 New York trio Sunflower Bean have announced additional U.S. tour dates in support of their new album, Twentytwo In Blue, out on March 23 via Mom + Pop.
The band will take their new album on tour across North America and Europe from March through July, with support from Dream Wife, SORRY and The Nude Party.
Twentytwo In Blue is the band's second studio album and they've already revealed two singles from the record, "I Was A Fool" and "Crisis Fest."
While "I Was A Fool" is a sweet, almost funky, call-and-response slow jam, "Crisis Fest" appears to be another light-hearted pop-rock track, as indicated by its soaring melodies, but below the surface, it's a sharp call to action, inspired by their 2016 Human Ceremony tour and meant to celebrate the young crowds that come to their shows to lose themselves in the once-in-a-lifetime experience of live music.
Both singles were accompanied by Andy Deluca-directed videos: "I Was Fool" featured a high school prom theme, while "Crisis Fest" depicted the wild, dedicated herd of young fans that attend Sunflower Bean's shows and lose their inhibitions.
Check out their upcoming world tour dates below, beneath the band's 2016 Daytrotter Session, and preorder Twentytwo In Blue here.
Sunflower Bean Tour Dates:
March
01 – Los Angeles, Calif. @ Moroccan Lounge (SOLD OUT)
02 – San Francisco, Calif. @ Rickshaw Stop
12-18 – Austin, Texas @ SXSW
24 – Nottingham, U.K. @ Rescue Rooms ^
26 – Norwich, U.K. @ Open ^
27 – Birmingham, U.K. @ Hare & Hounds ^
28 – Newcastle Upon Tyne, U.K. @ Riverside ^
29 – Leeds, U.K. @ The Wardrobe ^
30 – Manchester, U.K. @ Manchester Gorilla ^
31 – Liverpool, U.K. @ The Invisible Wind Factory ^
April
01 – Glasgow, U.K. @ Stereo ^
03 – Bristol, U.K. @ Thekla ^
05 – Brighton, U.K. @ Concorde 2 ^
06 – London, U.K. @ KOKO ^
11 – Amsterdam, Netherlands @ Paradiso
12 – Hamburg, Germany @ Molotow
13 – Copenhagen, Denmark @ Loppen
14 – Berlin, Germany @ Rosis
15 – Vienna, Austria @ Chelsea Club
18 – Lausanne, Switzerland @ Le Romandie Rock Club
19 – Koln, Germany @ Blue Shell
26 – New York, N.Y. @ The Bowery Ballroom
May
02 – Hamden, Conn. @ The Ballroom at the Outer Space +
03 – Cambridge, Mass. @ Sonia +
05 – Toronto, Ontario @ The Garrison +
06 – Buffalo, N.Y. @ Mohawk Place +
08 – Cleveland, Ohio @ Beachland Tavern +
09 – Detroit, Mich. @ The Pike Room +
11 – Chicago, Ill. @ Lincoln Hall +
12 – Grand Rapids, Mich. @ Founders Brewing +
13 – Pittsburgh, Pa. @ The Funhouse at Mr. Small's +
18 – Gulf Shores, Ala. @ Hangout
31 – Nelsonville, Ohio @ Robbins Crossing, Hocking College
June
01 – Baltimore, Md. @ Metro Gallery #
02 – Washington, D.C. @ Rock and Roll Hotel #
03 – Carrboro, N.C. @ Cat's Cradle #
05 – Charlotte, N.C. @ Snug Harbor #
06 – Atlanta, Ga. @ Aisle 5 #
08 – Houston, Texas @ White Oak Music Hall
10 – Dallas, Texas @ Club Dada
12 – Phoenix, Ariz. @ Valley Bar
13 – San Diego, Calif. @ Che Café
14 – Santa Ana, Calif. @ Constellation Room
19 – Vancouver, B.C. @ The Fox Cabaret
20 – Seattle, Wash. @ The Crocodile
25 – Omaha, Neb. @ Reverb
26 – Kansas City, Mo. @ recordBar
27 – Minneapolis, Minn. @ 7th Street Entry
30 – Indianapolis, Ind. @ Hoosier Dome
July
01 – Nashville, Tenn. @ 3rd and Lindsley
(^ – SORRY supports)
(+ – Dream Wife supports)
(# – The Nude Party supports)