SZA Recruited the Real Life Drew Barrymore to Cameo in Her "Drew Barrymore" Video
Photo by Emma McIntyre/Getty, Jason Kempin/Getty
Music
Video
SZA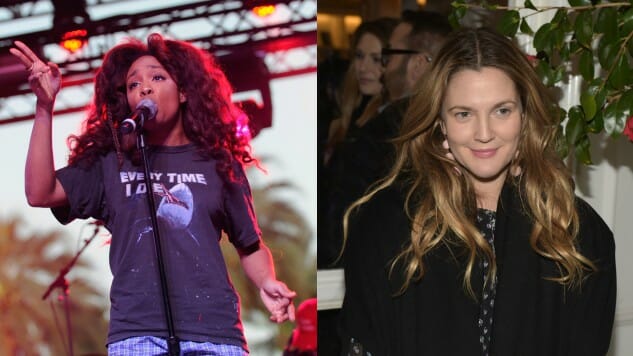 Further proving that she's one of the coolest artists around, R&B songstress SZA recruited the actual Drew Barrymore to cameo in her music video for "Drew Barrymore," the lead single from her debut record CTRL.
Barrymore appears in the video for about five incredible seconds, giving SZA a head nod as she sings the bridge. The video also features some gravity-defying choreography and a dope house party. When asked on Twitter if Barrymore is "as magical as we think she is," SZA gave an enthusiastic, "YAAAAAAASS."
YAAAAAAASS SHE ISSS https://t.co/sgkPgGUJQE

— SZA (@sza) June 20, 2017
SZA has been riding high lately with her much-anticipated debut album receiving high praise. The record has some high-profile guests, including Kendrick Lamar and Travis Scott, and is without a doubt one of the most dynamic R&B albums in recent history. Even Diddy is obsessed with it.
Diddy listening to songs from #Ctrl on Snapchat pic.twitter.com/fB9RMNH4ne

— DAILY SZA (@DailySZA) June 11, 2017
Watch the "Drew Barrymore" video above. Barrymore herself appears at the 2:16 mark.