10 Female Artists You Can Like Instead of Taylor Swift
The reigning Queen of Pop is on top of the world—which is exactly the problem. Here are 10 great emerging artists who remind us of the old Taylor.
Photo: Getty Images
Music
Features
Taylor Swift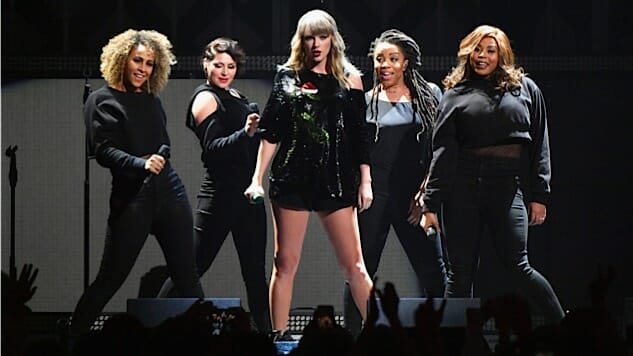 Taylor Swift is over.
Okay, not exactly. Her new album, Reputation, moved more than 1.2 million copies in its first week and went on to be the best-selling physical album of 2017. I'm talking about the old Taylor; the sweet, young country singer who was bullied by Kanye West at the 2009 VMAs, then built an empire on playing the innocent, all-American underdog with enemies scheming all around her. With Friday's release of Swift's latest Reputation video, 'End Game', in which she's popping bottles on yachts alongside Future and Ed Sheeran, there's no debating that the Taylor we knew (and many loved) is gone forever.
Over the course of several albums and many more photo ops, Swift crafted a perfect image of naïveté and virtue; her supermodel looks weren't enough to convince the world that she wasn't the awkward young country girl she claimed to be (Swift is from eastern Pennsylvania despite the southern accent she adopted early in her career). Her calling card was always catchy, confessional songs with her life at the center of everything, so when she wrote about the boys who had done her wrong, it didn't matter to her devoted fans that the "boys" were actually Jake Gylenhaal and John Mayer. As her popularity grew, so did her album sales and her credibility.
But while fans loved Reputation, most critics didn't, as there was little of the old Taylor Swift to be found. After she'd nailed a successful pop pivot with 2014's 1989, Reputation and its cold-blooded lead single, "Look What You Made Me Do," seemed to turn her quickly from the empowered heroine to the merciless villain. In the video, Swift seats herself atop a golden throne and bathes in a tub of diamonds. Her persona now seems to be fueled by the role she played in 2017, when she was quiet on the music front but far from silent. In an increasingly tumultuous political year, she was unwittingly made the unofficial pop star of the alt-right movement, then was criticized for declining to disavow their support. She scored an important victory in a sexual harassment lawsuit, but also attempted to silence a blogger who accused her of endorsing white supremacy until the ACLU put a stop to it.
You just can't avoid Taylor Swift anymore—she even managed to score a Grammy nomination in a year when she released no music). But if you fell hard for her early work, like 2010's Speak Now or 2012's slightly bolder Red, it's time to move on. To help ease the breakup, here are 10 young female songwriters who deserve to take her mantle. From rock to electro-pop to vintage country, their sounds and influences are diverse but each brings a fresh perspective and that Swiftian gift for emotional honesty. More relatable and free from the confines of celebrity drama, these artists are squarely in tune with the world most of us live in now.
Vagabon
Vagabon is the Brooklyn-based project of Laetitia Tamko, whose momentous debut Infinite Worlds was released in 2016 via Father/Daughter Records. Born in Cameroon, Tamko moved to New York and majored in engineering in college before finding her voice as a songwriter. Her music elegantly explores the ideas of self-reflection, community and finding your place in an often inhospitable world. "I feel so small / My feet can barely touch the floor," she sings on "The Embers," comparing herself to the taller people that surround her on the bus. Tamko may be small in stature, but her music is mighty.
Molly Burch
Growing up in Los Angeles, Molly Burch loved old Hollywood musicals and classic female artists like Patsy Cline and Nina Simone. She studied Jazz Vocal Performance in college before moving to Austin, Texas, where she began to write pop songs influenced by the classic singers she's always loved. Burch's 2017 debut, Please Be Mine, combines '60s girl-group melodies with vintage country charm. (It even made our list of the 50 Best Albums of 2017.) On the melancholic and sweet "Downhearted," she begs with the tenderness of a young heart, "I could be your dream girl, your whole world, if you let me," before admitting that she's "lost a few things"—including her mind.
Mitski
Mitski's brilliance is no secret—in 2017 she toured with the Pixies, and this year she's hitting the road with Lorde. But with a voice like hers, it's hard not to wonder why she isn't the most famous female pop star on the planet. Born in Japan and living around the world before ultimately settling in New York, Mitski climbed her way up from the Brooklyn underground after the release of her stunning 2014 album Bury Me at Makeout Creek. That record overflows with the feral, tender emotions of youth, particularly on tracks like "Drunk Walk Home" and "First Love / Late Spring." On the staggering "Townie," she proclaims: "I want a love that falls as fast as a body from the balcony." In 2016, Mitski released an equally impressive follow-up, Puberty 2, which further explores her identity as a twentysomething Asian-American woman. Her talents as a singer-songwriter are boundless, and her songs still feel remarkably intimate and authentic.
Jay Som
Over the course of two sophisticated LPs, multi-instrumentalist Melina Duterte (aka Jay Som) has proven herself a distinctly powerful voice. The Bay Area native creates bedroom music that is deceptively massive and expansive, exploring diverse influences from R&B and grunge to shoegaze. Her last release, Everybody Works (which topped our Best Albums of 2017 list), has as much in common with guitar rock as it does pure bubblegum pop. On dreamy opener "Lipstick Stains," she's misty-eyed, but realistic: "I like the way your lipstick stains/ the corner of my smile/ I pray it lasts a while." This week, Jay Som announced a new 7-inch called Pirouette and shared its vibrant title track, a leftover song from the recording of Everybody Works.
Soccer Mommy
Twenty-year-old Sophie Allison's early releases as Soccer Mommy are undoubtedly Swiftian in nature; her soft, intimate pop songs are confessional and relatable, as evidenced by her 2017 EP, Collection. The whimsical "Benadryl Dreams" finds her laying in bed, dreaming: "You've been hanging in my brain/ Causing all my stomach aches/ I can only think of you these days." Soccer Mommy's debut album, Clean, arrives Mar. 2, and on lead single "Your Dog," she embraces hazy punk, yet her delivery remains deeply honest and personal.
Half Waif
Nandi Rose Plunkett is known for her role as multi-instrumentalist in Pinegrove, but by herself, she's Half Waif, an electro-pop singer and producer based in Brooklyn. Plunkett is the daughter of an Indian refugee from Uganda and an Irish-American, and her music reflects such varied tastes as Celtic pop and Hindu devotional music. On her 2016 record, Probable Depths, Plunkett created lush landscapes of electronics, pianos and strings, but also makes straight-up bangers. "Turn Me Around" is an eclectic dance track; cool, inventive pop with beats born from diverse influences.
Madeline Kenney
Oakland's Madeline Kenney refers to herself as a "musician, baker, artist, and cartoon enthusiast," and this quirky description seems all-too authentic upon first listen of her warm, gooey style of pop rock. Kenney—who also has a degree in neuroscience, because why not—released her debut album, Night Night at the First Landing, in 2017. Her soaring vocals are defiant on "Always," addressing her haters over melodic distortions: "Now that you are not the patron saint of us, you can sit back and act like you don't give what I would." Her bold chants of "I will!" aren't arrogant, but inspiring.
Lucy Dacus
In 2016, Lucy Dacus told Paste, "Before I even pick up a guitar, usually the words are done. So I'm not first and foremost a musician. I'm first and foremost a writer." The Richmond, Va., native writes songs that are stunning in their candor; on her brand new single, "Night Shift," she brutally admits, "The first time I tasted somebody else's spit, I had a coughing fit/ I mistakenly called them by your name/ I was let down, it wasn't the same." "Night Shift" is the first taste of Dacus's sophomore record, Historian, out Mar. 2 via Matador.
Katie Von Schleicher
Maryland's Katie Von Schleicher combines punk, folk, chamber pop and raw emotion to create her signature sounds, which are as strange and contemporary as they are classic. "Baby Don't Go," from her lo-fi first record Bleaksploitation, is a prime example: guitars slice through a vintage melody, bloodying her graceful croons of "I knew I was angry/ I knew it was wrong/ But baby, don't go." Von Schleicher released Shitty Hits in 2017, experimenting further with layering pristine vocals above dim, murky black. Not exactly radio pop, but a far more satisfying take on traditional styles.
Rosie Carney
Simply put, Rosie Carney's voice is gorgeous; her sound is crisp and pure, with a soft ambience of authenticity. The young Irish newcomer recently released a new single, "Winter," that is calm and mature, blanketed in a cozy cover of loneliness. "I don't want to go inside where you won't hold me," she sings. In addition to "Winter," Carney has released a small handful of songs including "Awake Me" and "K," each more heartbreaking and beautiful than the last.