Netflix Releases Trailer for Miss Americana, New Taylor Swift Documentary Heading to Sundance
The film discusses Swift's newfound political advocacy
Image via Netflix
Music
News
Taylor Swift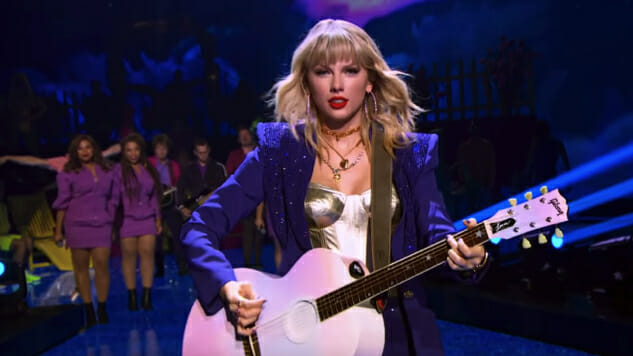 2019 was a monumental year for pop singer Taylor Swift. The Grammy Award-winning artist released her seventh studio album Lover, acted and wrote music for the fever dream of a film that is Cats, and has been involved in a heated feud with producer Scooter Braun, who acquired Swift's former label, Big Machine, in June, plus Swift's albums and masters along with it. Throughout the dispute, Swift has cemented her status as a vocal advocate for artist's rights.
Now Swift starts off 2020 with a new documentary. Netflix has released the trailer for Miss Americana, which is about the singer's growing political advocacy. The film, directed by Emmy Award winner Lana Wilson (The Departure, After Tiller), is slated for a Sundance premiere on Jan. 23, and a theatrical run and Netflix debut on Jan. 31.
The trailer begins with Swift discussing the expectations studios once placed upon her, saying, "Throughout my whole career, label executives would just say 'a nice girl doesn't force their opinions on people. A nice girl smiles and waves and says thank you.' I became the person everyone wanted me to be."
Seemingly in light of criticism for her not taking a political stance during the 2016 presidential election, and her eventual decision to enter the political sphere and endorse Democratic candidates in a Tennessee midterm election in 2018, Swift says, "I had to deconstruct an entire belief system. Toss it out and reject it. It woke me up from constantly feeling like I was fighting for people's respect. It was happiness without anyone else's input."
The trailer leaves viewers on an optimistic note, showing a re-energized-looking Swift as she declares, between clips of her rehearsing and carrying her cat inside a see-through backpack, "I need to be on the right side of history," adding, "I feel really good about not feeling muzzled anymore and it was my own doing."
The documentary features a new song from Swift called Only the Young, of which she told Variety, "I wrote it after the midterm elections, when there were so many young people who rallied for their candidate, whether it was a senator or congressman or congresswoman."
See the Miss Americana trailer and key art below.