The 10 Best Singing Drummers in Rock History
Is there anything harder than playing drums and singing lead at the same time? Here are the 10 musicians who have done it best in the past 50 years.
Music
Features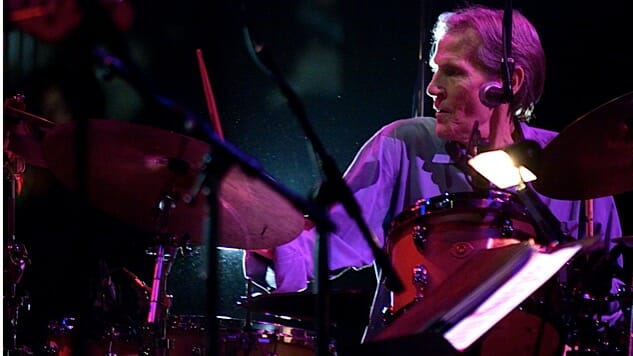 A couple weeks ago, we brought you our rankings of the 10 Best Bassists in Rock History, as a way to show a little love for some of the less-recognized instrumentalists who helped elevate their bands to superstardom. Of course, bassists are practically movie stars compared to drummers. The essential element in any rock 'n' roll band, the drummer is typically relegated to the rear, consigned to keep the pace while driving the music forward and earning the spotlight only for the occasional—and increasingly rare—solo.
A select few drummers, though, haven't been content to merely bask in the beat. No, they want to sing! Singing lead and playing drums simultaneously is one of the great feats in popular music, the province of an elite batch of musicians who can carry both the lead and rhythm of a band, even if no one in the crowd can see them doing it. Here's our list of the best singing drummers in rock history. (To be clear, we're talking about drummers who were either the lead singers or integral vocal contributors to their bands. So if you're wondering why Dave Grohl isn't here, it's because he wasn't the singer in Nirvana, and he isn't the drummer in Foo Fighters.)
10. Micky Dolenz, The Monkees
Micky Dolenz didn't know anything about keeping a beat when he was cast in The Monkees TV series in 1965. A former child actor, he at least knew how to act well enough to effectively play the part. But he was also talented enough to learn extremely quickly, and played the drums live when the band went on tour after the show became a hit. As a singer, he was a natural, and it's his cool delivery that gives the Monkees their signature sound on seminal pop hits like "I'm a Believer," "Last Train to Clarksville and "(I'm Not Your) Steppin' Stone."
9. Karen Carpenter, The Carpenters
One of the best contralto singers of the 1970s, Karen Carpenter is mostly remembered for her delicate, intimate vocals on AM radio hits like "We've Only Just Begun," "Close to You" and "Rainy Days and Mondays." Fewer recall that she was an excellent drummer, having started out with her brother Richard not as the preternatural singer the world would come to love, but as the drummer for the Richard Carpenter jazz trio. She could play complex bebop numbers as naturally as Carpenters songs, which was ideal since her crippling anxiety led her to prefer the back of the stage to the front. Once the Carpenters hit the airwaves with their string of radio hits, she was forced into the spotlight as the group's singer and never quite recovered, dying of heart failure stemming from her anorexia nervosa in 1983.
8. Peter Criss, Kiss
The original "Catman," (aka George Peter John Criscuola) was first hired by Gene Simmons and Paul Stanley thanks to his soulful vocals. His gruff tenor anchors some of Kiss's signature songs, like "Black Diamond," "Hard Luck Woman" and "Getaway." Indeed, when Kiss broke out of Brooklyn, it was Criss singing lead on their first Top 10 single, the love song "Beth." It's ironic that Kiss's one ballad, a song that was out of sync with their hard-rocking style, would be written and performed by their drummer, but it just goes to show that even a wildly rocking percussionist is capable of leading a band to stardom. Even more ironic, when Criss quit the band in 2000, he was replaced by Eric Singer.
7. Roger Taylor, Queen
Freddie Mercury was obviously the golden voice of Queen, and its charismatic star to boot. So it's a credit to Roger Taylor and his pitch-perfect pipes that he was given access to the microphone on numerous occasions. Taylor's raspy vocal style was a contrast to Mercury's smoother delivery, and his insanely high-pitched falsetto gave Queen their magical harmonies (that's him going high in "Bohemian Rhapsody"). The songs on which he sang on—"I'm in Love With My Car" (which he wrote), "Father to Son" and "Modern Times Rock 'n' Roll," to name a few—added a more rough-and-tumble element to Queen. Widely recognized as one of the most influential rock drummers of all time—not to mention an invaluable contributor as a songwriter—Taylor was indispensable to Queen's rise.
6. Shelia E., solo artist
It's little surprise that Sheila E., born Sheila Escovedo, is such a multifaceted star. The Escovedo family includes such luminaries as Americana icon Alejandro Escovedo (her uncle), insurgent rockers Javier and Mario Escovedo (uncles), and her father, percussionist Pete Escovedo. A drumming prodigy from a young age with a lightning-fast, polyrhythmic style, she worked with a number of notables—Prince, George Duke and Herbie Hancock among them—and became the "Queen of Percussion" as the bandleader behind '80s hits like "The Glamorous Life," "The Belle of St. Mark" and "A Love Bizarre." (And is there a better album title that 1991's Sex Cymbal?) Taking on both vocal and percussion duties, her career suffered in in part from years of playing drums in high heels, which resulted in some severe health issues. But she managed to rebound (tours with Ringo Starr, recording sessions with Beyonce) and remains a driving, dynamic force behind the kit to this day.
5. Buddy Miles, The Buddy Miles Express/Band of Gypsys
One of the original members of the blues/rock/soul outfit The Electric Flag, Buddy Miles likely would have left a lingering impression on the masses even if his career had concluded there. The Buddy Miles Express established him as a triple threat—a powerful, soulful singer as well as a sturdy drummer and a bandleader of considerable skill. His greatest shot at creating an enduring legend came when he teamed with pal Jimi Hendrix in the Band of Gypsys, which allowed Hendrix to cede the spotlight for Miles's signature song, "Them Changes." Where Hendrix's voice was more monotoned, in the style of Bob Dylan, Miles's was pure silky soul, giving Band of Gypsys a contrasting dynamic that the Experience couldn't match. (His falsetto do-do-dos on "I Don't Know" are spine-tingling.) And his drumming provided the perfect foundation for Hendrix: rock solid, with subtle breaks and changes that could pivot the songs from section to section.
4. Grant Hart, Hüsker Dü
Hüsker Dü are widely recognized as godfathers of the hardcore movement, and the late Grant Hart's contributions to the band added an unlikely melodic core, a counterpoint to Bob Mould's more tempestuous tonality. Hart formed Hüsker Dü in Saint Paul, Minn., along with Mould and bassist Greg Norton in 1979, serving as a primary songwriter for the band on seminal albums like 1984's Zen Arcade. It's hard enough for drummers to sing lead; when they're doing it in speed-punk bands playing at insane volume, it's a whole other level of skill. Hart's vocals were surprisingly nimble, and even when his drumming tended to carry the rhythms at near breakneck speeds, his singing still kept pace. In later years, Hart would focus on a more conventional song style, but his multi-tasking efforts with Hüsker Dü remain the work for which he's revered.
3. Don Henley, The Eagles
Stern and taciturn, Henley could have yielded the spotlight to bandmates Don Felder, Tim Schmit and Glenn Frey, but had he done so, The Eagles wouldn't have flown nearly as high. The songs that found him singing lead—"Witchy Woman," "Desperado," "Best of My Love," "One of These Nights, "Hotel California," "Life in the Fast Lane," "The Long Run," etc.—were some of the more tenacious efforts in the band's canon, decidedly to the right of the group's archetypical country-rock sound. It was that edge and angst that helped amass an eager following for whom bluster, not balladry, often proved the main draw. Henley's drumming was rarely The Eagles' instrumental focal point, but his undeniable presence behind the kit introduced many a rock fan to the concept of a drummer-lead singer. Henley is associated with the California country movement of the 1970s, but of course he was from East Texas, and his distinctive drawl gave the Eagles some down-home cred. In later years, Henley's voice carried him to immense solo success on pop songs like "Boys of Summer" and "The End of the Innocence."
2. Phil Collins, Genesis
Collins, who would eventually become one of the world's most recognized singers, joined Genesis in 1970 as drummer and served in that capacity until original frontman Peter Gabriel left the band in 1975. Gabriel's departure threatened Genesis' very existence. After all, he was more than a frontman; he interpreted the band's proggy flights of fancy in literal and visual ways. Collins, who had sung backup to that point, didn't have the same flair, but he did have the pipes. He reluctantly became the group's lead singer, and as Genesis gradually transitioned from artful eccentrics to more reliable pop purveyors, his natural stage presence and ability to sing complex songs while drumming made the transition a smooth one. A Trick of the Tail (1976), Wind and Wuthering (1976), and …And Then There Were Three… (1978) found Collins both confident and competent, presaging the band's the globe-trotting mainstream success in the 1980s. Collins would never have recorded iconic solo hits like "In the Air Tonight" and "Sussudio" if he hadn't decided to rescue Genesis at the 11th hour.
1. Levon Helm, The Band
In a band—THE Band—with a wealth of talent, including four individuals clearly capable of singing lead, Levon Helm added a folksy foundation and, as the sole American in the bunch, a decidedly rustic authenticity. Like most of his bandmates, Helm was proficient on several instruments, notably mandolin, but it was his steady, stately, often funk-tinged drumming and deeply emotive Southern twang that truly lent the group its identity. It's Helm's voice behind the Band's most treasured and relatable songs: "The Night They Drove Old Dixie Down," The Weight," "Up on Cripple Creek," and more. Having grown up in Arkansas in the 1940s and '50s, Helm was among the first generation of Americans to hear how country, blues, folk and bluegrass could be weaved into one American sound: rock 'n' roll. Never the flashiest drummer, he nevertheless extracted more colors and shades—sadness, longing, joy, sensuality, mischief—from his kit than just about any other drummer in the history of American music, and all while singing the songs.