The Beatles' Strawberry Fields to be Restored for Fans and Community
Photos by Christopher Furlong/Getty, Terry Disney/Express/Getty
Music
News
The Beatles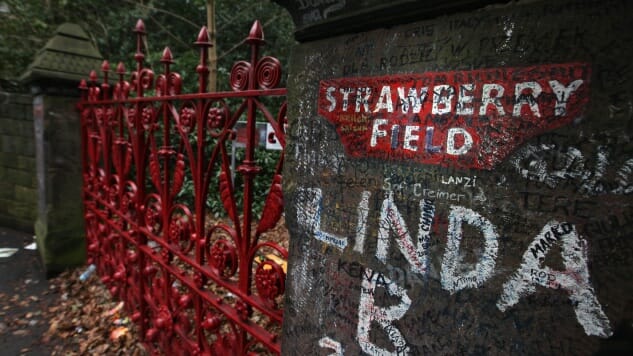 The origin of The Beatles' dreamy "Strawberry Fields Forever" is being brought back to life through a project run by The Salvation Army. Strawberry Field was a children's home in Liverpool near where John Lennon lived growing up with his Aunt Mimi. Lennon would play with the children living there and listen to the Salvation Army band. This project seeks to restore the grounds of the now-closed facility and create a reflective space for the people of Liverpool and Beatles fans.
On Tuesday, the team behind this project broke ground on the site—51 years after the original 1967 release of "Strawberry Fields Forever." Lennon's sister Julia Baird and Lady Judy Martin OBE, the widow of Sir George Martin, the producer known as the "Fifth Beatle," joined on location, and were among those who laid a time capsule box in the building's footprint.
Lady Martin OBE said it's exciting for the public to have an opportunity to see the grounds which the project has called "a space for relaxation, contemplation and exploration":
The plans to open Strawberry Field to the public for the first time—so people can see a unique exhibition about the home, how and why the song was written by John, and allow visitors to explore the grounds as John did as a child—is very exciting.
In addition to an exhibition exploring the story behind Strawberry Field and Lennon's relationship with the space, the grounds will feature a café and at the heart of it all are the gardens. In the spirit of giving back to the community, it will also serve as a training and work placement hub for young people with learning disabilities.
Baird, who is the Honorary President of this project, called it a brilliant idea:
Just like The Beatles springing from the stage of the Cavern Club, it's a wonderful idea that The Salvation Army is going to cultivate youngsters in the precious soil of Strawberry Field, for them to be nurtured to reach their full potential, where they will have the chance of work all around Liverpool.
Strawberry Field is expected to open in summer 2019, but the project still has £1 million to raise in the coming year. You can find more information about the project and contribute to its construction fund here, and enjoy its namesake below.