Beyoncé and Jay-Z's New Album Now Streaming on Spotify and Apple Music
Photos by Kevin Mazur/Getty
Music
News
The Carters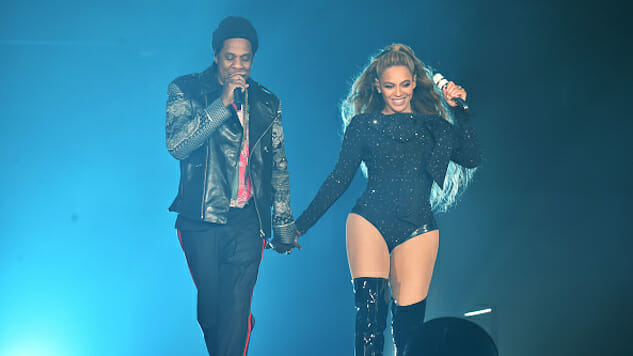 When you're Beyoncé and Jay-Z, making a collaborative album about love, race in America and a gargantuan net worth is your couples therapy.
Music's biggest power couple surprised everyone over the weekend when they surprise-released their first joint album as The Carters, Everything Is Love. At the time of its release, the nine-track, 38-minute LP was available only on Jay-Z's streaming platform Tidal, which is also the once and future home to Beyoncé's most recent solo work, Lemonade. But as of Monday, June 18, The Carters have shared the album with the rest of the world, making it available to each and every listener (however undeserving) via Spotify and Apple Music. One accompanying track, "Salud!," remains Tidal-exclusive, however.
Everything Is Love is the final tier in what you might call a trilogy of albums, the first being 2016's Lemonade and the second being Jay-Z's 2017 album, 4:44. Both albums were the corresponding spouse's take on marriage and Jay-Z's reported cheating on Beyoncé. In a responsive, peacemaking rendezvous, they released this album together in the midst of their tag-team "On the Run II" tour, thusly stunning literally everyone. But Everything Is Love isn't entirely an ambush: Jay-Z told the New York Times last year that he and Beyoncé "were using our art almost like a therapy session. And we started making music together."
Also on Saturday, The Carters shared the powerful visuals for Everything Is Love's track number two, "Apeshit." The video, which you can watch below, shows Beyoncé and Jay-Z unapologetically owning their space and their art in what is perhaps the most well-known art space in the world: the Louvre. Dancers commune at a shockingly close proximity to the masterpieces while The Carters mostly stand their ground in front of the Mona Lisa. Beyoncé does some stellar rapping on the track, which also features Offset and Quavo of Migos. Other collaborators on the album include Pharrell, TV on the Radio's Dave Sitek, and Cool & Dre.
Blue Ivy also appears on the album. In what is perhaps the sweetest guest lyric on a hip-hop album ever, Beyoncé and Jay-Z's first-born salutes her twin siblings with the following: "Shoutout to Rumi and Sir, love Blue."
Here's some Carters-inspired reading to keep you occupied while listening to Everything Is Love: For Bey, a lookback at some of the best moments from her Lemonade film and, for Jay, our 10 favorite songs by the legendary rapper.
You can find the album on Spotify here or Apple Music here, and watch the "Apeshit" video below.