The Drums Get Glitchy in Trippy New "Body Chemistry" Video
Images via ANTI-, Nicholas Moore
Music
News
The Drums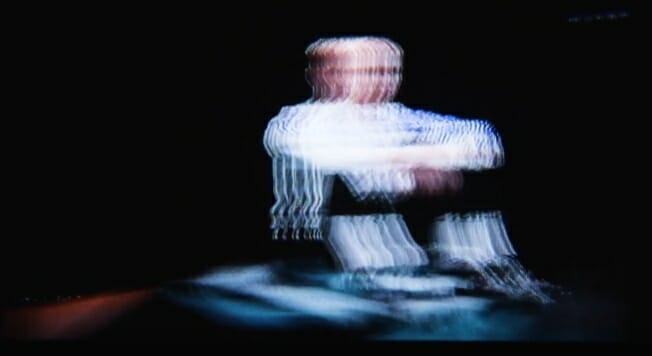 The Drums are kicking off the start of their latest tour with a sold-out show in Santa Ana and a new video for "Body Chemistry" (dir. Anton Riva), the second track off their just-released fifth album, Brutalism.
In classic Drums fashion, peppy surf-rock beats lend a deceptively bright instrumental outlook to less chipper matters. "Body Chemistry" muses candidly on how a stroke of "good luck," a "good fuck" or maybe just a "nice glass of wine" could be the cure to a brain distracted by depression and anxiety. Armed with no shortage of sardonics, frontman Jonny Pierce debates the ways in which his conscious and his body seem to forget that they're on the same team, proposing one final question to the void as the song's outro melts away: "Is my chemistry not forgiving me?"
"On Brutalism there are a lot of songs about isolation, feeling cut off from others and seeing the world through a blurry lens," Pierce explains of the "Body Chemistry" visuals. "We recorded my performance in front of a green screen in L.A., and sent it to Russia where a visual artist processed the performance in a way that visually reflects of how I feel in my head sometimes."
Watch the video for "Body Chemistry" and check out The Drums' 2017 Paste Studio session below, as well as the band's tour dates further down.
The Drums Tour Dates:
April
24 – Tustin, Calif. @ Marty's On Newport (SOLD OUT)
26 – El Paso, Texas @ Lowbrow Palace
27 – San Antonio, Texas @ Paper Tiger
29 – Omaha, Neb. @ The Waiting Room
30 – St. Paul, Minn. @ Turf Club
May
01 – Chicago, Ill. @ Metro
02 – Toronto, Ontario @ Phoenix Concert Theater
04 – Boston, Mass. @ Paradise Rock Club
07 – New York, N.Y. @ Mercury Lounge (SOLD OUT)
08 – Asbury Park, N.J. @ Asbury Lanes
09 – Philadelphia, Pa. @ The Foundry at The Fillmore
10 – Brooklyn, N.Y. @ Warsaw
11 – Washington, D.C. @ The Black Cat
13 – Carrboro, N.C. @ Cat's Cradle
14 – Nashville, Tenn. @ Exit/In
15 – Atlanta, Ga. @ Terminal West
16 – Orlando, Fla. @ The Beacham Theater
17 – Ft. Lauderdale, Fla. @ Revolution Live
18 – Tampa Bay, Fla. @ The Orpheum
20 – Pensacola, Fla. @ Vinyl Music Hall
21 – Houston, Texas @ White Oak Music Hall (Downstairs)
22 – Dallas, Texas @ Granada Theater
23 – Austin, Texas @ Emo's
July
25 – San Francisco, Calif. @ August Hall
26 – San Francisco, Calif. @ August Hall
27 – Los Angeles, Calif @ Palladium
30 – San Diego, Calif. @ North Park
31 – Las Vegas, Nev. @ Brooklyn Bowl
August
01 – Phoenix, Ariz. @ Van Buren
02 – Albuquerque, N.M. @ Sunshine Theater
03 – Denver, Col. @ Bluebird
06 – Portland, Ore. @ Wonder Ballroom
07 – Vancouver, B.C. @ Imperial
08 – Seattle, Wash. @ The Showbox