Listen to The Highwomen's Near-Perfect Cover of Fleetwood Mac's "The Chain"
Photos by Alysse Gafkjen
Music
News
The Highwomen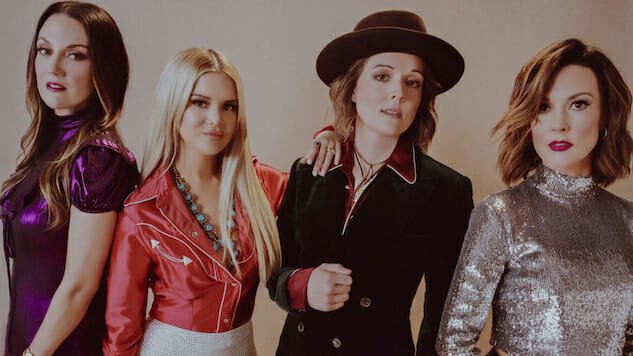 The Highwomen are less than a month into being a group, but every song or move they've made has seemed to blow audiences away. Now, the country-folk supergroup have covered Fleetwood Mac's "The Chain" and everything seems right in the world.
The massively talented group—comprised of Brandi Carlile, Maren Morris, Natalie Hemby and Amanda Shires—pulled no punches with the cover and from the perfected harmonies of the song's opening line, you know you're in for a treat. With the mix of sweetly soft vocals from Shires and Morris, and Carlile and Hemby's gruffer tones, the cover is sure to inspire chills. Fitted with the same guitar breakdown heard in Fleetwood Mac's original, the cover is a tour de force of powerful women, and the perfect fit for a film about powerful women.
The cover is featured on the soundtrack of the forthcoming film The Kitchen, which stars Melissa McCarthy, Tiffany Haddish and Elisabeth Moss. The film revolves around the three women, who take over their crime-riddled husbands' mob organization when the husbands get thrown in jail.
Alongside the cover's release, The Highwomen are gearing up for the release of their self-titled debut album, which is due out Sept. 6 via Low Country Sound/Elektra Records. The quartet have released two singles off the album so far, "Redesigning Women" and "Crowded Table."
Otherwise, the ladies made both their TV and live performance debuts recently. On July 30, the women stopped by The Tonight Show to perform both their singles, and just a week prior to that, the ladies performed at Newport Folk Festival. During their set at the festival, The Highwomen brought out a slew of guests, including the iconic Dolly Parton, who had never performed at the festival in its 60 years. With Parton, the women performed many of her hits and graced the world with a backstage rehearsal of Parton's track "Eagle When She Flies" that quite literally made Jason Isbell weep.
Listen to The Highwomen's cover of Fleetwood Mac's "The Chain" and watch The Kitchen's trailer featuring the song below, then revisit Carlile performing in the Paste office in 2010, followed by Shires' 2018 Paste Studio session.