The Killers Call for Change with New Track, "Land of the Free"
Images via Kevin Winter/Getty, Island Records
Music
News
The Killers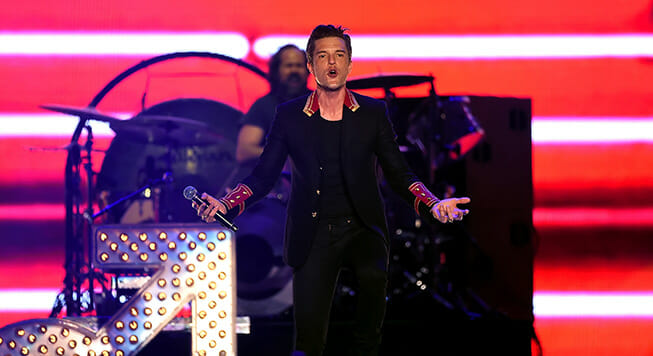 In response to the stream of violence and negativity plaguing the country, The Killers find themselves back in the studio with a standalone ballad titled "Land of the Free."
The song marks the band's first official release since 2017's Wonderful Wonderful, and it finds them not wasting any time with addressing their perception of the current administration and its shortcomings. There is nothing subtle about "Land of the Free," which serves as a comprehensive checklist for social injustices. At the forefront, consistent political issues like gun violence and mass incarceration fuel the emotionally charged call to action from Brandon Flowers and co.
In an interview posted to Instagram by Beats 1 (where "Land of the Free" debuted as Zane Lowe's World Record), the initially apprehensive Flowers reveals, "I would start the song and then I would put it away and say, 'I'm not the guy to do this. I feel inadequate, someone is gonna write this song.' And then it just piled up with Las Vegas, Orlando, Parkland. It just kept coming and I just thought, 'I have to get this out.'" The Killers also shared an extensive, Flowers-penned statement on the track via their own Instagram.
Listen to "Land of the Free" below, and find Flowers' interview and written statement further down.