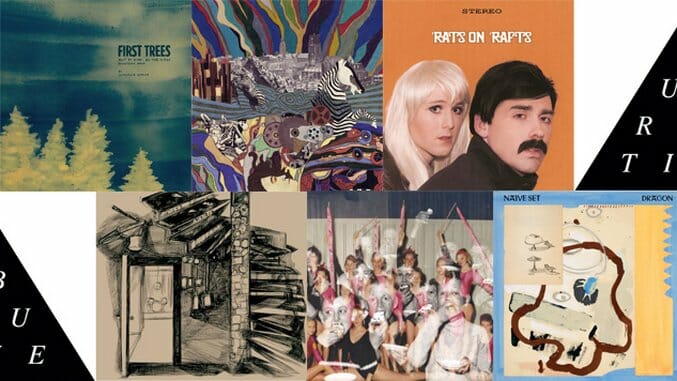 Frank Kimenai is searching for the right words to describe the Dutch underground. A scene stalwart that bounced around in various punk bands and established the Incubate Festival before turning to artist management, he's experienced the country's music scene from practically every angle. But, while it's clear to him that the rough and tumble ethos of the movement contrasts with the national character of The Netherlands, putting it to words is a whole other issue.
"Here in Holland you quite often have a mentality where people say, 'Just act normal dude, you're acting weird enough,'" he says, punctuating the statement with a self-aware laugh, "But all the Dutch bands I like don't act normal."
It's a statement echoed by Bird on the Wire's Rosa Ronsdorf. Although the melancholy pop outfit has made inroads into the international independent scene, opening for established acts such as Tennis and St. Vincent at Amsterdam's famed squat-turned-venue Paradiso, and traveling abroad to play shows, the Amsterdam-based frontwoman says that too often people at home don't completely understand her dedication to music. It's a fight, she notes, that musicians in Brooklyn (where she lived for a year) don't experience.
"I think Dutch people are really down to earth," she notes. "They're like, 'I have this band, it's cool. But I'm also studying.' They don't get so crazy."
Nausica frontwoman Edita Karkoschka puts an even finer point on the matter. Having relocated to Arnhem, Netherlands from Poland a decade ago, the theatrical pop frontwoman praises the country's creativity, humor, and openness. However, she says, that attitude only goes so far.
"As a land of royals they definitely treat their children as little princes and princesses," she says of her adopted homeland. But when it comes time to encourage kids to dream big and aim to become presidents, artists, or musicians? That's where the coddling stops.
"It's too small," she continues, referring to the size of the country. "Everything is just smaller."
Therein lies the inherent contradiction of the Dutch underground: in a nation that advocates practicality, its participants are actively pushing in the other direction, even when the numbers aren't in their favor. A few artists, such as psych-pop maestro Jacco Gardner, now signed to U.S. imprint Polyvinyl, graduate to the international stage. But in a country with limited independent media, no college radio, and government subsidies that are generally allocated to support more established acts, musicians, label owners, and fans lean on inventiveness to keep the scene alive.
Fewer than four years ago, the Voorstraat neighborhood of Utrecht was the site of the city's red light district. Now, the area is ground zero for Le Mini Who festival, a free event aimed at showcasing the country's budding underground music scene with a series of pop, rock, noise, and experimental shows that stretch 25 ad hoc venues. But the transformation isn't limited to a single day in December. Since Le Mini Who's inception three years ago, cafes, record shops, clothing, and design stores regularly open in the area. It's an impressive shift all powered by a niche form of music. Particularly when you take into account that in a country of roughly 17 million inhabitants, it's a scene that only encompasses, at most, a few thousand people.
"I really like the idea of one plus one is three," says Le Mini Who organizer Rinke Vreeke. A vivacious independent music fan in her early 20s, Vreeke parlayed a teenage interest in downloading new tunes into a job in 2011. It was then, while still a music management student, that Vreeke joined the Le Guess Who? festival organizers as an intern.
With the event's limited advertising budget, Vreeke was saddled with the task of fostering awareness of the event through community involvement. What started out as booking a few sessions with local bands blossomed into a full-fledged sister festival in only three editions.
"People who have a café or a shop here were like, 'Whoa, something positive is happening here!'" she says. "For me that was a turning point. 'Okay, this has a huge impact for this neighborhood. How can we make that even more?'"
Vreeke's experience establishing Le Mini Who, and the event's exponential growth is a hallmark of the country's scene. Most credit the venue Vera, a club originally established as a fraternity in the 1950s, for fostering the Dutch underground's DIY, community building-ethos. Located in Groningen, a city in the northeast of the country, the venue hosted some of the first performances in the country by Sonic Youth, Nirvana, and The White Stripes. (Along the way Vera also spawned a sister club called The Vera Project in Seattle, Washington.) Boasting its own art department, which makes unique silkscreen posters for each show, a hostel for visiting musicians, and an in-house zine, the club's multifaceted activities are all run by a volunteer staff of 200 people.
It was at Vera that Koen ter Heegde, co-owner of Subroutine Records (Rats on Rafts, Nouveau Vélo, The Homesick), found his entry point into the scene as a volunteer. In a musical climate increasingly dominated by major labels and vanity imprints, today Subroutine inhabits a unique position as one of the nation's few underground labels (alongside Snowstar in Utrecht and Excelsior Recordings in Amsterdam).
Established 10 years ago on an initial investment of 150 Euros with two other friends, ter Heegde runs Subroutine as a non-profit, often aiming to only break even on certain releases. Despite the label's impressive output (to date they've released more than 50 albums), all deals are done on a handshake rather than a contract. Why bother putting it on paper, ter Heegde reasons. It's not like he or the bands have the resources to take each other to court.
"Make a living?" asks ter Heegde incredulously, dismissing the idea that anyone's getting rich in this line of work. He laughs at the thought, echoing a nation of parents pleading with their children for a Plan B. "'There aren't more than 100 or 200 people making a living from music in The Netherlands. Maybe cover bands and professional studio musicians."
The point, he continues, is to help each other out and (hopefully) not go broke in the process. To maintain a functional label, ter Heegde redefines exactly what that means with each release. Often Subroutine will front costs such as recording and manufacturing. Other times, the label will simply act as a promotional agency, offering their name and support to an act in exchange for a small fee. The key, he says, is collaboration rather than attempting to make a band fit his expectations.
"We don't expect that this cooperation is going to bring the bands we love to national radio," he says in a moment of practicality filtered in between descriptions of elaborate album art, shows staged in makeshift venues like bicycle sheds, and digressions into the Dutch EDM scene. "But at least we'll get more audiences to listen to them."
One thing that ter Heegde looks for in any artist he hopes to release is a desire to play live. ("The concert is the most direct exchange of the things that are in the arts between an audience," he says emphatically.) It's an idea mentioned over and over again: in the Dutch underground, a dynamic show is paramount to success. Facebook likes follow a live introduction. Living in a social media saturated world, the inverse is rarely true.
With more emphasis being placed on performance, music fans, particularly those invested in discovering acts beyond the Netherlands' mainstream radio offerings, often crave a different sort of live experience. As revealed by Le Guess Who? co-founder Bob Van Heur, ticket sales to larger mainstream festivals have been flagging as fans turn to smaller, curated events such as the Incubate festival Tilburg and Le Guess Who? in Utrecht. The secret? It's all about packaging.
"The underground can be just as mainstream as the mainstream. It's how you present it," Van Heur muses. "An extreme noise act, if you present it in the middle of the night when people are ready and they're dancing and a little tipsy, you can give them 25 minutes to play their noise. And I'm sure people will love it. But if you put them on as a headliner, 15 people will show up to see them. I think that's our job, as a festival organizer and a promoter, to give them this experience to provide it in the right environment and to see things they would otherwise not be interested in."