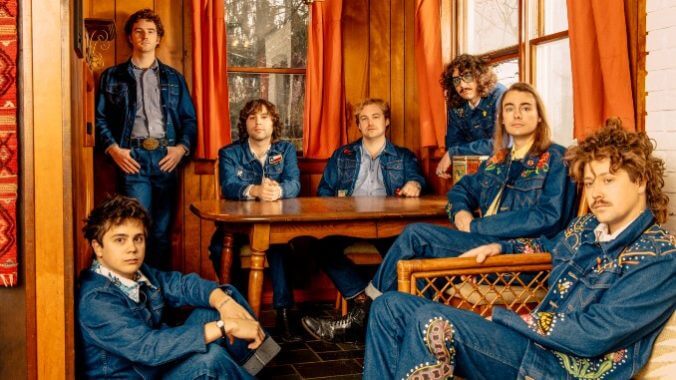 The Nude Party announces their fourth studio album Rides On set to release on March 10 on New West Records. The band released their second single off the album, "Hard Times (All Around)," today.
Rides On is the follow-up to their critically acclaimed LP Midnight Manor, which garnered support from artists such as Jack White, Arctic Monkeys, and Orville Peck and debuted at #1 on the Alternative New Artists Album chart. Midnight Manor chases the raw sounds the '70s Rolling Stones, and leaves listeners trying to catch their breath. The band recorded the album in less than a week, a very different approach from Rides On.
The sextet enjoyed the impromptu writing sessions, exploring the freedom of having their own studio to use. Set in a barn in Catskills, N.Y., The Nude Party was able to create a relaxed environment directly affecting the sound of the record.
The new single "Hard Times (All Around)" explores how life can drag us all down, and sometimes we're at the mercy of external circumstances. The song follows a swing-like rhythm with the classic organ and piano driving the momentum forward, making you want to dance with friends.
The Nude Party will launch their initial live dates with a three-night stand in Los Angeles on February 17th, and begin the second leg of the tour in April.
Watch the video for "Hard Times (All Around)":
And watch The Nude Party perform live at the Paste Studio in New York on July 10, 2018:
You can also view Ride On's album art and track list, along with their tour dates below.
Rides On Album Art: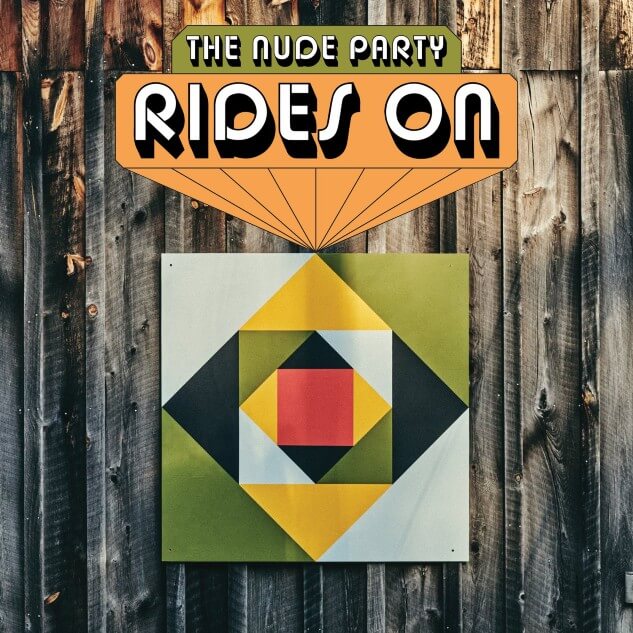 Rides On Track List:
1. Word Gets Around
2. Hard Times (All Around)
3. Midnight on Lafayette Park
4. Hey Monet
5. Polly Anne
6. Cherry Red Boots
7. Ride On
8. Tree of Love
9. Somebody Tryin' to Hoodoo Me
10. Tell Em
11. Stately Prison Cell
12. Sold out of Love
13. Red Rocket Ride
The Nude Party Tour Dates:
February
17 – Venice, CA @ The Venice West #
20 – Los Angeles, CA @ Genghis Cohen +
21 – Los Angeles, CA @ Genghis Cohen ~
25 – Jacksonville, FL @ Winterland
April
12 – Toronto, ON @ Horseshoe Tavern
14 – Indianapolis, IN @ Hi-Fi
15 – Chicago, IL @ Lincoln Hall
16 – Minneapolis, MN @ Turf Club
18 – Denver, CO @ Bluebird Theater
19 – Salt Lake City, UT @ State Room
21 – Seattle, WA @ Barboza *
22 – Vancouver, BC @ Wise Hall *
23 – Portland, OR – Doug @ Fir Lounge *
25 – San Francisco, CA @ The Independent *
27 – Los Angeles, CA @ Troubadour *
28 – Santa Ana, CA @ Constellation Room *
29 – San Diego, CA @ Cabash *
May
01 – Phoenix AZ, @ Valley Bar *
04 – Austin, TX @ Antone's *
05 – Houston, TX @ Secret Group *
06 – Dallas, TX @ Club Dada *
08 – Nashville, TN @ The Basement East *
09 – Newport, KY @ The Southgate House Revival *
11 – Greer, SC @ SpringSkunk Festival *
12 – Raleigh, NC @ Lincoln Theater *
13 – Catsonville, MD @ Sunscape
19 – Brooklyn, NY @ Music Hall of Williamsburg
20 – Philadelphia, PA @ Underground Arts
w/ West World Destroyers Pleasure Club supporting
+ w/ Michael Rault (DJ set) supporting
~ w/ TV Star supporting