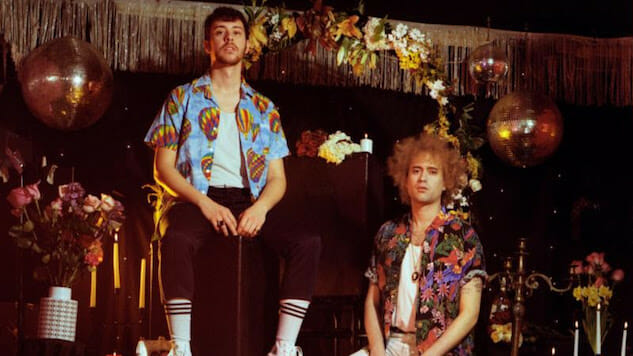 Daily Dose is your daily source for the song you absolutely, positively need to hear every day. Curated by the Paste Music Team.
Rock 'n' roll foursome Hinds may be the Spanish band on your radar this year, but there's another Madrid-based group making waves across the Mediterranean and beyond. The Parrots, made up of songbirds Diego Garcia, Alex de Lucas and Larry Balboa, have shared an easygoing new rock track, "Girl," and a companion video, out today, July 2, via Heavenly Recordings. Watch the video and listen to the track below.
The Madrid-based rockers throw expertly produced sounds, further refined by Spanish engineer Paco Loco, to the sun on "Girls." Wielding springy guitar solos and shimmery vocals, they press their already-sunny brand of garage rock into a summer-ready juice. "Girl" is uncomplicated, but it would pair excellently with a beachside respite and something citrusy in a glass. The video, which sees the band members chasing and running away from the "girls" of their dreams, is an aesthetically sound counterpart.
Tom Furse, known for his work with British rockers The Horrors, signed on to produce the track. The band said of Furse's contributions to the new song:
For us this is a very special song, after years working in the same way, we decided to take a bold step and took Tom Furse on board. His views and advice while producing our next songs made us take a leap to the next level, and open our minds to new creative visions.
The garage rock scene in Madrid is a tight-knit one. The aforementioned Hinds are pals of The Parrots, and the two groups recorded a split single together almost three years ago. One half is a cover of The Almighty Defenders' "All My Loving," which you can listen to via Bandcamp.
In 2016, we spoke to the band about their music and regarded them as up-and-comers to watch—revisit that feature here. The Parrots are currently writing their sophomore album. In the meantime, revisit our review of their debut LP Los Niños Sin Miedo right here.