The Queen Is Dead. Long Live the Queen. Aretha Franklin (1942-2018)
Photo courtesy of Rhino Records
Music
Features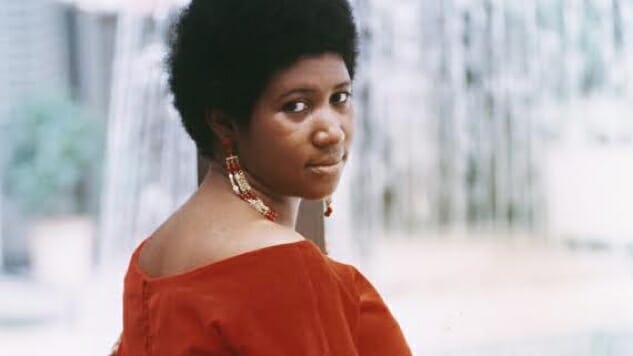 The 20th century witnessed a long parade of brilliant female American singers: Ella Fitzgerald, Billie Holiday, Sarah Vaughan, Bessie Smith, Judy Garland, Barbra Streisand, Bonnie Raitt, Mavis Staples, Mary J. Blige, Whitney Houston, Celia Cruz, Beverly Sills, Leontyne Price, Renee Fleming, Patsy Cline, Miranda Lambert, Mahalia Jackson, Janis Joplin and more. But Aretha Franklin was the greatest of them all.
Franklin could do everything those others could do, but the others could never quite match that moment when Franklin would leave behind the song as it had been written and soar into a realm of pure improvisation and instinct, channeling the extremes of emotion that we all have felt but have seldom articulated.
Franklin, who died in her home in Detroit today from advanced pancreatic cancer at age 76, was, by all reports, a difficult person to get along with offstage. David Ritz proved as much in his second book about her: his warts-and-all 2014 biography Respect: The Life of Aretha Franklin, following his co-written, sanitized 1999 autobiography From These Roots. Respect details her petty feuds, bad marriages, compulsive eating, alcoholism, personal betrayals and inexplicable insecurity.
The strange thing about Respect is that even when Franklin's family members and musical collaborators are revealing the worst examples of her behavior, they turn around and gush about her overwhelming talent. And why not? She had a rare vocal instrument—immense in both power and range—and she knew how to hush it to a confidential whisper, pump it up to a room-shaking testimonial and to twist it into unexpected notes that touched on something usually hidden.
Consider her signature song, her first #1 single, 1967's "Respect." Written by Otis Redding, it was originally a man's demand that even if he couldn't expect it from anyone else in the world, he expected his woman to give him "my propers" when he came home from work. Redding's version is a fine recording, but Franklin elevates it to a whole other level.
Singing it in high in her range, she gives each note the percussive ping of a bullet, sizzling like the snare drum behind her. Without changing a word of the lyric, she conflates the word "respect" to include courtesy, domestic comfort and sex, sex, sex. The way she delays the word "for" in the phrase, "All I'm asking for is a little respect," sounds like she's winding up for the punch. And the way she swoons on the word "all" in the phrase "I'm gonna give you all my money" implies that she's halfway to an orgasm already.
After the saxophone break, the ultimatum in her voice fuses with pure need, crying, "Give it to me; keep it coming." As her backup singers chant the title, she starts testifying, improvising words and melody phrases in the heat of the moment as if possessed by the spirit.
"I don't call what I do an improvisation," she told me in 1998. "I call it an ad-lib. What Ella Fitzgerald does is improvisation; she's singing fast on her feet. With R&B it's more ad-lib; you're just singing what you feel. It's more personal than thought-out. You don't have to guess what I'm feeling when I go into an ad-lib, it's all right there."
But how does she get to that point? "You have the freedom to ad-lib," she replied, "to the extent that you're well rehearsed and that you know your music inside out. If you trust your band, if you've worked with the same close-knit group of people night in and night out, and you know you can't throw them off no matter what you do, that gives you the freedom to sing what you want."
As powerful as she was in communicating such ecstasy, she was just a potent in exploring despair. Just listen to her 1969 B-side, "Ain't No Way." Written by her sister Carolyn, this ballad allowed Aretha to fill out the implications of its opening line, "Ain't no way for me to love you if you won't let me." Over sustained horn pads and her sister's eerie falsetto, Aretha drew out the words "way" and "won't" and left yawning pauses in the phrase as if measuring the gap between what she wanted and what she realized she was going to get. Again and again she raised her voice in hope, only to let it collapse in anguish.
This is majestic art, no matter the context or subject matter. She reached those heights again and again, especially on her late-'60s singles such as "I Never Loved A Man (The Way I Love You)," "Do Right Woman, Do Right Man," "Baby I Love You," "A Natural Woman" and "Chain of Fools." All the above songs are on a new Rhino Records anthology, The Atlantic Singles Collection 1967-1970, due September 28. The 34 songs spread over two CDs (or 25 songs on two LPs) represent a high mark in 20th century culture.
But it would be wrong to suggest, as some have, that those four years are all that matter in Franklin's body of work. She was never as consistently astonishing before 1967 or after 1970, but in the inconsistency of her career, there were always peaks that could stun the listener.
In 1998, I met Franklin in the lobby of Baltimore's Harbor Court. In her bright yellow tennis shoes, blue windbreaker and round white straw hat, she didn't look like the legendary "Queen of Soul." She could have been just another tourist ready to take a stroll around the Inner Harbor. In fact, I walked right past her in the lobby.
The concierge eventually pointed out the singer, and we retired to a vacant conference room to talk about a career that began in Detroit church of her father, C.L. Franklin, a preacher so famous that his sermons sold well as records. He encouraged his daughters to sing, and Aretha was only 14 when she made her first recording, a live gospel album, in 1956. But even then, she possessed the voice if not yet the instincts that would make her famous.
"Detroit was always a very musical city," she recalled. "You had a lot of doo-woppers on the street corners, a lot of choirs in the churches, and a lot of theatrical-oriented youngsters. Maybe that wasn't too different from other cities, but we had Berry Gordy come along to found Motown Records and help those youngsters reach the stars. Berry was a great catalyst for the aspiring talents of Detroit."
The young girl grew up in a house that was often visited by African-American celebrities such as gospel singers Clara Ward, Inez Andrews and Sam Cooke, even Martin Luther King Jr. Her teenage friends included the likes of Smokey Robinson, not yet famous. It was an environment where stardom was not a far-off dream but a constant presence.
"I didn't sign with Motown, though, because my dad wanted me to go to New York and sign with Columbia. Everyone knew about Columbia; it was such a classy label. That sounded more exciting than the little hometown record company down the street. It was like going away to college rather than going to school at home.
"When I left to go to New York to sign my first contract, there were some unhappy members of the church, but I never knew it at the time, because my father never told me. But I never thought it was a problem. When you're singing gospel you have one feeling inside you, and when you're singing R&B you have another feeling inside you."
Franklin was signed to Columbia by John Hammond Sr., the legendary A&R man who also discovered Count Basie, Billie Holiday, Bob Dylan and Bruce Springsteen. Hammond tried to turn Franklin into another Lena Horne or Nancy Wilson, singing pop standards and show tunes with orchestral arrangements. The style didn't suit Franklin's fiery, improvisational temperament, and the records she made for Columbia between 1960 and '66 remain controversial. The best of them have been collected on The Early Years (Columbia/Legacy).
"I loved everything we did at Columbia," Franklin insisted, "even though some weren't hits. But there were successes of other kinds at Columbia. Artistically, I was very happy with them. I still love those jazz and Broadway tunes. That's not all I do, but that's part of it. Columbia was a jumping off point; it provided me with an audience that made everything else possible."
Franklin's career really took off when she signed with Atlantic Records in 1966. Producers Jerry Wexler, Arif Mardin and Tom Dowd reconnected Franklin to her gospel roots, and backed her up with Southern musicians who knew how to get to the essence of a song by being simple and steady.
"My success at Atlantic was a combination of things," Franklin claims. "They selected the right material and the right musicians. They let me sit down at the piano and let me work around with my arrangements. It had more of me in it. I'm more happy at the piano, though I'm still comfortable when I'm not. Playing the piano with a small group gave me a distinctive sound at the time. It set our things apart from other things recorded at the time, things like Phil Spector, which were very big."
After 1968, Franklin began to diversify, taking songs that she admired—including such non-soul items as Paul Simon's "Bridge Over Troubled Water," Jimmy Reed's "Honest I Do" and the Beatles' "Eleanor Rigby"—and making them indelibly her own. She adopted a more Northern soul sound with smoother, lusher arrangements on songs like "Day Dreaming" and "Oh Me Oh My" or with harder, funkier arrangements on songs like "Rock Steady."
The greatest achievements of this period, however, were loose, extended pieces like "Spirit in the Dark," "Young, Gifted and Black" and "Dark End of the Street," where Franklin had room to dig into the blues and come up with some of her most imaginative improvisations. Best of all was her somber, scary version of Percy Mayfield's contemplation of suicide, "River's Invitation."
Franklin still sang in church from time to time, and those return visits continued to be the well spring of inspiration for her soul singing. One such performance was captured for the brilliant 1972 live album, "Amazing Grace." But after that, Franklin's creative momentum seemed to falter, and her albums began to include just one or two special moments instead of eight or nine. The exceptions were two albums written and produced by Curtis Mayfield: Almighty Fire and the underrated soundtrack album Sparkle.
Eleven days before our conversation, Franklin had sung at the Rock & Roll Hall of Fame Concert in Cleveland. Wearing a black tuxedo jacket over a shoulder-less, baby-blue-sequin gown, the reigning "Queen of Soul" was in fine voice, leap-frogging octaves and belting out vintage gospel-soul as if the cavernous baseball stadium by Lake Erie were the New Bethel Baptist Church back home in Detroit. She paid tribute to one fellow Hall-of-Famer by singing Otis Redding's "Can't Turn You Loose" and then to another by singing Carole King's "(You Make Me Feel Like) A Natural Woman."
"I'm thrilled to be in the Rock & Roll Hall of Fame," she said a week later in Baltimore. "To be the first woman in the Hall of Fame is a special thrill, because it's such a unique honor. The Hall of Fame is so vast in terms of its artists and personalities—Muddy Waters, the Beatles, Chuck Berry, Bo Diddley, Bruce Springsteen, the Supremes, Ray Charles, the Rolling Stones—but it has a common thread and that common thread is the beat. The beat leads you to the rhythm, and the rhythm leads you to the blues. Rock 'n' roll emanated from rhythm & blues, and that interrelatedness is in my music."
Franklin wrapped up her Hall of Fame set with her 1985 hit, "Freeway of Love." Just when it seemed she had finished the song, she veered off into a series of spontaneous shouts and embellishments which lifted the performance to a whole other level. She then called out Al Green from the wings, and the two veteran singers traded improvisations in a friendly duet/duel which twisted the song's familiar chorus into every conceivable shape.
"Years ago, long before he was famous," Franklin later explained, "Al had done a version of `I Can't Get Next to You' by the Temptations, and I liked it so much that I insisted he open for me in Newark, New Jersey. Even back then, there was something so soulful about his voice, his delivery. We had never sung together before we did it in Cleveland last week, but, believe me, it won't be so long before the next time. It was a natural singing with Al, because he came from the church, too."
When Franklin finally took the stage at Baltimore's Pier Six Concert Pavilion that night, she looked unquestionably like royalty. She made her entrance in a floor-length white gown draped in strands of pearls. She reached back to older hits such as "I Say a Little Prayer," "Chain of Fools" and "Jump to It," and belted out the tunes with the supreme confidence of one born to the throne.
"Jump to It," "Get It Right" and "Freeway of Love," all #1 R&B singles, were the highlights of her 1980-2003 stint at Arista Records after she left Atlantic. The first two were the result of her fruitful collaborations with the gifted Luther Vandross, while the latter came from 1985's Who's Zooming Who album, which also included the hit title track plus a duet with Annie Lennox on "Sisters Are Doin' It for Themselves."
After that, she seemed to coast, relying on celebrity duets rather than her own creativity. She occasionally roused herself, as on Babyface's "Willing To Forgive" and Lauryn Hill's "A Rose Is Still a Rose," but her best years were behind her. She could still put on a good live show when the spirit moved her, though she was just as likely to go through the motions. If you caught her on a good night, however, you still might witness her talent in all its glory.
Such a night happened at Wolf Trap in 1992, when she sang a version of "(You Make Me Feel Like) A Natural Woman" that crystalized the qualities that made her America's greatest female singer. Standing before her 29-member band in an outrageous red gown, the 50-year-old singer closed her eyes, leaned a little to the left and sang, "Looking out on the morning rain, I used to feel so uninspired." She seemed to sag a little as every weary tension in her body drained into her voice.
It's a pop-music law of nature that the more taut the tension, the more gratifying the release, and when Aretha reached the bridge and lifted her voice a notch to sing, "Oh, baby, what you done to me; you made me feel so good inside," a flood of faith and optimism poured through her throat as if there were no distance between intention and effect in her art. It was the same story Aretha had been singing since she was a little girl in her daddy's choir, of despair and redemption, and no one ever told it better than this woman with the majestic instrument and the eloquent gift of interpretation.