The Week in Music: Paste's Favorite Songs, Albums, Performances and More
Featuring Mitski, Stephen Malkmus, Ben Gibbard, Snail Mail, Parlor Walls and more.
Photo by Bao Ngo
Music
Features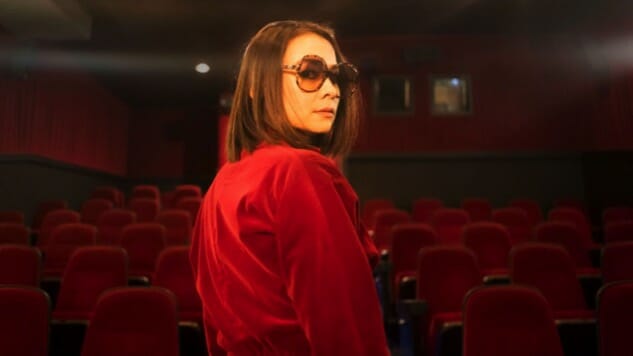 This week at Paste, the studio returned with a new and exciting crop of artists, from pop-punk bands to electronic acts to country singers. We also published features from a couple of indie rock legends (Stephen Malkmus, Ben Gibbard) and spun new singles from Mitski (pictured above), Snail Mail, and gobbinjr. Here's everything you might have missed.
BEST ALBUMS
Stephen Malkmus and the Jicks: Sparkle Hard
As always, Stephen Malkmus and his mates have a way of making guitar-rock feel oblique and breezy. They offset the herky-jerky pace of "Future Suite" with synth zaps and a dizzying vocal coda. Lead single "Middle America" gets a lift from Malkmus' falsetto, the album's most likeable melody and the comfort of a strummed acoustic guitar. And "Brethren" starts out as a jumbled pile of dissonant parts, but soon forms into the kind of disheveled gem that would fit in perfectly on Pavement's divisive 1995 album Wowee Zowee. "So you flip-flop over again," Malkmus sings as an unexpected string section fades out behind him, "to the dark side of the coliseum. Down into a hole, into the cellar, here we go." —Ben Salmon
GAS: Rausch
Heard as one unedited gush, Rausch is a thing of wonder. The experience, especially played through headphones or a great pair of speakers, is overpowering to the point of overload. Wolfgang Voigt starts off slow, with string and horn drones swarming together in a Ligeti-like sunrise. As it moves forward, more sounds and the 4/4 pulse of a kick drum come into view. They don't necessarily complement what Voigt has set up. They instead move around the edges like counter-rhythms or little intrusions that refuse to let up. —Robert Ham
Frog Eyes: Violet Psalms
For all the moments of unsettling weirdness—and there are plenty—Violet Psalms is almost compulsively listenable. There are flashes of effusive melody: "Idea Man" starts as a bright, hooky tune with a burbling, frenetic beat and sunny vocals until it deflates into an extended come-down in the second half of the song. There are mesmerizing guitar parts, too: A terse and foreboding two-note riff cuts through a wash of noise on "Sleek as the Day Is Done," then yields to trebly squibs that ring out like demented bell chimes. The pattern repeats as the song builds tension until a huge descending guitar line tumbles down with the force of a slow-motion rock slide. —Eric R. Danton
---
BEST SONGS
Mitski: 'Geyser'
"Geyser," according to Mitski, "introduces us to a woman who can't hold it all in any more. She's about to burst and unleash a torrent of desire and passion that has been building up inside." Zia Anger's cathartic visual accompaniment finds Mitski alone on a secluded beach under gray skies, beginning with thrumming synths and exploding in sound at its halfway point, as the singer takes off running down the shore.—Scott Russell
gobbinjr: November 163'
gobbinjr's new record Ocala Wick, out June 8 via Topshelf Records, was entirely written, performed, recorded, and produced by Emma Witmer. The wobbly and pretty "November 163" details a relationship gone sour, with Witmer singing, "I liked when you avoided me/ It made it easier for me to breathe." However, by the track's end, she's grown bolder: "I'll be alone but i think that's fine/I'm not as hopeless as you might like." —Loren DiBlasi
Snail Mail: 'Let's Find an Out'
The song's escapist sentiment is matched by its gorgeous instrumentation and imagery: "June's glowing red / Oh, strawberry moon," sings Lindsey Jordan over delicate fingerpicking and barely there bass, later urging, "Let's find an out / We'll start anew." At a mere two minutes and change, "Let's Find An Out" differs from previous Lush singles "Pristine" and "Heat Wave"—which clock in at around five minutes each—on multiple levels, eschewing their sprawling electric dynamism for a concise acoustic revery. This softer side of Jordan's songcraft draws from her childhood training in classical guitar, revealing another new dimension of an exciting young artist on the rise. —Scott Russell
---
PASTE STUDIO
Parlor Walls
New York rock experimentalists Parlor Walls brought their dark, kinetic energy to the studio this week, playing two songs from their recent EP, EXO, and a brand new song called "Spinning Gold."
Ashley Monroe
Country artist Ashley Monroe, one-third of Pistol Annies, stopped by to play songs from her new solo album, Sparrow. The deeply personal LP was recorded while Monroe was pregnant with her first child.
Remember Sports
Philly pop-punk band Remember Sports visited Paste to perform songs from their brand new record, Slow Buzz, out May 18.
---
FEATURES
Stephen Malkmus on Building the Best Fantasy Baseball Team and Staying Focused on the Abstract
There's a stereotype that indie-rockers disdain playing, or following, sports. Stephen Malkmus defies the stereotype. He is about as indie-rock as a musician can be: Pavement was among the most influential underground bands of the '90s, and his subsequent albums fronting the Jicks have only enhanced his reputation for idiosyncrasy on songs full of seemingly offhand lyrics and meandering guitar workouts. Though Malkmus recently told The Ringer that he's not that into sports, there he is on a tennis court in the 10-minute short film plugging his excellent new album, Sparkle Hard, executing credible forehand volleys and working, in his words, "on a buttery topspin backhand." He can talk knowledgeably about pro basketball, and why he stopped following college basketball ("All the young men should be getting paid," he says). —Eric R. Danton
The Curmudgeon: How Women Are Saving Country Music From Itself
Again and again Ashley McBryde tricks you into thinking you know where a song is going and then pulls the rug out from under you. The car wreck in "Southern Babylon" seems like a wake-up call, but the call comes too late for the narrator. "Livin' Next to Leroy" begins as the funky portrait of a neighborhood outlaw, who turns out to be more dangerous than educational. "Andy," performed by just a voice and an acoustic guitar, begins as a dis of a no-good boyfriend but ends up with his merits and liabilities nearly even.—Geoffrey Himes
Ben Gibbard on the Meaning of Life, 10 Years Later
Why did I think I was going to come here and have this place change my life? I wanted it so badly, as I'm sure Kerouac did. I wanted to cleanse myself with this place. I'd spent years wondering what it looked like, wondering what it would be like to be here. And now here I am, sleeping in the same room Kerouac slept in. I'm walking the same path he walked when he came to the beach and wrote. Jack Kerouac sat here and wrote poems about the sound of the ocean. He sat right here.—Ben Gibbard