Thundercat Swaps Zany For Smooth on It Is What It Is
The ace bassist and producer pens a love letter to classic '70s R&B without getting stuck in the past
Music
Reviews
Thundercat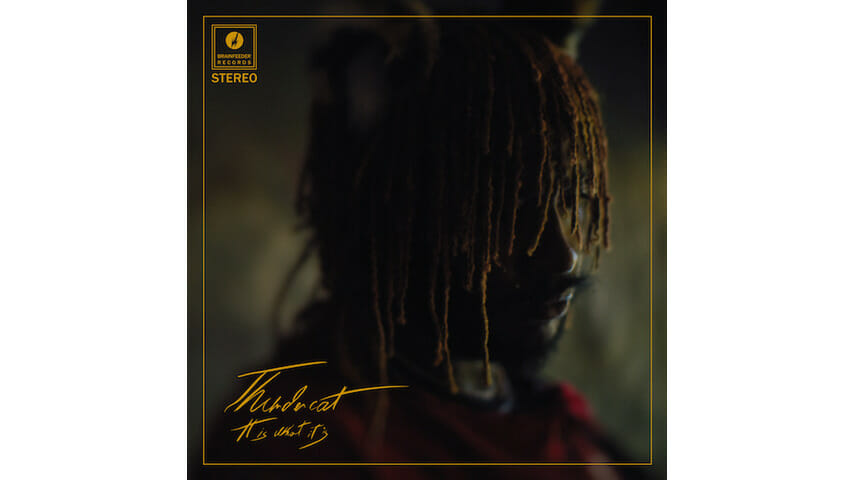 Sometimes, versatility can become a limitation of its own. Bassist Stephen Bruner, aka Thundercat, has played in such a variety of musical settings that he's always had an abundance of styles at his fast-moving fingertips. Anyone who has enough fluency to go from playing with Suicidal Tendencies to Erykah Badu, Flying Lotus and Kendrick Lamar, etc. has choices to make as far as what directions to pursue when they sit down to make their own music. Up until now, though, Bruner hasn't really bothered to do that. Starting with his 2011 solo debut The Golden Age of Apocalypse, he's been content to zigzag along, his solo albums an exercise in carefree genre-bending.
While the cat noises and fart sounds on his last album, 2017's Drunk, offended one prominent music critic so much he nearly crashed his car in a fit of frustration, Bruner didn't actually need to tame his prodigious appetite for variety. On previous Thundercat albums, he revelled in his own zaniness, but he also showed a knack for going right to the edge of incoherence while maintaining just enough of a consistent thread. Listening to a player with a range that rivals the late bass giant Jaco Pastorius—and, arguably, the chops to match—part of the appeal comes from just watching the ideas roam free. That makes it all the more remarkable that Bruner has decided to rein in his wanderlust on his fourth solo LP, It Is What It Is.
It's not that It Is What It Is lacks variety. Much like on his other output, Bruner once again draws freely from the wells of funk, soul, disco, jazz, rock, hip-hop and lo-fi experimentation. The crucial difference this time is that he shoehorns those influences into a startlingly smooth flow that somehow accommodates dazzling technical proficiency. On It Is What It Is, Bruner brings '70s-style R&B balladeering ("Overseas," "How I Feel") and fusion ("Interstellar Love," "How Sway") to the forefront as other styles recede into supportive roles. In terms of the impact of the record as a complete listening experience, the payoff is tremendous.
The majestic strings that introduce "I Love Louis Cole," for example, blend right into special guest Louis Cole's uptempo drumbeat, an eruption of punk energy that sits in perfect alignment with the leisure-strolling funk of the next track, "Black Qualls," not to mention Cole's celestial keyboard swells that lift the beat up and send it soaring heavenward. Perhaps most telling, Bruner's busy "Louis Cole" bassline sits tucked discreetly into the mix, so that when he runs laps around the fretboard a little later on "How Sway," with its even more audaciously active fretwork, it doesn't feel like Bruner is covering the same ground twice. The beauty here is that fans who enjoy Bruner's gunslinger side still get a double-dose of what they came for.
Bruner encourages his guest musicians to go off just as much as he does. Oftentimes, the keys, drums and bass seem to race each other like stock cars, yet the flow gently continues even when Bruner intentionally contrives a pileup. Thirty seconds into the swooning love song "Dragonball Durag," for example, the beat abruptly drops out for five seconds as saxophonist Kamasi Washington unleashes a flurry of notes. But the tune resumes with a ballet dancer's grace. In a video posted the day before the album's release, Bruner explained his love for the work of iconic bassists like James Jamerson, Larry Graham, Marcus Miller, Louis Johnson, and Raphael Saadiq. It Is What It Is isn't so much a showcase for the bass, though. Instead, it functions more as a modern-day love letter to a certain bandwidth of the R&B spectrum that we would all do well to rediscover.
Bruner has certainly touched on R&B balladeering throughout his solo career, and his falsetto has become as much one of his trademarks as his fretboard technique. He's also shown an affinity for dreamy atmospheres and sumptuous chord progressions that reared its head right from the third track on The Golden Age of Apocalypse. In the past, though, he seemed to walk a fine line between reverence and parody, as if he might just burst into laughter at any moment. On new songs like "Overseas," "King of the Hill," "Unrequited Love"—and just about any track on this album—Bruner comes across as more nakedly lovestruck, perhaps because he's allowing his love for his influences to show right there on his sleeve.
Of course, listeners familiar with '70s R&B will recognize Bruner's obvious nods to artists like Heatwave, the Isley Brothers, Average White Band, Love Unlimited, Rufus, Leon Haywood, L.T.D., and so many more. But Bruner's playing—and, increasingly, his writing as well—is so distinctive he's able to own it even as he tones down his outsize personality. Many modern artists have mined these sounds, but few have honored them quite like Bruner does on It Is What It Is. Rather than just pillage old record crates for production values and sample fodder, it's high time we stop and recognize the contribution that the aforementioned acts (and dozens more like them) have made to our shared musical legacy. Let It Is What It Is serve as a "gateway" in the most creative sense.
---
Saby Reyes-Kulkarni is a longtime contributor at Paste. He dreams of being a "setlist doctor" to the bands you read about in these pages, and has started making playlists for imaginary shows that your favorite band never actually played. He would love to compare imaginary setlists and online "mixtapes" with you. You can find him (mostly hyperventilating about sports) on Twitter @sabyrk_. He'd like to thank Scott Wallace, host of WRUR's show Rejuvenation, for his insights on classic R&B that were invaluable in the making of this review.