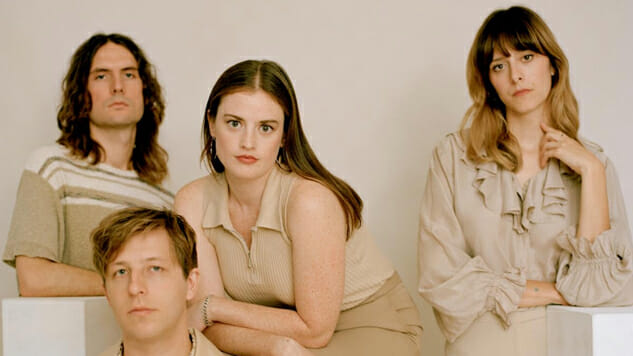 Daily Dose is your daily source for the song you absolutely, positively need to hear every day. Curated by the Paste Music Team.
Just a few weeks ago, Montreal sophisti-pop outfit TOPS shared news of their forthcoming fourth album I Feel Alive. The album's second single, the upbeat and jangly sound of "Witching Hour," belies the track's inlaid reckoning. Singer Jane Penny explains that the song caught her in between reconciling her femininity and feeling strength in it:
David [Carriere] wrote the chorus of the song, and when he showed it to me I gravitated towards the idea of a witching hour as a time of night for unconscious thoughts and uncomfortable visions. The pressure to be feminine has twisted my experience of my own sensuality in this nightmarish way, and I wanted to articulate that by conjuring the nefarious ways that trauma emerges in dreams. There's a sense of reprisal in witchcraft, of retribution as a means of expression, and I wanted to explore that side of feminine power.
The song evokes the breezy feel of The Sundays' dream-pop opus Reading, Writing, and Arithmetic infused with a similar pensive croon and sweet, honeyed vocals as Harriet Wheeler. With each of TOPS' releases, they seem to become more and more elegant, more practiced in their precise, airy sound. Guitarist David Carriere notes how swift they've gotten at writing, saying of the album's recording, "We would work all day writing a song and then demo them the same evening, relying on our natural chemistry as a band to let the songs come into their own." Their chemistry is plain to see—each part of "Witching Hour" moves as one unit, feeling effortless and buoyant in its shiny youth.
I Feel Alive is out via Arbutus Records April 3. That same day, TOPS will embark on a North American tour, immediately followed with European dates. You can check out "Witching Hour" below, as well as the band's 2012 Daytrotter session and the details of I Feel Alive.
I Feel Alive Album Art: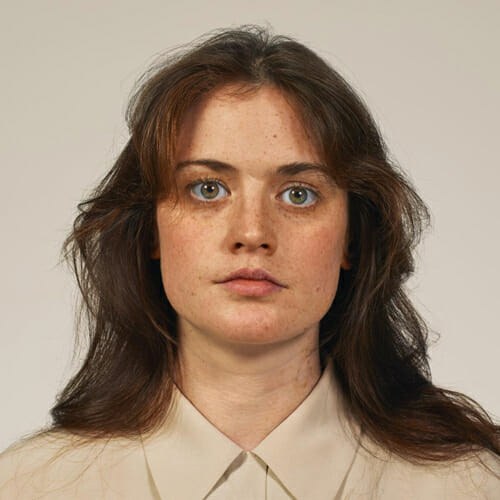 I Feel Alive Tracklist:
01. Direct Sunlight
02. I Feel Alive
03. Pirouette
04. Ballads & Sad Movies
05. Colder & Closer
06. Witching Hour
07. Take Down
08. Drowning In Paradise
09. OK Fine Whatever
10. Looking To Remember
11. Too Much
TOPS Tour Dates:
April
03 – Las Vegas, Nev. @ Bunkhouse Saloon*
04 – Tucson, Ariz. @ 191 Toole*
05 – Phoenix, Ariz. @ Valley Bar*
06 – El Paso, Texas @ Lowbrow Palace*
07 – Marfa, Texas @ Lost Horse Saloon*
09 – Austin, Texas @ Mohawk*
10 – San Antonio, Texas @ Paper Tiger*
11 – Dallas, Texas @ Club Dada*
13 – Memphis, Tenn. @ The Hi Tone Cafe*
14 – Atlanta, Ga. @ Terminal West*
15 – Asheville, N.C. @ The Mothlight*
16 – Washington D.C. @ Union Stage*^
17 – Philadelphia, Pa. @ Johnny Brenda's^
18 – New York, N.Y. @ Bowery Ballroom*^
20 – Boston, Mass. @ Brighton Music Hall*^
21 – Montreal, Que. @ Theatre Rialto#^
22 – Toronto, Ont. @ Adelaide Hall#^
23 – Detroit, Mich. @ Deluxx Fluxx#^
24 – Chicago, Ill. @ Empty Bottle#^
25 – Minneapolis, Minn. @ Turf Club#^
28 – Vancouver, B.C. @ Imperial Theatre#
29 – Seattle, Wash. @ The Crocodile#
30 – Portland, Ore. @ Doug Fir Lounge#
May
01 – San Francisco, Calif. @ The Independent#
02 – Los Angeles, Calif. @ El Rey Theatre#
04 – San Diego, Calif. @ Music Box#
11 – Berlin, Germany @ Berghain Kantine
12 – Hamburg, Germany @ Molotow
13 – Köln, Germany @ Bumann & Sohn
14 – Münster, Germany @ Gleis 22
15 – Amsterdam, Netherlands @ Paradiso
16 – Paris, France @ Le Beau festival @ La Station
18 – Brighton, U.K. @ The Hope & Ruin
19 – Nottingham, U.K @ Bodega
20 – Dublin, Ireland @ Whelan's
21 – Glasgow, U.K @ Stereo
22 – Manchester, U.K @ YES
24 – Bristol, U.K @ The Louisiana
25 – Birmingham, U.K @ Hare and Hounds
27 – Lille, France @ La Bulle Café
28 – Brussels, Belgium @ Botanique
29 – Groningen, Netherlands @ Vera
30 – Utrecht, Netherlands @ Ekko
June
01 – Barcelona, Spain @ Primavera Sound @ Sala Apolo
( * = w/ Honey Harper )
( # = w/ Sorry Girls )
( ^ = w/ Better Person )