Tyler, the Creator Enlists in His Own Militia for "See You Again" Video
Images via Tyler The Creator/YouTube
Music
News
Tyler, The Creator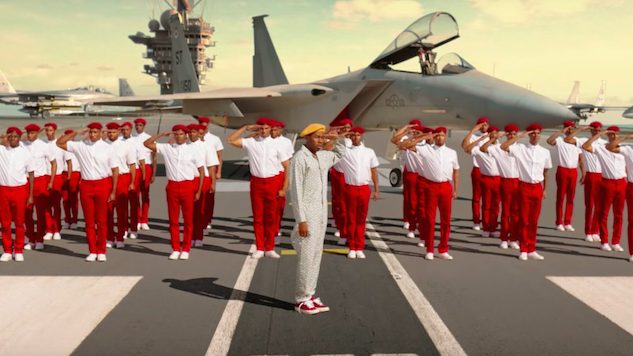 Tyler, the Creator can't be stopped, so don't even try. Since the release of Flower Boy last year, the rapper has been on a roll, securing himself a Grammy nomination for Best Rap Album and releasing loose track after loose track, all the while continuing on his journey for personal growth.
Despite his success, the Odd Future founder has been plagued by his lack of radio play, postulating a conspiracy that he doesn't have the right vocal tone for radio. One song from his critically acclaimed album that has been getting some air-wave action, however, is "See You Again," featuring retro-pop singer Kali Uchis. On Wednesday, he released a music video for the song.
The video, which was uploaded after some technical fumbling, was directed by Tyler under his Wolf Haley alias. It's set on a boat, military-themed and features appearances from A$AP Rocky (with whom Tyler recently collaborated on "Potato Salad") and Uchis. It's a color-saturated visual to match Tyler's endless creativity.
Towards the end, the video fades out of "See You Again" as Tyler walks into a new setting, trading his uniform for a third grade-style ghost costume. A portion of "Where This Flower Blooms," a collaboration with Frank Ocean, brings the video home. Get lost at sea with Tyler in the video below.
There's not yet any word on whether any of Tyler's loosies will be released as an official project, but here's to hoping!