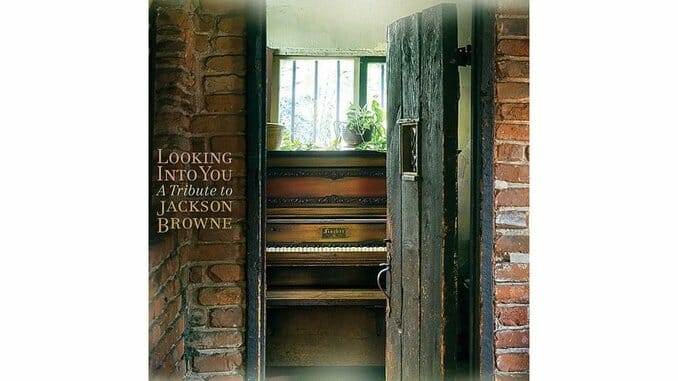 With him being a sexagenarian who has been as influential as he has throughout the music industry, it's surprising that a tribute album hasn't been compiled in Jackson Browne's honor before 2014. On 23 songs spread across two CDs, luminaries such as Don Henley, Bruce Hornsby, Bonnie Raitt, Bruce Springsteen, the Indigo Girls, Keb Mo, Lyle Lovett and many more adorn this tribute album.
Starting the collection with Don Henley's take on "These Days" makes sense. Along with their partnership forged, among other things, with a handful of tracks with The Eagles, Henley brings an everyman presence to the song. Henley sounds as fluid vocally now as he did on any of your favorite Eagles tunes. That trait is gravely important on a track as pensive as "These Days," which, amazingly, Browne wrote at the tender age of 16. There's a lot of life written in these lines, and Henley delivers them with the care and honesty they deserve.
From a different musical perspective, Bruce Hornsby sets aside his keyboards for a dulcimer, mandolin and fiddle backdrop, creating a countrified celebration of life on "I'm Alive." Again, Browne weaves words of anguish and spins them into a beautiful positivity. As the chorus ends with the line "Cause those dreams are dead, and I'm alive," a double-take ensues. You can sense that life for the character in this story hasn't exactly gone according to plan, yet the narrative of moving forward with his head held high is nothing short of inspiring.
Keeping the good times flowing, Paul Thorn delivers a fantastic performance of the beloved "Doctor My Eyes." With a pounding piano played by Michael Graham—who doubles his duties with B3 honors as well, especially on a fun solo late in the song—it's a reading that stays true to the original while still sounding fresh, an ode to the timeless nature of great songwriting skill. Thorn's band never tries to take the track to places it doesn't belong, instead keeping it pocket-driven.
In 1977, Browne delivered the album Running On Empty to great acclaim. While both the album and title track received major awards nominations for both Album Of The Year and Best Pop Male Vocalist (notably, neither took home the big prize), "Running On Empty" has become a longstanding favorite on jukeboxes and AOR radio. While the original has a focused and fiery delivery, on this collection Bob Schneider explores the track as a wistful piece. Certainly the title lends itself to that interpretation, but there's something invigorating about the original lost in Schneider's portrayal. By no means is it bad, but its merits come down to personal preference.
Song after song, the musical guests invited to perform on Looking Into You fit, which isn't always the case with tribute albums. Many times, a flavor-of-the-moment talent is added to help bolster sales, but that pitfall is fortunately avoided. The talent selected is well-placed, although it would have been nice to hear what an artist such as Ashley Monroe would have brought to a reading of one of Browne's songs. As evidenced by Hornsby's country take of "I'm Alive" and Browne's dabbling with the genre throughout his career, the pairing could have really flown. Most surprising is the omission of one of Browne's biggest career hits, "Somebody's Baby." Altogether, though, Jackson Browne fans will be extremely satisfied with this set, one that Browne himself must surely be smiling upon.