Why Are So Many Young Artists Releasing B-Sides and Rarities Albums So Early in Their Careers?
Angel Olsen, Sharon Van Etten and Whitney are just some of the younger musicians who have released compilations in 2017.
Photo: Getty Images
Music
Features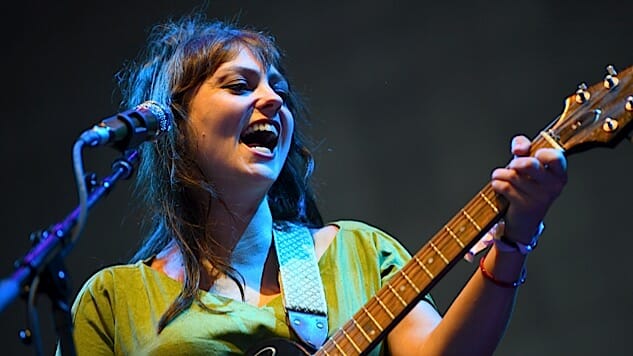 Among the crop of compilation albums and reissues this fall are titles by a few unexpected names, including Angel Olsen (pictured above), Lydia Loveless, Sharon Van Etten and the band Whitney.
Not only are they younger than most of the acts that tend to repackage existing albums or put out song collections, their respective discographies are slender in comparison to, say, those of Bob Dylan, Little Richard, Pink Floyd, R.E.M., Wilco and other veteran artists mining their catalogs in 2017. Loveless, 27, and Van Etten, 36, have each released four full-length albums. Olsen, 30, has put out three. Whitney, which formed in 2015, released their lone LP last year. So what accounts for a spate of relative youngsters digging out rare or overlooked material? For that matter, how much of that material can there even be?
More than you'd think, at least in some cases. There are several reasons younger artists are getting into the catalog game, their representatives say. It helps to maintain a public presence in between albums of new material, for one thing. Compilations also give acts something to promote in conjunction with a tour. Yet managers and label bosses seemed surprised to be asked about business considerations. To them, collecting and releasing songs that had been scattered among small-batch 7-inch pressings, overseas album bonus tracks, or tunes that didn't fit on other recordings, is a service to fans.
"I think it's good business sense keeping new content out there," says one manager. "Even though it's not vastly new content, it's going to be new to some people."
"On the surface, Angel's catalog is three or four releases, when in reality it's much deeper than that," says Jon Coombs, general manager of Secretly Publishing, the licensing arm for the indie-folk singer's label, Jagjaguwar. Olsen's new collection, Phases, includes demos, songs that didn't get included on albums, hard-to-find singles and a couple of previously unreleased tunes. (Read Paste's review of Phases here.) The idea for the compilation was Olsen's, says Coombs, "and it was strictly driven by her feeling like she wants all of these songs to live in one place. Some of them are easier to find than others." (Olsen was traveling and not available for comment, according to her publicist.)
The same impulse prompted Bloodshot Records to compile Boy Crazy and Single(s), which pairs Loveless's 2013 EP Boy Crazy with six non-album singles and covers of songs by Prince, Elvis Costello and Kesha. The label pressed a few thousand copies of the original EP on CD, which quickly sold out, and some of the singles were limited-edition releases for Record Store Day. Though all the material had been available in digital form, Bloodshot released Boy Crazy and Single(s) on vinyl and CD. In the digital era, when musicians are constantly offering up content to feed what label co-owner Rob Miller calls "the never-satiated gaping maw of the internet," making a physical product seemed worthwhile.
"As cool as some of these things may be, like a Tiny Desk concert or something like that, it's good to have the body of work in one place. Hopefully this achieves that," Miller says. "Having a collection of digital files is far less tangibly satisfying, and it's not economically viable for us to repress all of these 7-inches."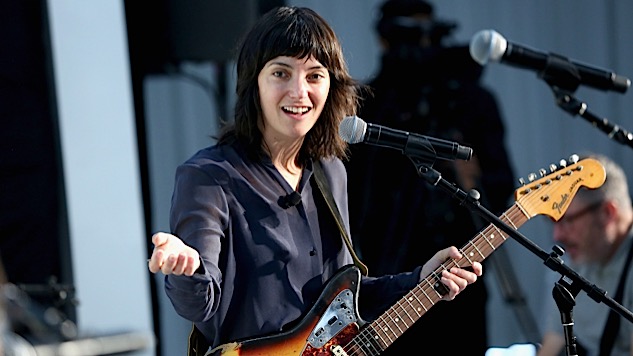 Sharon Van Etten wanted a break from the record-tour-repeat cycle, so she reissued her 2009 debut album.
In Van Etten's case, reissuing her 2009 debut album as (It Was) Because I Was in Love, with two new bonus tracks, was a chance to draw attention to an overlooked album. "I sort of discovered Sharon on Tramp, to be quite honest," says Zeke Hutchins, her manager, referring to the 2012 album that Van Etten co-produced with Aaron Dessner of the National. Before becoming her manager, Hutchins played drums with Van Etten when she toured for Tramp, and on the follow-up, 2014's Are We There. "Whenever she would play solo, half the set would be off the Because I Was in Love record, which makes sense: Most of that record is just her on acoustic guitar," Hutchins says. "I was like, 'I bet her fans who have discovered her more recently may not even know this record exists,' so for me it was kind of a gift to the fans, like, here's some inside information here."
The Chicago folk-rock outfit Whitney aren't even 18 months removed from the release of their lauded debut album, Light Upon the Lake. But this month they released Light Upon the the Lake: Demo Recordings, a companion record. Another 21st-century band, Beach House, put out the compilation B-Sides and Rarities earlier this year to fill in the gaps among their six albums. "The idea for a B-sides record came when we realized just how many non-album songs had been made over the years, and how hard it was to find and hear many of them," the band wrote in a press bio on their label's website.
ICYMI: Watch unreleased footage of R.E.M.'s only concert in support of 1992's Automatic for the People, which was just reissued.
It doesn't hurt that all of those artists are between other musical projects. Loveless released her most recent LP, Real, in April 2016. Compiling her EP and singles was a way to keep her name out there while she works on the next album, which Miller hopes will ready by the end of next summer. "I didn't want her to go two-plus years without something being out there, something substantial," he says.
After Are We There and the 2015 EP I Don't Want to Let You Down, Van Etten wanted a break from the record-tour-repeat cycle, Hutchins says. She's spent the past two years collaborating with other artists, wrote the score for the film Strange Weather, and landed acting roles in the Netflix drama The OA and an episode of Twin Peaks. She's also been taking classes at Brooklyn College, and she had a baby earlier this year. Reissuing her first album helps keep her music career simmering, Hutchins says. "I think it's good business sense keeping new content out there," Hutchins says. "Even though it's not vastly new content, it's going to be new to some people."
The same goes for Olsen's Phases, which is out in time to coincide with a run of shows she has booked through mid-December. Coombs says those live dates will be "some of her last for a split second." Though the timing works out, and it's helpful to have something new to offer at the merch table, those weren't primary considerations. "Ham-fisting a release, saying, 'We need to do this to get set up for the next record,' those don't work very well," Coombs says. "At least, they don't for us."